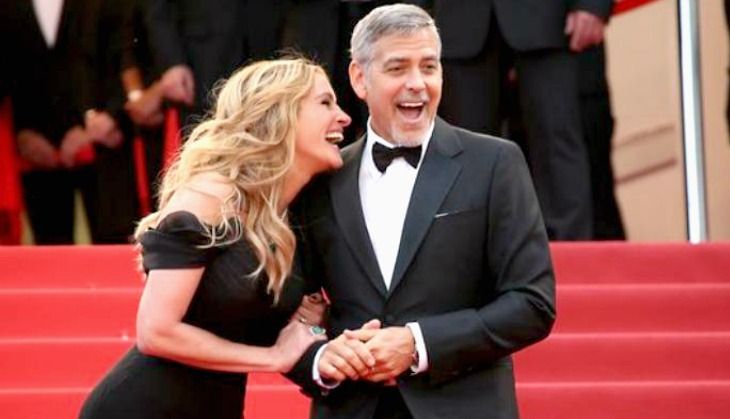 It is hardly possible for a human being to not be aware of how amazing and all-round fabulous
Runaway Bride
star Julia Roberts really, truly is. Years before sass became cool, Roberts had made it a part of her vibrant personality.
So it cannot come as a surprise to anyone that at the Cannes Film Festival - which has more rules of etiquette than can be considered normal - Julia broke a rule that made her fans very, very happy. Not happy because she broke a rule and got away with it, but because it was a stupid rule to have in the first place.
Why must women be forced to wear heels? How does it add to the experience of watching a film? Are movies screenings more fun when you're terribly uncomfortable? So many questions. Last year, Cannes had turned away a group of elderly women at the screening of Todd Hayne's film, Carol, for not wearing the prerequisite stilettos.
So imagine everyone's delight that Roberts, who was in a plunging black Armani Prive gown with a Chopard diamond necklace and no shoes walked down the red carpet and up the stairs for the screening of Jodie Foster's Money Monster.
Accompanying her were lawyer-activist Amal Alammudin Clooney and her husband George, with Foster. Amal looked every bit a movie star herself in a trailing lemony gown while her husband - an actual movie star we're told - lovingly basked in her glory.
It is not known yet whether Roberts intended to make a point or was just tired of conforming to rules made by people who obviously never had to wear these medieval torture devices.
Meantime, Julia's Stepmom co-star Susan Sarandon broke rules as well when she showed up on the red carpet looking like a million bucks in a pair of flats. So much win.
Ummm.. grow up Cannes. Why won't you?
Warning (2): file_get_contents(https://api.instagram.com/oembed/?url=https%3A%2F%2Fwww.instagram.com%2Fp%2FBFV8nbLuuf4%2F): failed to open stream: HTTP request failed! HTTP/1.1 404 Not Found
 [APP/Controller/MediaParserController.php, line 218]
No data to display.
--
Edited by Aishwarya Yerra