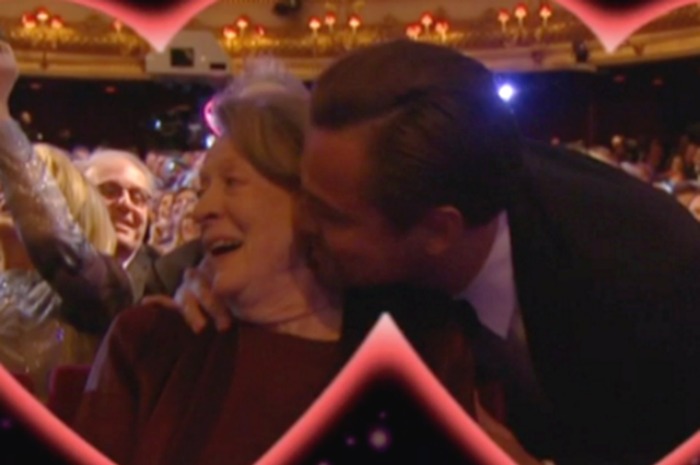 The British Academy of Film and Television Arts 2016 awards turned out to be a sneak-peek of what we can expect at the Oscars.
The Revenant - where Leonardo DiCaprio ate raw bison in a bid to finally qualify for the coveted golden Oscar trophy - turned out to be the BAFTA's Valentine this year, winning Best Film, Best Actor and Best Director.
However the real winner of the award show was Leonardo and Dame Maggie Smith's Kiss Cam moment.
Afterall who wouldn't want to kiss Maggie Smith? That Dame's quite a firecracker. #TeamMcgonagall #VioletCrawleyForTheWin
Stanley Tucci and Cuba Gooding Jr, Bryan Cranston and Julianne Moore, Eddie Izzard and Rebel Wilson all got caught on Kiss Cam and responded with an appropriate amount of enthusiasm.
The only buzzkills were Micheal Fassbender and Alicia Vikander - who are dating in real life. Come on, people. Where's the V-Day mush?
Here's a complete list of who won what at BAFTA 2016:
Best film: The Revenant
Director: Alejandro G Inarritu, The Revenant
Outstanding British film: Brooklyn
Supporting actor: Mark Rylance, Bridge of Spies
Supporting actress: Kate Winslet, Steve Jobs
Actor: Leonardo DiCaprio, The Revenant
Actress: Brie Larson, Room
Original screenplay: Spotlight
Adapted screenplay: The Big Short
Special visual effects: Star Wars: The Force Awakens
EE Rising Star award (voted for by the public): John Boyega
Cinematography: The Revenant
Sound: The Revenant
Outstanding debut by a British writer/director/producer: Theeb
Animated film: Inside Out
British Animated short: Edmond
Short film: Operator
Costume Design: Mad Max: Fury Road
Documentary: Amy
Editing: Mad Max: Fury Road
Best Film (not English): Wild Tales
Make-up and hair: Mad Max: Fury Road
Original music: The Hateful Eight