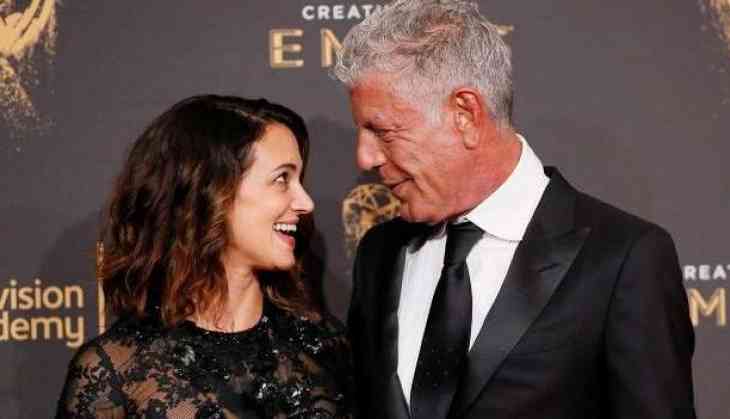 Asia Argento shares sweet picture of her late boyfriend Anthony Bourdain, after his death at age 61.

She posted a selfie of the two on her social media on Friday, exactly two weeks since Bourdain was found dead of suicide in his hotel room in Kaysersberg, France while in the country filming an upcoming episode of Parts Unknown.

The photo shows the two smiling at the camera, seemingly on vacation somewhere.

"Two weeks without you," she captioned the picture.
Also Read: 'He was my love, my rock, my protector,' says Asia Argento, Anthony Bourdain's girlfriend about his suicide
Two weeks without you pic.twitter.com/C5Hqe4LG73

— Asia Argento (@AsiaArgento) June 22, 2018
Argento is a prominent face in the #metoo movement, and Bourdain had been dating for more than a year. Both of them met during the filming of Parts Unknown in 2016 and began dating a year later. Argento collaborated with Bourdain on his show, and recently directed an upcoming episode set in Hong Kong.

After the news of Bourdain's death, Argento released a statement on social media.

"Anthony gave all of himself in everything that he did," she wrote on Twitter. "His brilliant, fearless spirit touched and inspired so many, and his generosity knew no bounds. He was my love, my rock, my protector. I am beyond devastated."

One day after Bourdain was cremated in France, the actress posted a photo on social media describing her mental state.

In the image, Argento — who was spending time with friends in Berlin — could be seen holding a piece of paper with the words "I'm a f— mess inside" crossed out and replaced with the following message: "I'm fine."
Alos Read: CNN's Anthony Bourdain and star of "Parts Unknown" dead at 61; fans and chef breaks into tears on Twitter