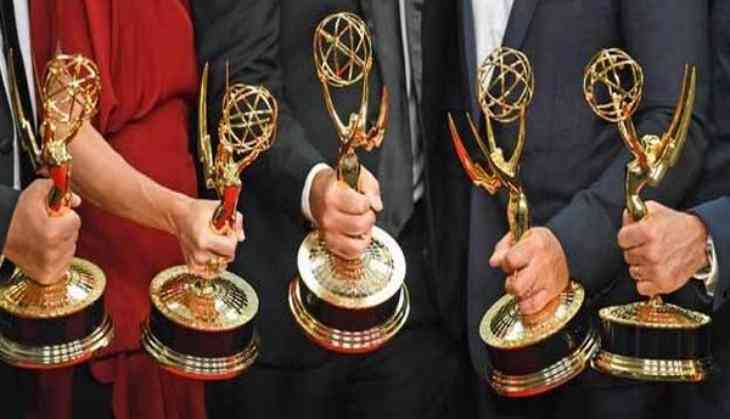 Amazon's 'Marvelous Mrs. Maisel' took home the most honours at the 70th Primetime Emmy Awards.
While 'Maisel' won a whopping five trophies, across other categories, 'The Assassination of Gianni Versace: American Crime Story', 'Game of Thrones' and Godless' claimed a couple honours each.
Hosted by 'Saturday Night Live's Colin Jost and Michael Che, the ceremony - which recognises excellence in the television industry - took place at the Microsoft Theater in Los Angeles.
Here's a full list of all the Emmys categories, as reported by E! Online:
-Outstanding Drama Series
WINNER: Game of Thrones (HBO)
-Outstanding Comedy Series
WINNER: The Marvelous Mrs. Maisel (Amazon)
-Outstanding Limited Series
WINNER: The Assassination of Gianni Versace: American Crime Story (FX)
-Outstanding Lead Actress in a Drama Series
WINNER: Claire Foy, The Crown (Netflix)
-Outstanding Lead Actor in a Drama Series
WINNER: Matthew Rhys, The Americans (FX)
-Outstanding Lead Actress in Comedy Series
WINNER: Rachel Brosnahan, The Marvelous Mrs. Maisel (Amazon)
-Outstanding Lead Actor in a Comedy Series
WINNER: Bill Hader, Barry (HBO)
-Outstanding Lead Actress in a Limited Series or Movie
WINNER: Regina King, Seven Seconds (Netflix)
-Outstanding Lead Actor in a Limited Series or Movie
WINNER: Darren Criss, The Assassination of Gianni Versace: American Crime Story (FX)
-Outstanding Supporting Actress in a Drama Series
WINNER: Thandie Newton, Westworld (HBO)
-Outstanding Supporting Actor in a Drama Series
WINNER: Peter Dinklage, Game of Thrones (HBO)
-Outstanding Supporting Actress in a Comedy Series
WINNER: Alex Borstein, The Marvelous Mrs. Maisel (Amazon)
-Outstanding Supporting Actor in a Comedy Series
WINNER: Henry Winkler, Barry (HBO)
-Outstanding Supporting Actress in a Limited Series or Movie
WINNER: Merritt Wever, Godless (Netflix)
-Outstanding Supporting Actor in a Limited Series or Movie
WINNER: Jeff Daniels, Godless (Netflix)
-Outstanding Reality Competition
WINNER: RuPaul's Drag Race (VH1)
-Outstanding Variety Talk Series
WINNER: Last Week Tonight With John Oliver (HBO)
-Outstanding Guest Actress in a Drama Series
WINNER: Samira Wiley, The Handmaid's Tale (Hulu)
-Outstanding Guest Actor in a Drama Series
WINNER: Ron Cephas Jones, This Is Us (NBC)
-Outstanding Guest Actress in a Comedy Series
WINNER: Tiffany Haddish, Saturday Night Live (NBC)
-Outstanding Guest Actor in a Comedy Series
WINNER: Katt Williams, Atlanta (FX)
-Outstanding Television Movie
WINNER: Black Mirror: "USS Callister" (Netflix)
-Outstanding Structured Reality Program
WINNER: Queer Eye (Netflix)
-Outstanding Unstructured Reality Program
WINNER: United Shades of America With W. Kamau Bell (CNN)
-Outstanding Host For a Reality or Reality-Competition Program
WINNER: RuPaul, RuPaul's Drag Race (VH1)
-Outstanding Short Form Comedy Or Drama Series
WINNER: James Corden's Next James Corden (CBS)
-Outstanding Actress in a Short Form Comedy or Drama Series
WINNER: Christina Pickles, Break A Hip
-Outstanding Actor in a Short Form Comedy or Drama Series
WINNER: James Corden, James Corden's Next James Corden
-Outstanding Short Form Nonfiction Or Reality Series
WINNER: Anthony Bourdain: Explore Parts Unknown (CNN.com)
-Outstanding Short Form Variety Series
WINNER: Carpool Karaoke: The Series (Apple Music)
-Outstanding Directing For a Comedy Series
WINNER: The Marvelous Mrs. Maisel "Pilot" (Amazon)
-Outstanding Directing For a Variety Series
WINNER: Saturday Night Live "Host: Donald Glover" (NBC)
-Outstanding Directing For a Drama Series
WINNER: The Crown, "Paterfamilias" (Netflix)
-Outstanding Directing For a Limited Series, Movie or Dramatic Special
WINNER: The Assassination of Gianni Versace: American Crime Story "The Man Who Would Be Vogue" (FX)
-Outstanding Directing For a Variety Special
WINNER: The Oscars (ABC)
-Outstanding Directing For a Reality Program
WINNER: RuPaul's Drag Race, "10s Across The Board" (VH1)
-Outstanding Variety Special (Live)
WINNER: Jesus Christ Live Superstar (NBC)
-Outstanding Writing for a Comedy Series
WINNER: The Marvelous Mrs. Maisel, "Pilot" (Amazon)
-Outstanding Writing for a Drama Series
WINNER: The Americans, "Start" (FX)
-Outstanding Writing For a Limited Series
WINNER: Black Mirror, "USS Callister" (Netflix)
-Outstanding Writing for a Variety Series
WINNER: Last Week Tonight With John Oliver (HBO)
-Outstanding Writing for Variety Special
WINNER: John Mulaney: Kid Gorgeous At Radio City (Netflix)
-ANI