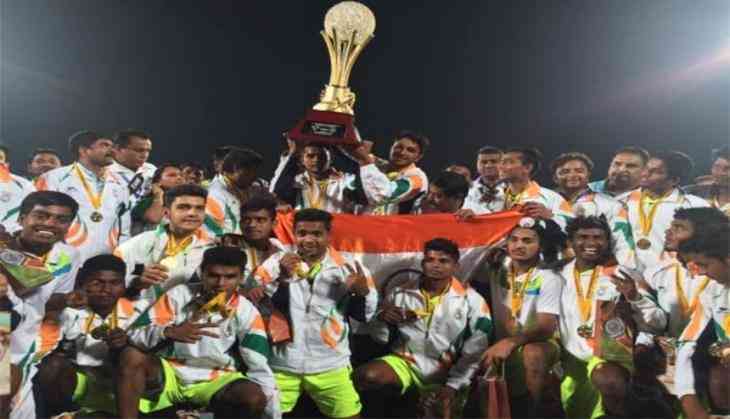 India trounce Malaysia 5-1 to win 5th Asian School Hockey Championship (ANI)
The India School team registered an emphatic 5-1 win against Malaysia to win the 5th Asian School Hockey Championship at the Aishbagh Hockey Stadium here on Tuesday.
Alishan Mohammad continued to have a good outing in the Championship as he gave India an early lead with a stunning field goal in the 12th minute. India's next two goals came in the 20th and 23rd minute when Pratap Lakra successfully converted a penalty corner and a penalty stroke respectively. This took India's lead to an impressive 3-0.
Though Malaysia scored a field goal through Akhimullah Anuar Esook M in the 32nd minute, India school's Alishan Mohammad scored his second goal of the match in the 34th minute and earned his team a comfortable 4-1 lead at half-time.
Maninder Singh scored in the 38th minute while the team's defenders did well to keep Malaysia from scoring another goal to end the match with a stunning 5-1 victory and enthrall the home crowd. Malaysia had to settle for a second place finish.
In the match for the third and fourth place, Singapore beat China 3-1 in a nail-biting shootout after the two teams ended the regulation time in a 1-1 stalemate. It was Jharen Glen Yap, Kai Cong Chua and Yixuan Ooi who scored for Singapore in the shootout while their keeper Bing Hong Kwa was exceptional with his goalkeeping abilities as he made three important saves to help Singapore finish third. Zhigiang Wu was the lone scorer for China in the shootout. Earlier in the regulation time, China took the lead in the 38th minute with a field goal by Lele Zhang. Singapore scored an equalizer through a penalty corner strike by Jharen Glen Yap in the 49th minute and eventually held their nerve in the penalty shootout to push China to fourth place.
In the fifth and sixth placing match, Sri Lanka beat Thailand 4-1. Ali Akram Amjad gave an early lead for Sri Lanka with a 13th-minute goal while Ashan Bandara scored in the 31st minute to take their lead to an impressive 2-0.
Thiran Shashintha converted a penalty corner in the 38th minute putting Thailand under pressure. Ashan scored his second goal of the match in the 59th minute to ensure Sri Lanka marched to victory and finish the Championship at fifth position. Anucha Yodsaeng was the lone scorer for Thailand who converted a penalty stroke in the 67th minute. Thailand ended their campaign in Bhopal with a sixth place finish.
-ANI