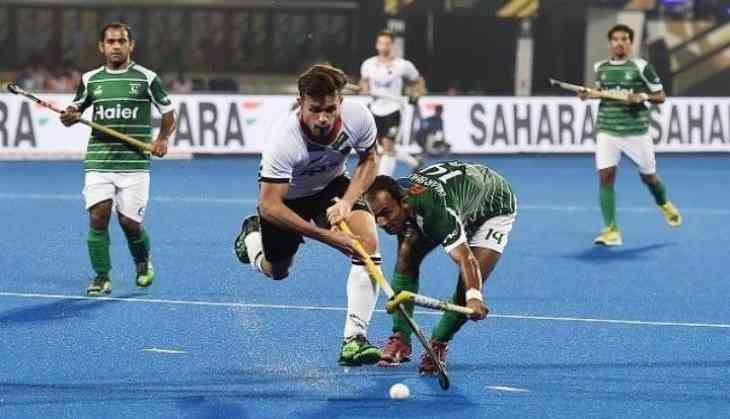 Germany on Friday beat Pakistan in their Pool D match in the ongoing Hockey World Cup by a goal to nil. Despite the defeat, the South Asian team was more than satisfied with its performance against the two-time world champion team.
With suspected fitness issues among the Pakistani ranks, apart from it being the lowest ranked side in the group, Germany was expected to have an easy outing. But stubborn defending from Pakistan and unforced errors from the German forwards meant the scoreline remained level.
Marco Miltkau scored the only goal of the match in the 36th minute, shooting past Pakistan goalkeeper Imran Butt after being put through by Niklas Wellen.
Pakistan are still in a strong position to finish above Malaysia, who were thrashed 7-0 by the Netherlands earlier in the day, in the group and be eligible for the crossover stage. Along with Pakistan defenders, Butt saved at least six clear goals, including a Penalty Corner (PC), which was the only PC of in the match.
Speaking to media during the press conference, Pakistan coach Tauqeer Ahmed Dar said, "You can't win without scoring goals, I am very pleased with the boys the way they played today. This team is young and it will keep improving and get better with every outing."
On the other hand, the winning captain Martin said, "We dominated the game, there were around two or three counter-attacks. I don't remember how many chances the (Pakistan) goalkeeper had to save. I think Pakistan is a strong team they played well.
-ANI