In photos: On World Mental Health Day, India celebrates its first mental health festival
Sehar Qazi
| Updated on: 11 October 2017, 12:06 IST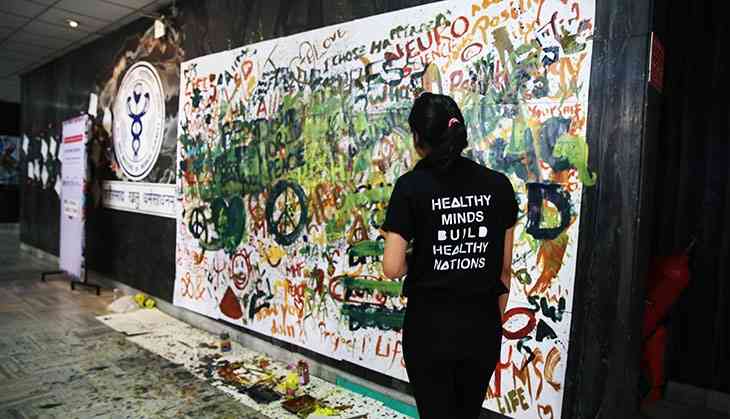 Mental health is just as important as physical wellbeing. It affects how we think, feel and act.
October 10 was World Mental Health Day, and this year India celebrated its first mental health festival at AIIMS. The festival was an initiative of Mental Health Foundation (India) to explore and celebrate the widespread use of creative means to promote mental wellbeing.
This festival has used art as a medium to spread awareness about mental health and also to encourage innovative ideas on mental health.
23-year-old Taijasi Mishra considers art as a therapy as well as a medium to express emotions. "I had bipolar disorder and was on medication for three years. I couldn't express my emotions and things were constantly going inside my mind. But then I started painting, it really helped me a lot. I went to study arts at Goldsmith University in London and decided to become an artist. Presently, I teach people especially children, on using art as a medium of expression," Taijasi said.
The festival was more stimulating and fun for people especially students and it also gave them a platform to express themselves with different art forms.
"As mental health problems are still a taboo, we wanted to create awareness and discuss mental health issues in a positive frame. Our objective behind this festival is to create acceptance, awareness, and solutions for such problems," says Isha who is the part of the organizing team of the festival.
RV Madhuri has come all the way from Bangalore to attend this festival and is busy working on her artwork. She considers chaos as a form of beauty. "There are many things that go on in my mind and painting calms me down. I believe that people should address and embrace the chaos in their mind and convert it into something positive," says Madhuri.
If you have missed this festival, here are some photos from the festival: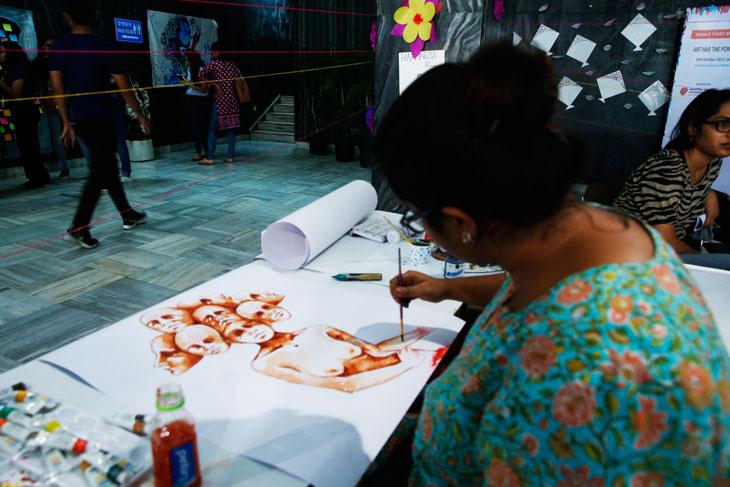 23-year-old Taijasi Mishra considers art as a therapy as well as a medium to express emotions. (Sehar Qazi/Catch News)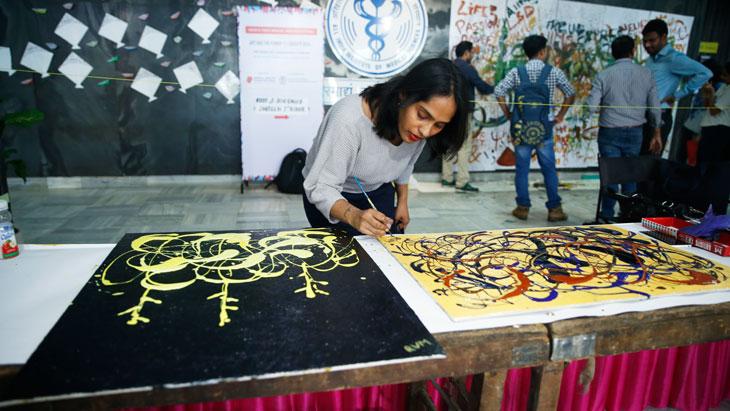 RV Madhuri, a professional artist. (Sehar Qazi/Catch News)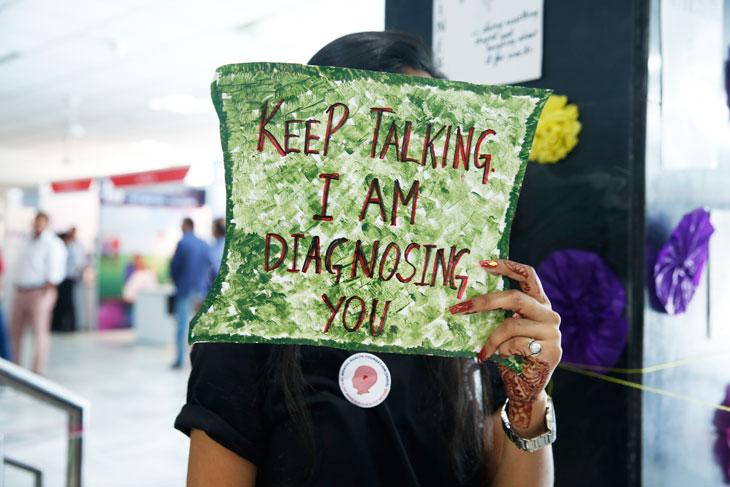 Psychology puns by college students. (Sehar Qazi)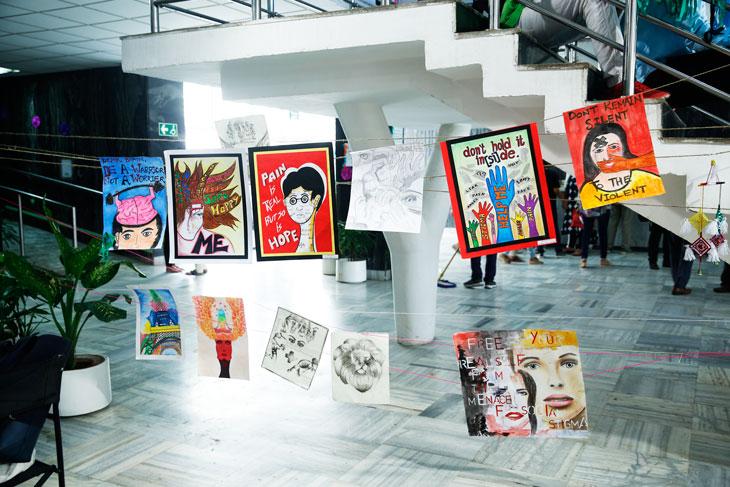 October 10 was World Mental Health Day, and this year India celebrated its first mental health festival at AIIMS. (Sehar Qazi/Catch News)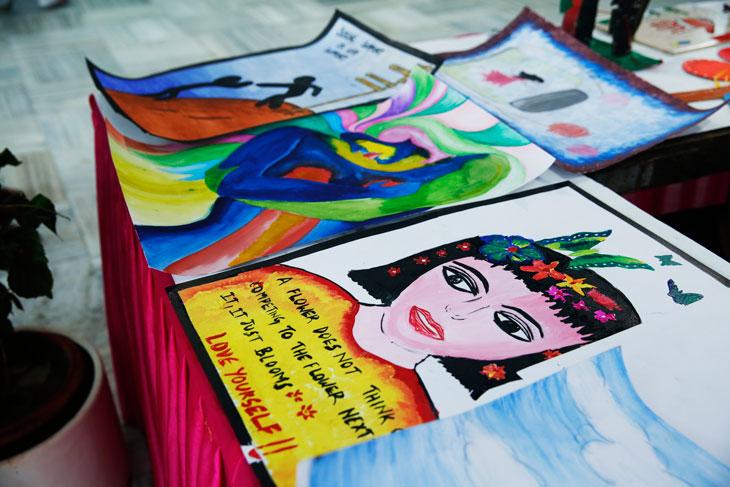 October 10 was World Mental Health Day, and this year India celebrated its first mental health festival at AIIMS. (Sehar Qazi/Catch News)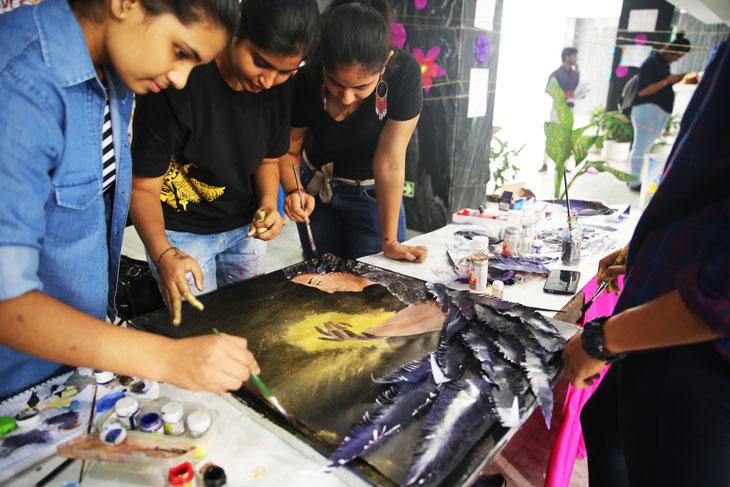 Participants at India's first mental health festival. (Sehar Qazi/Catch News)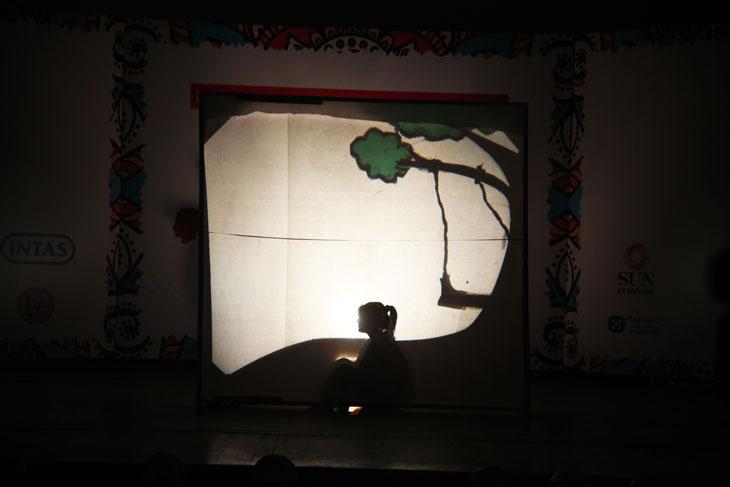 Theatre artists performing at the India's first mental health festival. (Sehar Qazi/Catch News)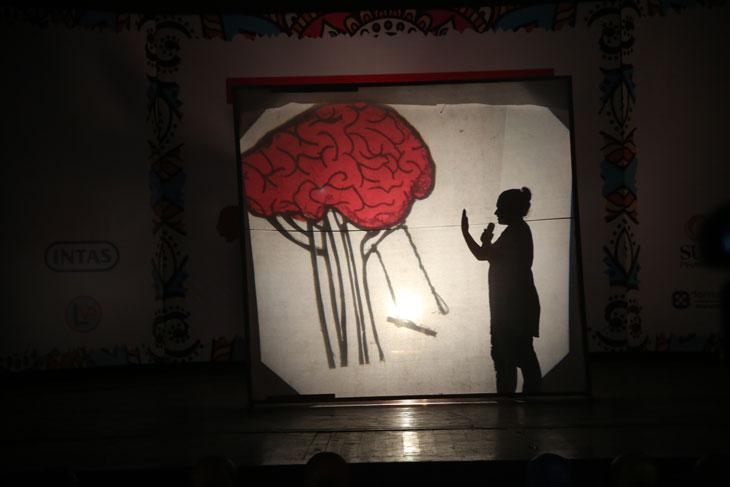 Theatre artists performing at the India's first mental health festival. (Sehar Qazi/Catch News)
Theatre artists performing at the India's first mental health festival. (Sehar Qazi/Catch News)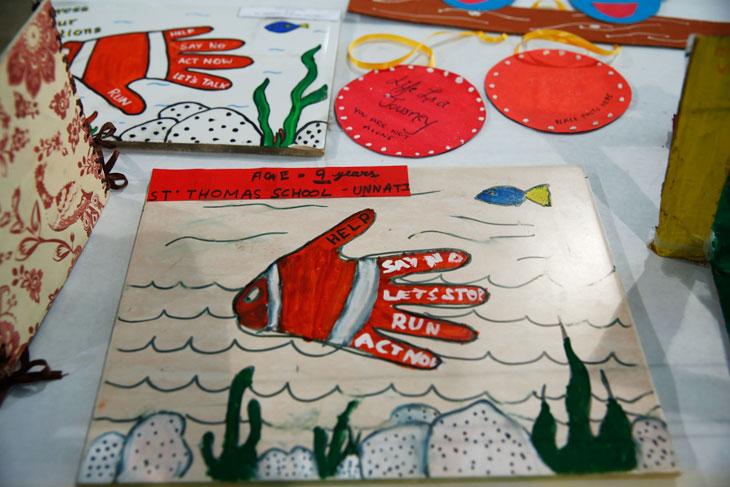 This festival has used art as a medium to spread awareness about mental health and also to encourage innovative ideas on mental health. (Sehar Qazi/Catch News)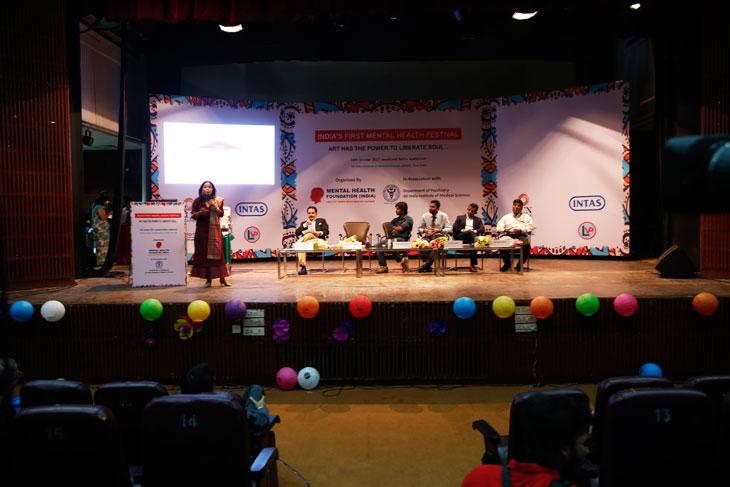 Symposium on the mental health in the workplace at the India's first mental health festival (Sehar Qazi/Catch News)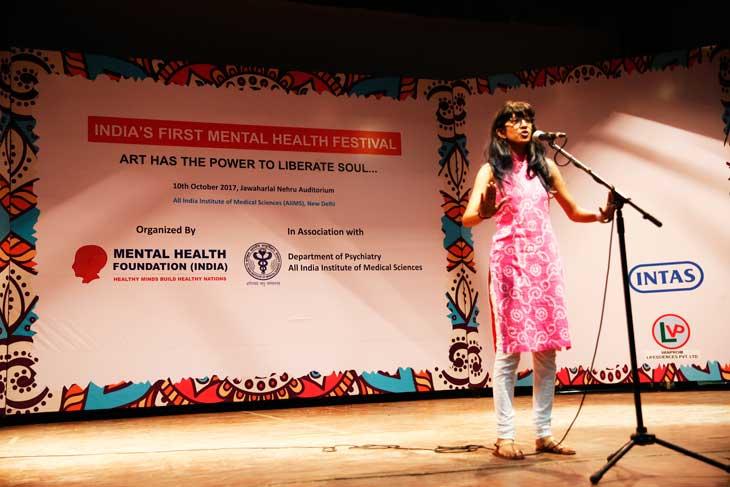 Slam poetry competition at the mental health festival by MHFI (Mental Health Foundation India). (Sehar Qazi/Catch News)
Renowned slam poet Diksha Bijlani at India's first mental heath festival. (Sehar Qazi/Catch News)