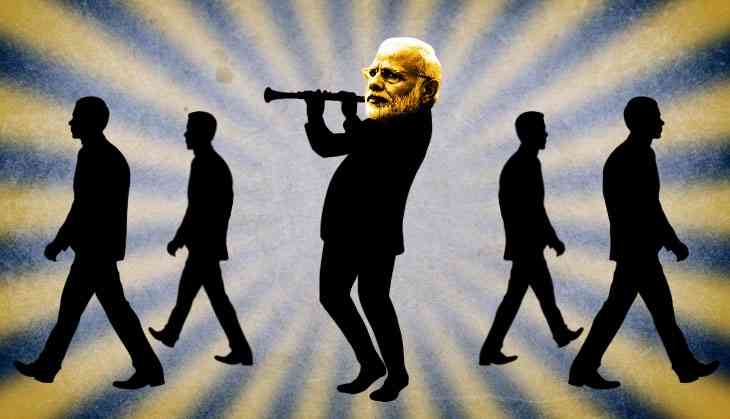 Almost every political expert in Delhi is predicting a two-thirds victory for the Bharatiya Janata Party (BJP) in the upcoming Assembly elections in Gujarat. This prediction is based on two broad premises.
First, the Modi factor. The belief is that with Narendra Modi, a Gujarati, as the Prime Minister of the country, a majority of Gujaratis will proudly vote for BJP, ignoring caste and local factors.
Second is history. BJP hasn't lost an Assembly election in Gujarat since 1995 and the Congress hasn't won an election since 1985, even when the latter was in power at the Centre.
A reversal in Gujarat seems all the more difficult at a time when Modi and BJP president Amit Shah have unfurled the BJP flag even in states like Jammu and Kashmir, Assam and Manipur, which was unthinkable till now.
Therefore is it even possible that BJP would lose in Modi's home state? For this we need see what the Modi factor means on the ground in Gujarat.
Social coalitions in Gujarat
In their book The Shaping of Modern Gujarat, Achyut Yagnik and Suchitra Sheth wrote that authoritarian leadership has been a dominant theme in Gujarat politics. Gujarati leaders such as Sardar Vallabhbhai Patel, Morarji Desai, Chimanbhai Patel, Madhavsinh Solanki, Keshubhai Patel and Narendra Modi – have all used the "strong leader" motif.
The penchant for authoritarian leadership is partly rooted in Gujarat's medieval history in which the Nagarsheth (city chief) wielded power in cities and towns, while feudal lords and chieftains were paramount in the villages.
In democratic politics, Gujarat's mass leaders maintained their dominance by projecting strong leadership as well as weaving coalitions among Gujarat's different social groups.
Two leaders did this most successfully: Madhavsinh Solanki and Narendra Modi. Under Solanki, the Congress won 141 seats and 149 seats in the 1980 and 1985 Assembly elections respectively, out of a total of 182. Even Modi hasn't been able to come close the matching this feat. In this election, the BJP has been boasting that it would break Solanki's record.
As CM, Solanki promised to transform Gujarat into Japan, a language very similar to what Modi uses. His power stemmed from the unbeatable KHAM formula comprising Kshatriya (including OBC Kolis, Thakors as well as Upper Caste Rajputs), Harijans, Adivasis and Muslims.
However, BJP grew among the communities that were alienated by the KHAM formula: Patels, Vaniyas and Brahmins. And through the Ram Janmabhoomi movement it expanded into a broader Hindu consolidation, breaking the KHAM alliance once and for all. BJP grew from 11 seats in 1985 to 67 in 1990 and finally a near 2/3rds majority in 1995.
Modi's formula
When Modi took over as Chief Minister in 2001, he inherited a regime that was highly dependent on Patels. The 2002 anti-Muslim pogrom helped Modi consolidate Hindu votes and sweep the state in the Assembly elections that year, winning 127 seats.
This was evident in the distribution of the BJP's success. The party swept all the districts that were heavily affected by the riots such as Ahmedabad (17 out of 19 seats), Vadodara (all 13 seats), Panchmahals (all 7 seats), Dahod (all 7 seats), Mehsana (6 out of 7 seats), Anand (5 out of 8 seats) and Sabarkantha (6 out of 9 seats). Most of these were areas where Congress used to be strong.
The BJP did moderately well in its stronghold of Saurashtra and poorly in another stronghold Kutch where it had faced flak for its tardy relief work after the 2001 earthquake. It also fared below par in districts like Surat, Valsad and Banaskantha, where there was little violence during the riots.
By 2012, however, the social base of Modi's electoral success had changed. While he retained the BJP's core Patel-Vaniya-Brahmin base, he also became a messiah of the Gujarat's rapidly growing urban middle class, cutting across caste lines.
His predecessor Keshubhai Patel opposed him, covertly in 2007 and overtly in 2012, which did lead to some erosion of BJP's support among Patels particularly in areas like Junagadh, Amreli and Rajkot.
Between 2002 and 2012, the Congress also reclaimed its base among the Adivasis. The party won 16 out of 27 ST seats in 2012 and did well in tribal dominated districts like Sabarkantha, Banaskantha, Panchmahals, Dahod and Dangs. It also won back some of its predominantly rural strongholds in central Gujarat such as Anand and Kheda.
As a result by 2012, the Modi factor in Gujarat became a disproportionately urban phenomenon. 62 or over half of the BJP's seats came from districts in which Gujarat's 6 biggest cites are located.
Ahmedabad: 17 out of 21 seats
Vadodara: 11 out of 13 seats
Surat: 15 out of 16 seats
Bhavnagar: 8 out of 9 seats
Jamnagar: 5out of 7 seats
Rajkot: 6 out of 11 seats
In Ahmedabad the difference in vote share between the BJP and Congress was as high as 25% while in Surat it was 23%.
BJP swept all the urban seats in Ahmedabad, Surat, Vadodara and Bhavnagar except Muslim dominated Dariapur and SC reserved seat Dani Limda, both in Ahmedabad.
Remember this was an election in which the dominant narrative in Gujarat was that it would propel Modi to become the BJP's PM candidate. It is clear that the desire to provide Modi that push was much more strongly felt in urban areas and not uniformly across Gujarat.
BJP's dominance in urban areas is an advantage as Gujarat is over 40% urban. Cities often shape the narrative for the state as a whole. But it can also be a weakness. The rural areas are evenly fought and even a small swing in votes can help turn the tables.
This was evident in the 2015 civic elections. BJP won the 6 municipal corporations, comfortably ahead of Congress in all the cities except Rajkot. It won 42 out of 56 municipalities, while Congress won 10. However, Congress won 24 out of 31 District Panchayats against the BJP's 6. It won 134 out of 230 Taluka Panchayats against BJP's 26.
The Modi coalition crumbles
The civic election results made it clear that the Modi coalition had begun unraveling in rural Gujarat. The Patidar community had decisively moved away from the BJP and a majority of Adivasis and Dalits were firmly back with the Congress.
The breakdown of the Modi coalition is largely a result of Modi's own policies. Gujarat's rich, its traders and the middle class prospered under Modi. But economic inequalities increased and social inequalities remained unaddressed. The result of this is the drift of a chunk of Adivasis and Dalits away from BJP between 2002 and 2012. Economic growth did not come with an adequate growth in employment opportunities. This coupled with agrarian stagnation led to the Patidar reservation stir 2015 onwards and the parallel agitation by OBCs.
The Una incident became the tipping point for Dalits, who had continued to reel under persisting backwardness and atrocities in Modi's so-called Vibrant Gujarat.
And as Modi had flattened the political landscape, cutting to size leaders within his own party as well as the Congress, it opened the space for new and more innovative political leaders like Hardik Patel, Alpesh Thakor and Jignesh Mevani. These young leaders captured and articulated the resentment within their own communities, particularly the youth most of whom have lived under only BJP governments.
None of these leaders have shown any willingness to join hands with BJP because the social forces they represent are decisively aligned against the saffron party. The caste-based agitations that Gujarat witnessed in the last two years are unprecedented since the 1980s. Will the people who participated in or supported these agitations forget caste and vote for BJP just because Modi is the PM?
Arithmetic
In 2012, 25 seats were won by BJP with a margin of less than 5%. These seats can change hands even with a minor shift in votes, bringing Congress within striking distance of the majority mark. But if there is a significant shift of Patel and Thakor voters towards the Congress, it would be curtains for the BJP.
Patels form 15% of Gujarat's population and can influence the outcome in around 70 Assembly seats. Thakors represent 20-22% of the population and play a decisive role across North and Central Gujarat. Adivasis, Muslims and Dalits form 16%, 9% and 7% of Gujarat's population respectively.
While the BJP might win, the only factor that can give BJP a 2/3rd majority is a communal polarisation that completely neutralises the effect of the Dalit, Patel and OBC agitations. The efforts are on, with Chief Minister Vijay Rupani accusing Congress leader Ahmed Patel of harbouring ISIS terrorists and the circulation of WhatsApp messages that "Ahmed bhaijaan" will be the chief minister if Congress wins.