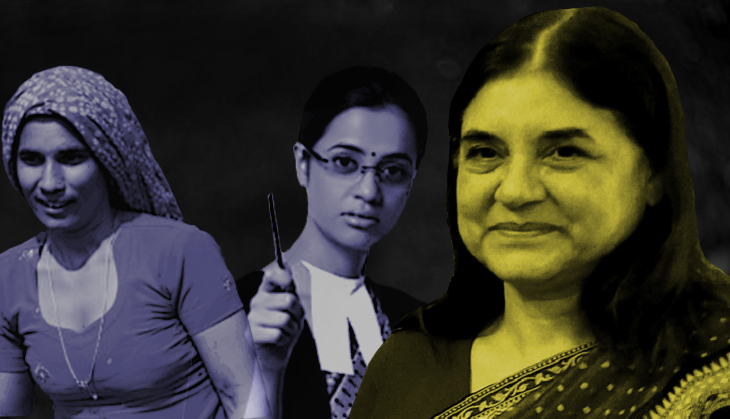 The draft
Women and Child Development Minister Maneka Gandhi has released a draft of the new National Policy for Women
The previous policy has been in effect since 2001
The positives
The policy takes a non-parochial view towards women - aiding their growth in the sectors they\'re already in
Importantly, it addresses the issue of crimes against women, especially the increasing instances of cyber crime
More in the story
Salient features of the draft policy
How the public can share its views with the govt on the policy
The National Policy for Women is getting a revamp. Women and Child Development Minister Maneka Gandhi on Tuesday, 17 May, released the draft of the 2016 policy, which will replace the one we've had since 2001.
It is a proposal to address the various concerns women in India have, including the need for better education, healthcare, job generation, etc.
Gandhi, while releasing the draft policy said: "This policy is coming after 15 years. In these years, many things have changed, and the most important of them is women's attitude towards challenges."
She stressed that women are now far more aware of their rights, and so the policy too must change to accommodate that understanding.
Career-oriented policy
The 2016 draft is career-oriented, much like the Indian woman of today.
While suggesting ways to encourage female employment in varied sectors, including agriculture, IT and law, it also stresses upon the need to educate. It highlights the need for increased enrollment of girls in schools by making necessary provisions, like transport facilities, sanitation, higher female staff, etc.
Also read: A mandatory course on gender sensitisation? Telangana, you surprised us all!
"The draft has been made in consultation with a lot of women - lawyers, journalists, bureaucrats and non-working women - to see what we can do in terms of defining government action in the next 15-20 years," Gandhi said.
Once all the stakeholders, including NGOs and members of the civil society, are consulted with, the policy can be brought into effect.
Crimes against women
On the issue of crimes against women, a whole range of measures have been suggested.
Interestingly, the draft also factors in the need for a redressal system against cyber crime, a sort of crime that's only growing, and more so against women. Given a climate where the physical threat felt by women is reported widely, cyber bullies use their hidden-behind-the-keyboard status to perpetrate their crimes.
"With technology advancements, there have been incidents of fraud and misuse of information uploaded on the cyberspace... The regulatory frameworks are not in pace with the growth in technology as yet.... hence, there is a need for developing protecting measures for citizens keeping in view that the victims of such frauds are largely women," the draft reads.
Focus on youth
Beyond the obvious connection between the youth and technology, the draft also considers the young women who make up a large part of the workforce.
"In the coming years, India is expected to gain significantly from its 'demographic dividend' as the share of its potential productive workforce will increase in numbers as compared to the aging population of other countries. To what extent the country can seize this dividend and benefit from it will largely depend on how women exercise their rights and entitlements and contribute to the development process," the draft reads.
This is to say that because India is an increasingly young country, it would be completely myopic of the system to not ensure that half the potential workforce, i.e. women, are not provided the aid necessary for them to work at par with their male counterparts. And this provision would only help the GDP and the economy. So win-win, basically.
Women in male-dominated fields
"Recognising that trade agreements are not gender neutral and that differential impact of trade policies on gender exists, especially for women working in agriculture, food processing, textiles etc., a full review of all existing trade treaties and agreements from a gender equity dimension will be made," reads one of the pointers from the draft.
First off, recognising the female farmer, labourer and trader is a huge shift in women-related policy. While this draft has the usual care-giving provisions like maternity aid, healthcare benefits, girl child education, etc., it actually views women in functional roles, wherein they simply require some assistance to perform their best.
It also unpatronisingly aims to pull more qualified women into the field. Without offering jobs like candy, the policy wants women to get more high-paying jobs and break the glass ceiling, especially in the service sector.
It reads: "The service sector will encourage equal employment opportunity through jobs/enterprises for women, especially in high-paid jobs, to post-graduates and professionally-qualified women."
Women in sports, especially in India, are not the best placed. Barring cricket, which is basically a religion, women's teams in other sports get little or no attention. This despite the many laurels they win for the country.
So for this draft to address their woes is fairly urgent.
"Conscious efforts will be made to ensure gender parity in the induction of trainees, trainers, recruitment of coaches under various schemes of Sports Authority of India (SAI)," reads the draft.
And women in non male-dominted fields
The media is seen as a fairly respectable field as far as gender ratios in newsrooms and other places go. However, what about the portrayal of women in media?
The policy aims to not just help young girls gain access to jobs in the media, but also ensure a gender-sensitised working environment, where the content mirrors the job situation.
"Gender sensitisation and non-discrimination in portrayal of women in all forms of media and use of gender sensitive language will be advocated to ensure that women are not represented in a demeaning or stereotypical manner. Private sector media networks will be sensitised and encouraged to portray empowering images of women with self regulatory mechanisms."
Of course, what may comprise "empowering images" is debatable.
Two-way street
The ministry also promises an advisory council for women to approach the government with regards to entrepreneurial ventures. This, of course, is to make matters less 'male-dominated'. The council would be called 'Women Entrepreneur Council'.
Not just that, the ministry, in a fairly democratic move, is welcoming suggestions regarding the draft from all inclined to do so. All suggestions can be directed here
Also read: Delhi is not safe. But it's getting a super-progressive women's rights charter