The oldest Harvard club needs to be shamed.
The top institute's all-male The Porcellian Club lasted 225 years without ever feeling the pressure to explain why it doesn't admit women. Until now.
The club, in a statement emailed to The Harvard Crimson student paper, said, "Given our policies, we are mystified as to why the current administration feels that forcing our club to accept female members would reduce the incidence of sexual assault on campus. Forcing single gender organisations to accept members of the opposite sex could potentially increase, not decrease the potential for sexual misconduct."
Read that again. The club's reasoning for not being inclusive is that if it were to accept female students, they would probably get raped. And let me remind you this is 2016.
According to graduate board president Charles M Storey, this official statement is a plausible explanation for not admitting women. After facing backlash over his statement, Storey apologised and claimed that his quote had been misinterpreted.
"Unfortunately, I chose my words poorly and it came out all wrong. This failure has led to extreme and unfortunate misinterpretations, which were not my intentions at all," read his apology.
Shockingly, members of the club who support the stance claim that Storey means that since there are no women, there's no possibility of sexual assault. And that women's entry may, if at all, change their status quo. All of this is, of course, entirely based on the assumption that men are not sexually abused on campus. 
Way to go, Harvard.
The best response
DontAcceptRape.com is a website that aims to expose the increasing problem of sexual violence on the campuses of top colleges. They post satirical videos and issue Fake Acceptance Letters that drive the point home.
According to this website, while rape is a huge issue in itself, it is the silence or the indifference on the part of college authorities that victimises the abused student further. 
While their campaign is not a direct reaction to the goings on at Harvard's Porcellian Club, it definitely is the response they deserve.
Interestingly, Harvard Crimson shared one of the #DontAcceptRape ads. It's rather self-explanatory. Have a look.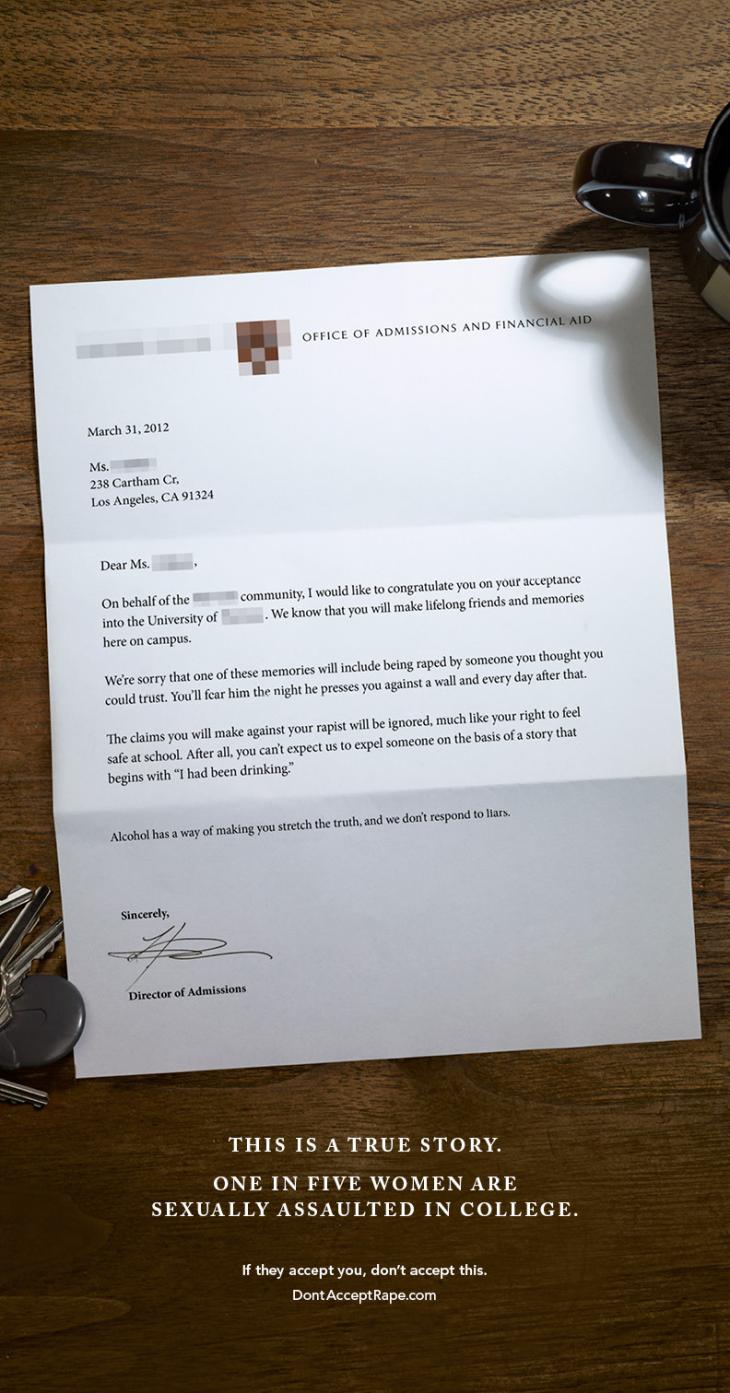 #DontAcceptRape also makes spoof home videos of students receiving such acceptance letters, with the overwhelming joy, excited parents, all in place. With the addition of the real possibility of rape, of course.
Here are two of their videos. You can have a look at the rest here.
Unlike students of the aforementioned club, these videos don't descriminate on the basis of gender. Because anyone can get raped.
While #DontAcceptRape is attempting to highlight a real problem with a hint of humour, with Storey's comment, irony must be dying thousand deaths right now. 
Because unlike the campaigners, he has quite literally warned women against rape. The subtext here is, 'If you join us, be prepared to deal with sexual abuse.'
Celebrity interest
The problem of sexual violence on campus has become such a raging issue that Lady Gaga, in September 2015, released a song to raise awareness on the subject. The song Till It Happens To You was written for American filmmaker Kirby Dick's documentary, The Hunting Ground, which tackles sexual assault on US college campuses.
The haunting song and its music video is a very personal take, and is aimed at empowering campus abuse victims. Watch: 
If the authorities cannot take sexual violence seriously, perhaps there is an urgent need for celebrities like Lady Gaga to approach the subject. 
Because we definitely need to start talking, or the likes of this 'exclusive Harvard men's club' will continue to get away with it. As they have for 225 years.