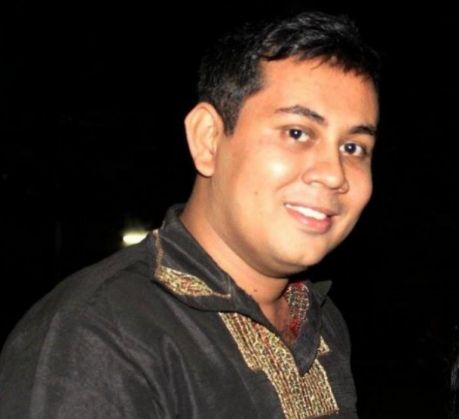 Asha Moni, wife of Niloy Neel, filed a murder case at the Khilgaon Police Station late night on 7 August. Neel is the fourth blogger and Ganajagaran Mancha activist to be murdered in Dhaka recently.
After the Friday prayers on 7 August, six alleged Islamic militants broke into Neel's family apartment in the city. They had entered the building posing as house-hunters. Subsequently they confined Asha Moni to a room and hacked Neel to death.
In an email sent to media houses in Dhaka, the Bangladeshi arm of al-Qaeda in the Indian Sub-Continent (AQIS) claimed responsibility for the attack. It called the attack "an operation to slaughter an enemy of Allah and His Messenger". However, the authenticity of this email could not be independently verified.
Bangladeshi Bloggers' Murders
Niloy Chackrobarti Neel, 40, was the fourth 'secular blogger' to be murdered in Bangladesh in the last the last 7 months.
In May, four men hacked 33-year-old Ananta Bijoy Das with machetes in Sylhet city. In March, blogger Washiqur Rahman was murdered in a similar fashion. Before him, 45-year old Avijit Roy, a Bangladesh-born US national, had been killed in Dhaka.
Apart from professing atheism and secularism via their blogs, these men had also been actively involved in the 2013 Shahbag protests which led to the execution of Abdul Quader Molla, prime-convict of 1971 war crimes.
Their names had figured on a list of 84 'atheist bloggers' drawn up by Islamic groups in 2013 and widely circulated.
Widespread demand for probe
The international community, including the UN, condemned the blogger's murder.
"The violent killing of another critical voice in Bangladesh shows that serious threats to freedom of expression persist in the country," a UN statement said. UN Representatives called for a prompt and thorough investigation into the recent murders of bloggers.
The Amnesty International (AI) said the Bangladesh government must send a strong message that killings aimed at silencing dissenting voices are despicable and will not be tolerated.
Mainstream Bangladesh media raised questions over the slow pace of investigations in the case. Reports have also alleged that Neel had sought police protection due to imminent threat to his life.