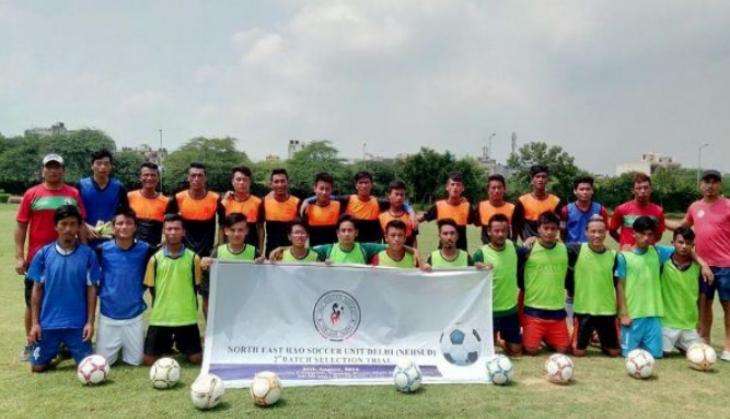 To identify and nurture the budding players of the Northeast region, North East Hao Soccer Unit in Delhi (NEHSUD) has taken up the initiative to provide free professional training to players clearing the selection trial.
The idea is to bring together young talents, coaches, management experts and professional bodies on a single platform and to nurture football talent from the region.
Such training will also give an exposure to the selected players at the bigger academies and clubs.
Delhi-based players from the Northeast are invited to participate in the selection trial conducted by professional coaches. Selected players will also be provided exposure to famous clubs and academies.
"Youngsters from Northeast don't get an opportunity to play and show the talents and skills. Also, they don't get a chance to play in a professional clubs. NEHSUD is undertaking that our northeast youths will be given a free training and give an exposure to other platforms. That's why NEHSUD have tied up with many clubs and push our Northeast talented youth to get an opportunity," said NEHSUD president, Tuireisem Khamrang.
During the first selection trial, NEHSUD selected 22 players out of 70 players. Selected players will now be given professional training by licensed coaches under the All India Football Federation (AIFF) and the Asian Football Confederation (AFC).
The selected players will not only undergo intensive training thrice a week but would also be provided a monthly stipend apart from physiotherapy for those injured.
So far, 12 players have already been selected by some of the prominent football clubs of the country like Delhi Dynamos FC, Bhaichung Bhutia Football School, Royal Ranger FC, National United Sporting FC, Delhi United FC, and Tata Football Academy.
"We are working towards getting more affiliations with other reputed clubs, so that whatever players we have trained will be playing for those clubs, " added Yaruingam Ningshen, head marketing and business development, NEHSUD.
"I started playing football when I was 7 to 8 years old. It is my life and my passion. I just love football. I've been playing with Bhaichung Bhutia Football Academy. I will be playing I-League for under 16 next month. They have good facilities and have good players, even the coaches are nice, "says Jeffrey, a football player training under NEHSUD.
Such steps taken by the football enthusiasts would not only give a better platform to the talented youngsters but also would help change the outlook of sportsmanship.
"Football has been one of the best games that I like to play in my life. However, I didn't know that we have such platforms where we can showcase our talents and skills. But then, my friend told me that there are football trials going on here in Delhi and I got the information and today I am here," Solem Hungyo added.
"I grew up playing with the Northeast players whether in schools or colleges. Northeast soccer players are very skilful and talented. They have very good decision making talent. That is why if you watch Indian football team , most of the players are from north east region," added Anup Singh, football coach at Bhaichung Bhutia Football Academy.
--ANI