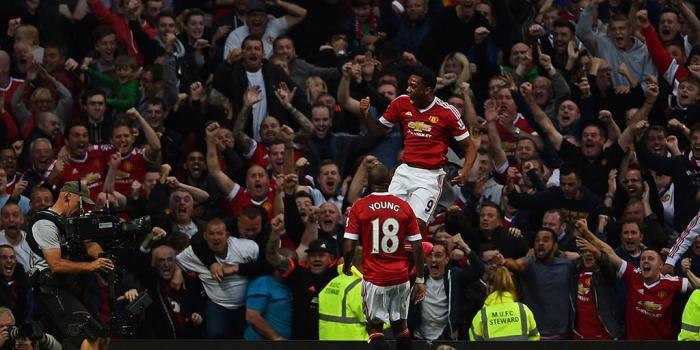 Week five of the English Premier League saw more twists and turns in this already thrilling season of the Barclays Premier League. The biggest clash of the weekend was the showdown between Manchester United and Liverpool at Old Trafford, in which United ran away 3-1 victors. Chelsea's misery continued as they slumped to a 3-1 defeat to Everton at Goodison Park, and Leicester City reaffirmed their status as the most exciting team to watch in the league after making a late comeback against Aston Villa, winning 3-2 after being 2-0 down.
A total of 22 goals were scored in 9 games played so far, with Newcastle United vs West Ham being the only fixture yet to be played, late on Monday night. Here we look back at five of the best goals scored over the weekend, a few of them worthy of being goal of the season contenders come the end of the season next year.
vs Liverpool
After a drab first half at Old Trafford, and with the scores locked at 0-0, the match needed a spark in the second half. Blind's curling effort provided just that, after a well worked set piece routine found him at the edge of the penalty box. Pure technique, this one.
vs Leicester City
A swift Aston Villa counter attack by Gabriel Agbonlahor on the left wing ended with him squaring the ball to Carles Gil, who sweetly curled the ball past Kasper Schmeichel with his left foot to put his team 2 - 0 up. Little did Villa know what was about to hit them, as a blitzkrieg by Leicester in the last 15 minutes saw them come out on top with a scoreline of 3-2.
vs Liverpool
Pressure on his shoulders, making his first appearance after an estimated 50 million euro move from Monaco, Anthony Martial announced himself to the English Premier League in style. Scoring the third goal to seal the match for Manchester United in front the Stretford End, Martial's run and calm finish past Simon Mignolet was Thierry Henry-esque.
vs Everton
At number two is a bullet from Chelsea's Nemanja Matic against Everton, albeit in a losing cause. Matic's shooting ability has been criticized since he joined Chelsea, after arriving at the club with a reputation of being a long-range specialist. However, this strike will now do that reputation absolutely no harm.
vs Manchester United
The best goal of the weekend was undoubtedly Christian Benteke's acrobatic overhead kick vs Manchester United to give Liverpool some hope of making a comeback into the game, reducing the score to 2-1. Back in 2011, the same end of Old Trafford had seen Wayne Rooney score a similar goal in the local derby vs Manchester City, but this effort by Benteke may have just eclipsed Rooney's stunner.