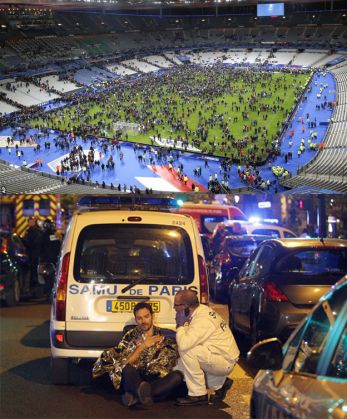 French and German football players, and Parisian public gathered to watch an international friendly at the Stade de France demonstrated tremendous composure during the Paris attacks that started on Friday, 13 November.
Among multiple videos that have emerged on the internet, one shows French football fans singing the national anthem in defiant solidarity as they stream out of the stadium after the match.
Beautiful video shows thousands of people singing French national anthem as they exit the Stade de France in Paris pic.twitter.com/QayDIXCnud

- BreatheSport (@BreatheSport) November 14, 2015
The match ended 2 - 0 in favour of the hosts France, with goals from Olivier Giroud and Andre-Pierre Gignac.
Explosions could be heard throughout the match with French President Francois Hollande in attendance in the stands. He was later evacuated from the stadium after it became clear that the city was reeling under coordinated terrorist attacks at the same time.
The match however, continued to be played to avoid a situation of panic.
Sound of explosion outside Stade de France reportedly caught on TV cameras https://t.co/lMauHIBlye https://t.co/fK36sLoBXg

- Daily Mail Online (@MailOnline) November 13, 2015
At least four people were reported dead around the Stade de France, with explosions taking place near two of the entrances and a McDonald's restaurant near the stadium.
After the match ended, fans had to continue to remain in the stadium and many came on to the pitch as a security measure.
Crowd at Stade de France ran onto pitch, too scared to leave stadium https://t.co/TdWpdku1oJpic.twitter.com/EoF5cuPBJ8

- Daily Mail Online (@MailOnline) November 13, 2015