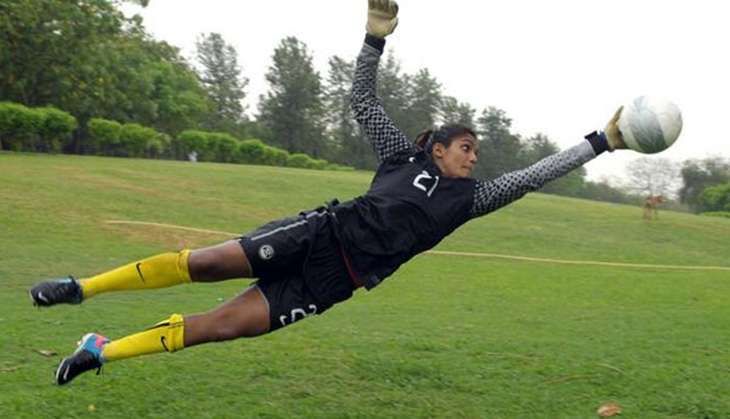 Aditi Chauhan, the first Indian to play for a professional club in England, recorded a stellar comeback to West Ham United Ladies FC by saving three penalties on 25 September.
Her penalty saves took her team to a win over Swindon Town at Thurrock in the FA Women's Premier League Plate.
Chauhan, 24, had to cut short her stint with West Ham to return to India after her student visa expired. However, Loubourough University - where the goalkeeper is a student - offered her a part-time job, thereby enabling her to overcome the visa obstacles and continue playing for West Ham.
During the game, the London-based club went down a goal in the opening 10 minutes but a late equaliser took the game to penalties.
West Ham Ladies win on penalties as returning Indian international goalkeeper @aditi03chauhan saves 3 penalties! #COYI

— West Ham Ladies (@westhamladies) September 25, 2016
Chauhan saved Swindon's first penalty. West Ham scored soon after, with Swindon equalising. Chauhan's side went up 2-1 before the Indian goalkeeper demonstrated yet another stunning save.
Another Swindon equaliser and a missed penalty from West Ham left the match open to a win. But Chauhan's third penalty of the night took her side to a 3-2 win.
Here's a look at the penalties:
@katieannebottom fires in the first pen pic.twitter.com/wxYHKFw7Oz

— West Ham Ladies (@westhamladies) September 25, 2016
Pen number 2 pic.twitter.com/PnxQhDb6Dl

— West Ham Ladies (@westhamladies) September 25, 2016
Pen number 3 pic.twitter.com/cRt3njkXif

— West Ham Ladies (@westhamladies) September 25, 2016
Pen number 4 pic.twitter.com/kaWpNRXMbD

— West Ham Ladies (@westhamladies) September 25, 2016
The winning Pen was too powerful from @SashaKelly_91 pic.twitter.com/fQD7KaRSmi

— West Ham Ladies (@westhamladies) September 25, 2016