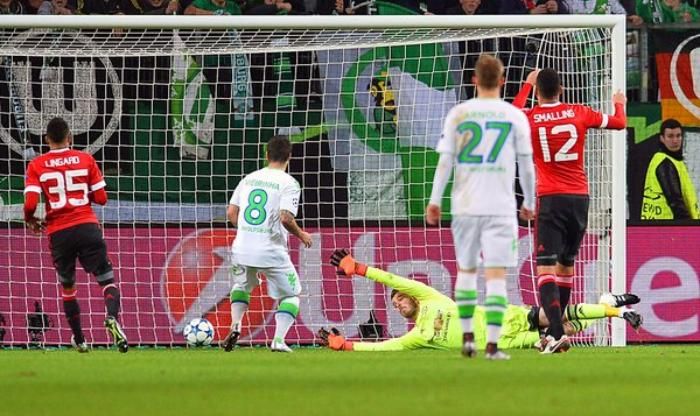 Three-time European champions Manchester United have been knocked out of the UEFA Champions League following a 3-2 loss at the hands of German club Wolfsburg on Tuesday, 8 December.
United, who took the lead through Anthony Martial in the 10th minute, conceded just three minutes later when Naldo levelled the score for Wolfsburg after latching on to free-kick.
The home side piled on the pressure on United following the equaliser, and Vieirinha finished off from close range a well built-up move to give Wolfsburg the lead in the 29th minute.
United had to wait until the 82th minute for the equaliser, when Wolfsburg's Guilavogui inadvertently put the ball on his own net. However, Naldo scored just a couple of minutes later to give Wolfsburg the win.
With PSV winning their game against CSKA, United have been dumped to the UEFA Europa League, courtesy of their third place finish.
On the other hand, Manchester City topped their group with a 4-2 win over Borussia Monchengladbach, as Juventus slumped to a 1-0 defeat in Seville.
Real Madrid, meanwhile, thumped Swedish side Malmo 8-0, with Cristiano Ronaldo scoring four times, to finish the group stage with 16 points from their six games, and top their group.
The scores
Manchester City 4-2 Borussia Monchengladbach
Sevilla 1-0 Juventus
Galatasaray 1-1 Astana
Benfica 1-2 Atletico Madrid
Wolfsburg 3-2 Manchester United
PSV Eindhoven 2-1 CSKA Moscow
Real Madrid 8-0 Malmo
PSG 2-0 Shakhtar Donetsk