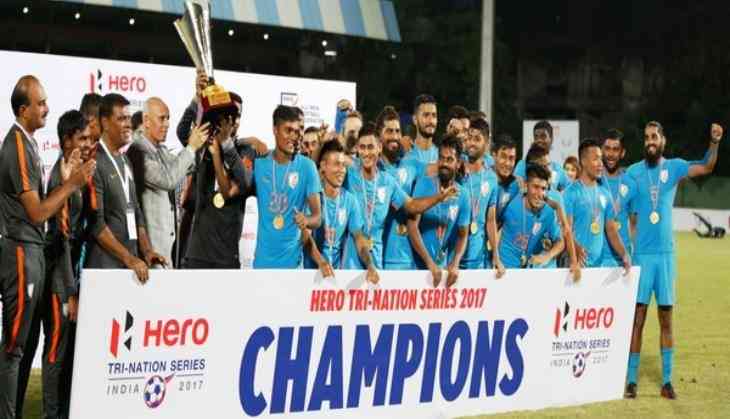 India crowned Tri Nation-series champion
Despite being held to a 1-1 draw by St. Kitts & Nevis at the Mumbai Football Arena last night, India triumphed the Tri-Nation Football Series 2017 with one win and a draw in the tournament.
St. Kitts & Nevis finished second with two consecutive draws.
Jackichand Singh started on a promising note and looked to be the major threat to the visitors, who poked a dangerous pass in the second-minute itself but Balwant Singh missed the header by a whisker.
Stephen Constantine's boys got the breakthrough in the 38th minute when Jackichand Singh headed a long ball from Rowllin Borges home to send the crowd into a delirium.
Indian midfielders were dictating the game from the scratch of the game and the St. Kitts & Nevis players were completely dominated by their Indian counterparts.
Meanwhile, it was Jackichand's second International goal and incidentally, both goals have been scored at this particular venue, the maiden one coming against Puerto Rico.
The boys went into the break with a one-goal lead.
Constantine opted to introduce Robin Singh after the break having withdrawn Balwant Singh who saw a first-half goal ruled offside in the 26th minute.
Nine minutes after the hour-mark, Bertie Carlos came very close to find the equaliser but Subrata Paul poked it away to give away with a corner to the visitors.
On the third consecutive corner, the Carribean side scored the equaliser from a looping header by Amory Gvaune in the 71st minute.
10 minutes to the end of the regulation time, Anirudh Thapa joined the fray to etch his name in the history book as the 517th player to debut for the Senior National Team.
Nikhil Poojary operated exuberantly from the right flank but his efforts could have been dealt well by the strikers.
In the added time, Robin Singh hit the woodwork and Md. Rafique's header missed the back the net by a whisker.
Meanwhile, India's enviable 9-match (including an unofficial friendly against Bhutan) winning spree came to an end with the 1-1 draw.
India are scheduled to play against Macau in the AFC Asian Cup UAE 2019 Qualifiers on September 5.
-ANI