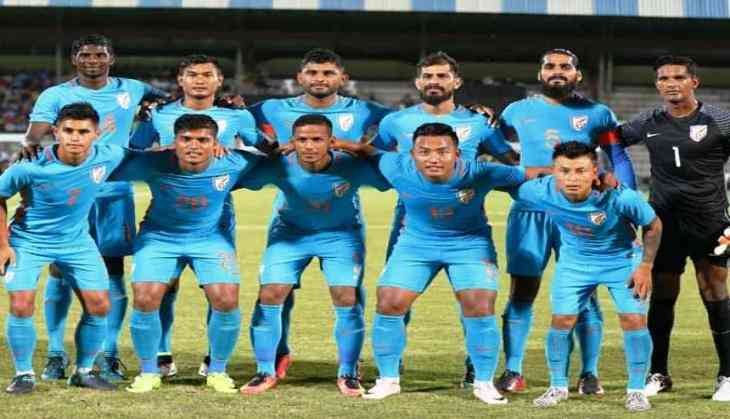 The Indian national football team will clash swords against Jordan for the first time ever in their history on November 17 in an attempt to experiment tactics and gain valuable experience going into the mega competition in the form of AFC Asian Cup, next year.
The match comes on the back of a goalless draw against powerhouse China in October 2018 where Indian dished out a superb performance to catch Marcelo Lippi's men in a stalemate.
In a press conference, ahead of the clash, in the capital, head coach Stephen Constantine stated that the fixture against Jordan would prove to be extremely beneficial for the Indian national team.
"We want to do well in our preparation for the AFC Asian Cup and the clash against Jordan will aid us in that as Jordan are a good side and they have a number of good players in their ranks. We need to play teams like Jordan leading up to the AFC Asian Cup where we would be under pressure. Even the game against China was the same where if you commit a mistake around the 18 yard box, you can easily concede. However, both sides are good technical sides and both will present different challenges," Constantine said.
"We have a plan that we would like to implement during the game and we have watched the teams a lot. We had watched China three to four times and we are prepared for the challenges that come our way. Our preparation to the AFC Asian Cup will also include a match against Oman and another friendly in December which is yet to be fixed," he added.
The Indian team, who are departing for Jordan tomorrow, will be without the presence of talismanic Sunil Chhetri who has been ruled out of the tie courtesy of an ankle injury.
Reflecting on the same, the Indian coach admitted that Chhetri's absence is a big blow for the team. He , however, added that it is a great opportunity for young players to step up and grab the chance.
"Sunil missing for the clash against Jordan is a big blow for us. He is a great player and has been fantastic for us. He is one of those player that is irreplaceable but somebody has to take his place for the match against Jordan," Constantine said.
"However it is a great opportunity for young players to step up and although you cannot find a player of his calibre and class we need to see if the young player step up and take this opportunity. We need to find somebody who will be there when we don't have Sunil Chhetri so that there is no void left in the team", he added.
India have been drawn in Group A of the AFC Asian Cup 2019 alongside hosts UAE, Thailand and Bahrain. They will face Thailand in their opening match on January 06, 2019.
-ANI