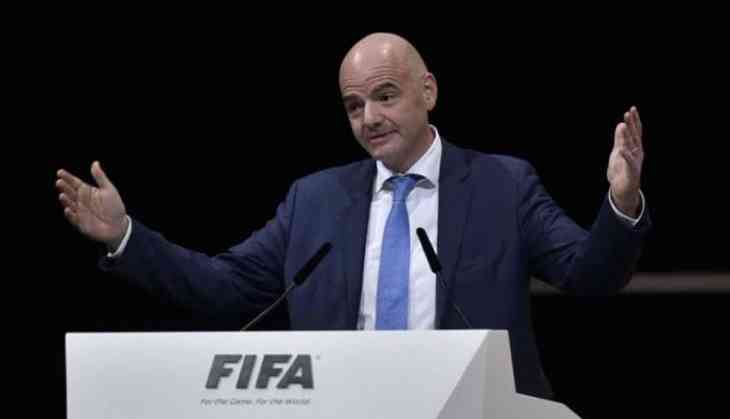 FIFA President Gianni Infantino has delayed any decision over his plans for a lucrative new Club World Cup and global Nations League amid widespread opposition, instead setting up a taskforce to further look into the proposals.
Speaking at a press conference in the Rwandan capital Kigali, where the FIFA Council has been meeting, Infantino said the taskforce will present "concrete proposals" at a meeting in Miami next March.
The plans have been harshly criticised by opponents who say the international calendar is already overcrowded and have accused the FIFA president of using the projects to help win votes for re-election in June next year.
A source told AFP that Infantino stepped back from adopting the new competitions on Friday when UEFA delegates threatened to walk out of the meeting.
That is after the World Leagues Forum, a grouping of professional leagues, sent a letter to Infantino demanding that no final decision be taken in Kigali and lamenting the lack of any consultation. UEFA President Aleksander Ceferin has also been critical of the plans.
"I am happy to have contributed to peace in the world today if some were seeing it so dramatic," Infantino remarked.
"Everyone agrees the Club World Cup needs to be revamped, everyone in the world.
"There are some who have different interests. We were not going to decide today how to revamp them, there are different options on the table.
"FIFA's duty is to organise competitions, so I don't understand why we cannot talk about them."
- 'No sovereign fund involved' -
Infantino is pushing to revamp the Club World Cup by boosting it from seven clubs to 24 in a four-year format, 12 of them European. Currently the competition, which elicits little interest outside of Latin America, is played every year in December.
His other project is to launch a biennial league tournament for nations, the global Nations League, a sort of mini-World Cup with eight national teams competing. UEFA recently launched its own European Nations League.
Infantino says he has an offer of $25 billion over 12 years for the two competitions from a group of investors, which the Financial Times has identified as SoftBank from Japan, backed by Saudi Arabia among others.
The 48-year-old FIFA president nevertheless insisted that "no sovereign fund is involved".
The source added: "UEFA are against these new competitions, because the Club World Cup would trim their share of the market from the Champions League, and by creating a global Nations League, FIFA would want to take over the commercialisation of the rights for all Nations Leagues."
Infantino suggested that it would be better for FIFA to organise a tournament that redistributes money around the game than for top European clubs to regularly travel abroad to take part in money-spinning friendly matches.
"Everyone is happy to go around the world and try to cash in as much as possible. The only organisation in the world of football which is doing solidarity and development all over the world is FIFA," he said.
"There is certainly space for these games, interesting club games, without adding to the international match calendar." Infantino also used the Council meeting to confirm that FIFA is opposed to La Liga's plans to stage a match between Barcelona and Girona in the United States in January.
In addition, FIFA endorsed a package of proposals to reform the transfer system, including reintroducing licences for player agents and limiting the number of players that can be loaned out by clubs.
South American federation CONMEBOL's request to move the Copa America from odd to even years and be held every four years from 2020 was granted, as was the Confederation of African Football's request to stage the 2023 Cup of Nations in June and July, as is already planned for next year.
-PTI