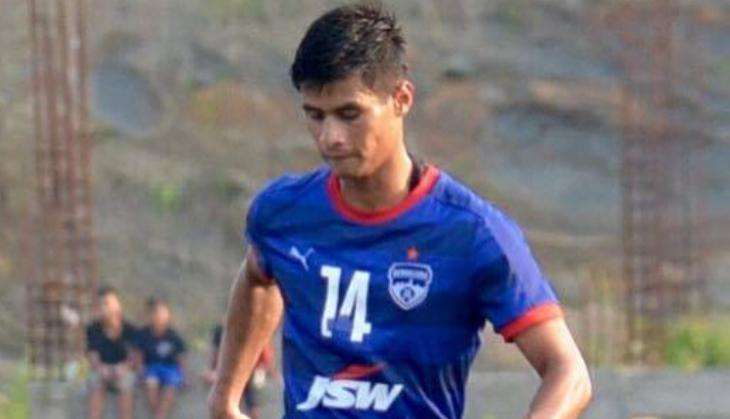 Days after Prime Minister Narendra Modi hailed Meghalaya for its contribution to Indian football, a national team member from that state, Eugeneson Lyngdoh on Tuesday said "it's a privilege and an inspiration" to be mentioned by name by the head of the government of the country.
In a recent visit to Meghalaya, Prime Minister Modi made a mention of Lyngdoh, Aiborlang Khongjee and Marlanki Suting as players from Meghalaya who have done the country proud and praised the state for its contribution to Indian football.
"It was surprising to know that the Prime Minister of the country knows about footballers from the North East. A mention from the Prime Minister is the cherry on the cake. It's a motivation to further excel. It's a feeling which cannot be described," Lyngdoh, who operates in the midfield said.
"At the same time, it's a message to entire footballing fraternity about the support from the Prime Minister himself.
It's such an inspiration that he spoke about football. It's a privilege. I am so happy that I was able to make my family proud. My parents, brothers, sisters and all are so excited.
Thank you Modi ji for all your support," Lyngdoh was quoted as saying by the official website of All India Football Federation.
Lyngdon, the 2014 AIFF 2014 Player of the Year, is currently in Vientaine for India's 2019 AFC Asian Cup Qualifiers play-off match against Laos on June 2.
He also said that the Prime Minister's mention of the 2017 FIFA U-17 World Cup in his 'Mann Ki Baat' will also "inspire the younger generation".
"The support from the honourable Prime Minister will make the kids more passionate about Indian football. They will look forward to making a career in football in the future," said Lyngdoh.
Talking about India's match against Laos, Lyngdoh said it's a do-or-die match which will have a bearing on how many international matches India gets to play in the near future.
"It's a very important match for Indian football. It will decide our calendar for the next couple of years, whether the national team would have international engagements or not.
It's do or die," he said.
-PTI