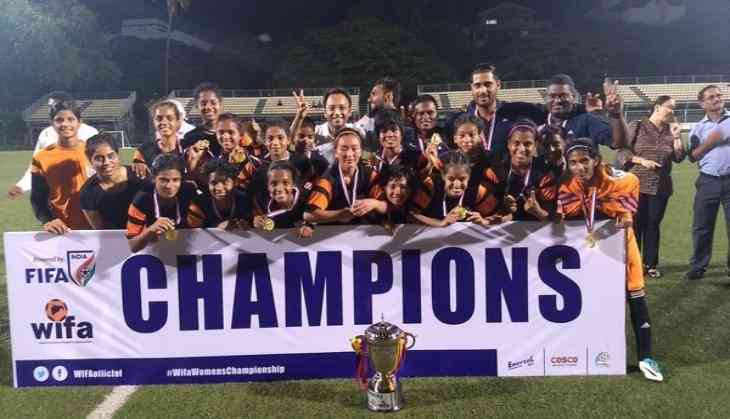 2017: Indian Super League club FC Pune City beat United Poona SA 3-0 in the finals of WIFA Women's Championship 2017.
A brace by Senorita added to Muriel Adam's goal ensured the win for the outfit in the all-Pune finals played at Cooperage, Mumbai on July 3.
After beating Bodyline SC 7-6 (1-1) on penalties in the semifinals, FC Pune City came all guns blazing in the finals not leaving anything to the last minute against their city counterparts United Poona SA. The Darshana Sanas-led side piled on three goals in the first half, a deficit that United Poona SA couldn't overcome till the end of the game.
Senorita scored as early as in the fifth minute for FC Pune City to take a 1-0 lead. The lead was doubled five minutes later when Adam Muriel struck the second. But FC Pune City weren't happy with a 2-goal cushion and in the 22nd minute Senorita scored her second, team's third to go into half-time with 3-0. The scoreline remained as it is at the full-time whistle as FC Pune City won the title.
The WIFA Women's Championship 2017 comes at the back of some stellar performances in the last one year. FC Pune City - Women's Team also won the Late Lance Naik Mohan Goswamy Memorial All India Tournament 2016 in Uttarakhand, Guru Tej Bahadur Football Tournament and Mayor's Cup in Pune and remained unbeaten in the Pune District Football Association (PDFA) Women's League on their way to winning the title.
In fact in both Guru Tej Bahadur Football Tournament and PDFA Women's League, this side didn't concede a single goal.
FC Pune City CEO Gaurav Modwel was ecstatic with his team's performance. "It's been a great last one year with the team. This side has lived together, trained together for a long time to play to each other's strengths and cover up each other's weaknesses too. It's a moment of pride for us to see this team grow from strength to strength," said Modwel.
-ANI