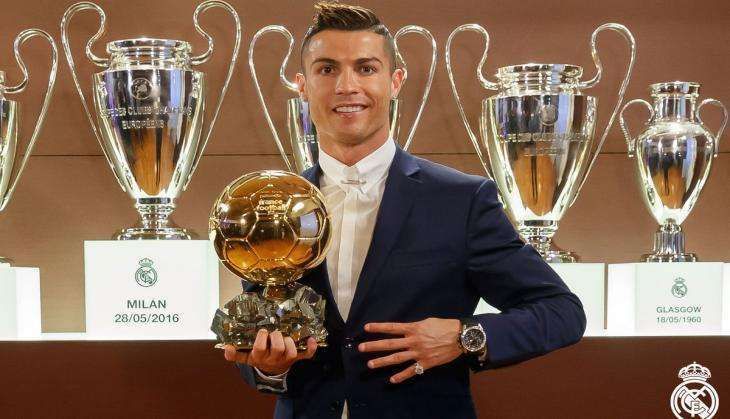 Real Madrid forward Cristiano Ronaldo, on 12 December, won his fourth Ballon d'Or by piping his arch nemesis Lionel Messi in their long-running duel for the title of best footballer on the planet.
2016 proved to be the year for Ronaldo as he won the Champions League for the second time in three seasons; led Portugal to their first major title at Euro 2016 and had a surprise win over France.
Ronaldo is now one Ballon d'Or behind last year's winner Messi. The 31-year-old topped the poll of 173 journalists worldwide.
"For me there is no debate. The Ballon will be for him," Real Madrid coach Zinedine Zidane was quoted as saying.
"He showed it last season and he shows it again and again. We expect a lot of him but he stands above everyone."
Commenting on his triumph, Telegraph quoted Ronaldo as saying, "I never thought in my mind to win four times the Golden Ball, so I am so pleased and so happy.
"I have the opportunity to thank all of my team-mates, the national team, Real Madrid, all of the people and players who helped me to win this individual award."
"As you can imagine I feel so proud and happy to receive this amazing and beautiful ball, I am so happy."
Commenting on his tax evasion row, an international news agency quoted the Real Madrid star as saying, "You believe I am worried? He who owes nothing, fears nothing."
Ronaldo first won the Ballon d'Or in 2008 after Premier League and Champions League triumphs with Manchester United.
But it was only in 2013 that he added his second - Messi had hogged it before then - and Ronaldo made it a hat-trick the following year.
This year marks the end of six years of joint awards by founders France Football and FIFA.
Griezmann and Messi, Ronaldo has been shortlisted for The Best FIFA Men's Player Award 2016, which will be announced at a ceremony in Zurich on 9 January.