Nuclear power: can India keep its tall promises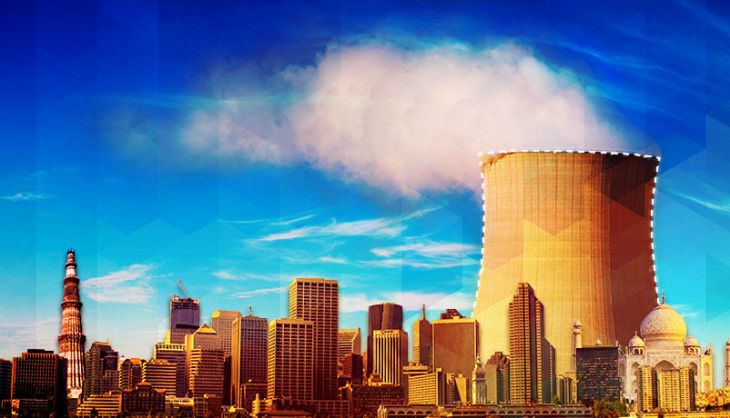 Nuclear power has been a thorny issue. In India, too, people have been worried wherever a nuclear plant has been proposed, and especially so after the 2011 Fukushima accident. The protests at Jaitapur and Kudankulam have stood out.
The government, on the other hand, has pushed nuclear power to be a safe, environmental friendly source of electricity. In its plans to move to 'climate-friendly' energy, the government has committed to a phenomenal six-fold increase in nuclear power in just 17 years.
In its much-awaited climate action commitment to the United Nations, India said it will produce 63 Gigawatt electricity from nuclear energy by 2032.
Looking closely, however, one realises that the numbers don't add up. In fact, they are so far from reality that experts have called it a pipe dream.
A simple comparison reveals the delusion: India has about 10 GW capacity, either in place or under construction, and in the next 17 years it aims to add 50 GW nuclear power. But in the last 15 years, the entire world has added just 20 GW.
Before seeing the numbers, a word on why this commitment can't be brushed aside. The target was mentioned in India's 'intended nationally determined contribution' (INDC), a commitment submitted to the UN ahead of its climate conference in Paris this December.
At Paris, every country's INDC will be added up to know if the world can do enough to reduce carbon emissions and avoid devastating effects of climate change. And being the country with third-highest carbon emissions, India's commitments will be closely analysed.
Leave aside financial constraints and local opposition. Here's why it is physically impossible for India to fulfill this commitment:
How much nuclear power the entire world added from 2000 to 2015.
This is according to the 'World Nuclear Industry Status Report' put out recently by independent energy consultants Mycle Schneider and Anthony Frogatt.
India's current nuclear power capacity.
Even this is not fully utilised, as nuclear plants function at 70-80% capacity.
Reactors under construction have a capacity of 4.3 GW.
Even if they are ready by tomorrow, we will have 10 GW in hand and 53 GW more to go. Can we do it? History says we can't.
The nuclear capacity addition sanctioned in the 12th five-year plan (2012-17) at a cost of Rs 85,000 crore.
Only projects worth 3.4 GW have even begun construction, that too in 2015. These are two units at Kudankulam (Tamil Nadu) and Gorakhpur (Haryana).
They are expected to be completed by 2021. But this is unlikely.
That's how long the second unit at Kudankulam has taken to be constructed and it is yet to be ready.
In fact, the government expects 1.4 GW worth capacity to come up in five years, based on its targets for new units at Kakrapar (Gujarat) and the Rajasthan Atomic Power Station.
Even at this rate, we would need 10 such plants being constructed simultaneously from today until 2032.
The expected capacity from reactors imported from the US and France. But these are in jeopardy.
10 GW were to come from reactors built by Areva, a French firm. But Areva is in financial trouble. Its projects for building similar reactors in Finland and France have been delayed by 10 years.
Even if we succeed in importing reactors from these countries, we can't achieve our target of 63 GW by 2032, according to Professor R Rajaraman, former co-chairman, International Panel on Fissile Materials.
"It is a pipe dream. Putting out such numbers unfortunately only lowers the credibility of the Indian government," he said.
Why does the government bring out such numbers? Where do they come from? Nobody outside the closely guarded atomic energy establishment knows.
To be sure, the 63 GW number was put forward by the UPA government. But why has the Modi government picked it up?
Maybe the target was never meant to be achieved. It could be more of a signal to the political and business establishment, according to Nanda Kumar Janardanan, a faculty in energy studies at Jawaharlal Nehru University. "I'd give it less of a realistic colour. The moment you make such a statement, it becomes interesting news for the business community in the nuclear sector."
In his 2012 book that studied the growth of nuclear energy in India, Princeton University lecturer MV Ramana described the government's nuclear expansion plans as "very unlikely and probably impossible." The reasons, according to him, include not just opposition from locals but also technical implausibility and the atomic energy department's "inability as an organization to learn lessons from its earlier failures".