More trouble for tigers? Their territories in Maharashtra are shrinking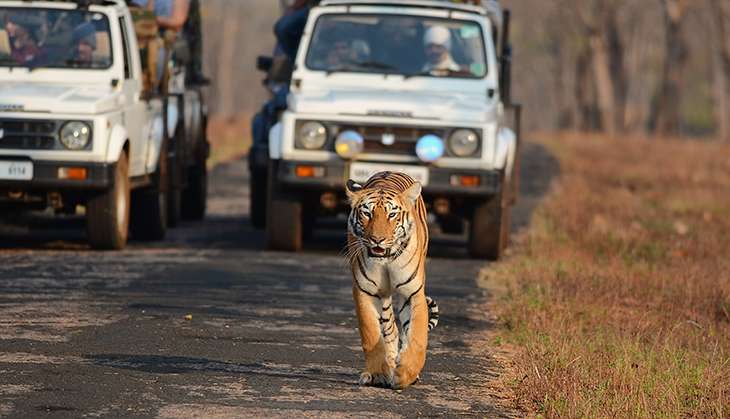 Maharashtra's Vidarbha region is known as a hub for wildlife tourism. Home to more than 150 tigers, it houses wildlife reserves such as the Tadoba Andhari Tiger Reserve, the Umrer Karahandla Wildlife Sanctuary, Nagzira Wildlife Sanctuary and Pench Tiger Reserve attract tourists from across the globe.
Tadoba Andhari, in fact, generates an annual revenue of about Rs 3 crore, while Umrer Karhandla was where Jai - Asia's largest tiger - lived, attracting thousands of tourists, till he went missing in April this year.
But now, tigers in the state are facing a threat to their very existence. Over the last decade, tiger territory has reduced by 40%, and estimates say that all the tigers are found within just 7% of the total territory.
Even in Tadoba Andhari, which has the highest tiger population in the region, is under threat. As cubs are maturing into adult tigers, they're either killing the established ones, or driving them outside the protected area. According to data collected by camera traps and patrolling, the tiger population inside the protected area of Tadoba Andhari (60) is lower the same as the population outside - in the buffer zones and surrounding forests (28 adults and 40 cubs).
What needs to be done
The reduction in the tiger habitat is mostly due to encroachment and non-forestry activities. However, forest department officials are not ready to accept that there is any problem with the tiger territory and conservation. "I don't think there has been any such issue with the tiger territory. As far as habitat is concerned, there are minor issues related to it, but they can be handled with intervention," said Shree Bhagwan, principal chief conservator of forests (wildlife), Maharashtra.
But conservationists beg to differ. A senior wildlife crime expert, who did not wish to be named, said: "There are definitely serious issues with tiger habitat. With the holding capacity of all the protected forests in Vidarbha being exhausted, tigers are forced to move out in search of new territories. And this is when the problems start. Several policies of the forest department have gone wrong, and wildlife is paying the price."
According to the expert, the forests in Vidarbha are highly stressed, plagued by issues such as illicit tree felling, poaching and encroachment.
"There has definitely been a severe impact on tiger territory. The so-called conservation programmes initiated by the forest department with local communities have been a major failure. They never achieved the desired results. The future of the wild cat is bleak outside the protected area. With the protected areas fast nearing their holding capacities, the forest department must concentrate on protection and conservation of tiger habitats outside protected areas," the expert said.
Edited by Shreyas Sharma