Forget the four-colour logo, Google is now going fully green
Asad Ali
| Updated on: 14 February 2017, 1:25 IST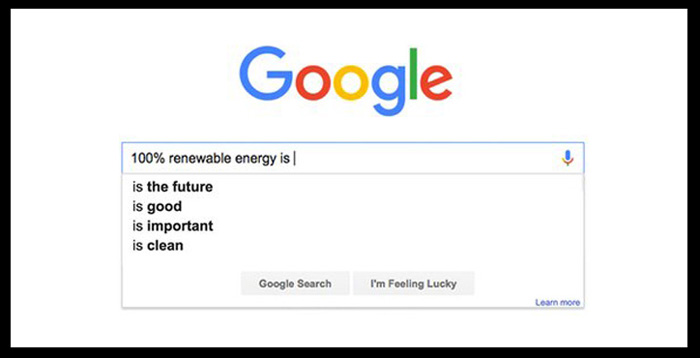 Its logo may be all shades of the rainbow but this month, Google's focus seems to be seriously green. On December 3 the search engine monolith committed to an ambitious green energy procurement programme and joined the RE100 initiative.
RE100 is a collaboration of major global corporations committed to 100% renewable electricity. The aim is to not only benefit from renewable energy on an individual level, but to pique the interest of others in the corporate sector as well.
This will see Google adding 842 MW to its renewable energy capacity and tripling its purchase of renewable energy by 2025. That will take the company another step closer to its commitment of ensuring that 100% of its operations use clean energy. "Across three countries, we're nearly doubling the amount of renewable energy we've purchased to date. We're now up to 2 gigawatts - the equivalent of taking nearly 1 million cars off the road," reads Google's official statement on the move.
RE100 is helmed by The Climate Group in partnership with CDP - both non-profit organisations - and was launched during Climate Week NYC 2014. Recent additions to the big names already on board include BMW and IKEA, taking its total strength to 40. Member corporations are encouraged to set a public target date within which to procure 100% of their electricity from renewable energy sources.
Google's announcement has brought into the spotlight not just RE100 but its own lofty energy goals.
Among other objectives, it especially intends to use sustainable energy to power its data centres. And the latest data center Google is planning to build is, rather symbolically, on the grounds of Widows Creek, a coal-fired power plant in Jackson County.
While there's temptation to see environmental concern by corporates as limp CSR attempts to garner credibility, according to Emily Farnworth, who helms the REE campaign, it makes business sense too. In an interview to Huffington Post she said, "Companies are realising that it makes good business sense for them to switch to renewables. A combination of reasons in terms of secure electricity prices, secure electricity; increasingly technology costs are coming down, so in some parts of the world it can actually be cheaper to switch to renewable power."
Have Indian companies caught on to the RE100 trend? Though its too early to say whether it'll be equally successful a model here, Infosys has gone ahead and joined the initiative. The company became a member earlier this year and made a commitment to be 100% renewable by 2018 as part of their carbon neutrality goal.
"What they are finding is that to actually be able to switch to renewables gives them more security of supply in terms of being able to manage their own solar resource, but also they are not using diesel backup generators as much. So they are actually saving money by using solar power," explains Farnworth.
There's no doubt that pressure from green groups and the presence of some of the world's big boys on RE100 are likely to bring other big names on board. This is groupism we can totally get behind.