The Magnets: Come for the vocal harmony, stay for the banter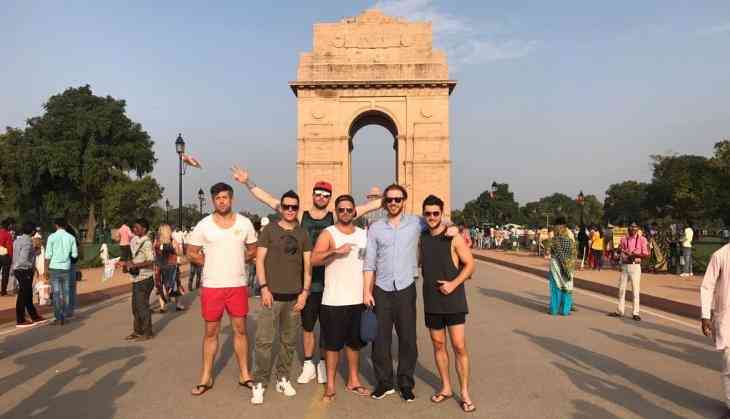 (Photo courtest AGP World)
Individually fantastic, the six members of The Magnets come together to create a musical experience that is far greater than the sum of its parts. Arguably one of the best a capella acts in the world, this UK-based musical group are more than just a good listen. Oozing charm and wit, they manage to win over crowds with their banter and unmissable chemistry, while wowing them with amazing vocal harmonies.

Currently in Delhi for the latest leg of their India tour, Catch spoke to the band's longest-serving member, Callum McIntosh, to learn more about the band, their unique brand of music, and what it is that makes them tick.

These are the edited excerpts:

Ranjan Crasta (RC): You're called The Magnets. However, magnets work on the principle of opposites attracting, while you're all about harmony. So how did the name come about?

Callum McIntosh (CM): The Magnets was just an idea the original group had about just attracting people towards a capella music. They wanted to be called 'The __________', just like other famous bands like The Beatles or The Who, so 'The Magnets' was quite a nice name because the whole idea of a capella is to draw people towards the sound, so that's where it originated.

RC: The band is now over 20 years old, with a completely different lineup to the original one. How did the band originally come about?

CM: The band formed back when the original guys were in university. A guy called Nick Doodson, who actually still manages us and even fills in from time to time when we need him, thought of replicating the capella bands he had seen in the United States. The band he formed spent some time busking for some extra cash before being discovered and signed.

James Fortune, who still does arrangements for us and writes original songs for us as well, was another original member.

The current lineup has been together for about two years now. I'm actually an old boy, having been with the band for something like seven years now. So I've seen quite a few changes, but it's developing all the time. It's moving forward.

RC: Given that the lineup of the group is very fluid, how do you find members?

CM: A lot of it is through people we know in the business. If we need new people, we don't just do additions. We tend to go to people we know, because we know they will fit in very well.

The most important thing for us, even though we have a fixed lineup of songs, is the banter we share between songs. The audience really likes that because a lot of a capella shows they see will sound great, but there's no connection. We want the audience to feel like a part of our show, so our chemistry is the most important thing.

RC: Given that the band formed in the 1990s, a time when boy bands were all the rage, are The Magnets an example of a boy band gone horribly right?

CM: I suppose it's moved from a kind of boy band to... well, we're a man band now. It's been difficult, you know, because the music industry is so tough. People want to enjoy themselves when they go to a gig and that's what The Magnets bring to the table. If you can do that through music, you can't fail.

RC: Why is it that a capella is treated more like a novelty act than a genre all on its own?

CM: Back when a cappella was mostly barbershop quartets and that, while these guys are very talented, it comes across as cheesy. I think now, with films like Pitch Perfect and competitions like Sing Off in the US that launched Pentatonix, a capella is coming more to the forefront now.

While it's always been popular in America, it's spreading globally. It's just beginning to spiral now and we're very lucky to have been doing it for such a long time. We're at the top of our game now.

RC: So do you consider yourselves ambassadors of a capella music?

CM: Yeah, of course. I think it's really important for bands like us, that have been around for a really long time, to nurture the new groups as well. It's really important to have young singers, right through to retired groups getting together and doing work as well, because it's a fun activity.

RC: Beatboxing is a really important part of your style, has that always been a part of The Magnets?

CM: The Magnets have always had a beatboxer. Up until two years ago it was a guy called Andy Frost, who's more of a drummer than a beatboxer. A vocal percussionist, if you will. And he's incredible at what he does.

But the new style we've gone to now is more of beatboxing. It's very popular, and we're very lucky to get to work with Ballzee and the Beatboxer Collective that he's a part of. Ballzee is arguably the best beatboxer in the world.

RC: But all of you also seem to be able to do a bit of beatboxing?

CM: Everyone's got their own place in the band, and every one has a number they can't sing on their own. We all take our turn and that's important too. It's not one person, it's a collaborative thing. Still, when it comes to actual beatboxing it's all Ballzee.

RC: Given that group members change, how do you rehearse for your shows?

CM: We will get some new songs, and then we'll send the music through on a software program so that we can learn all our parts individually. Then we get together and we try different things to see what works. We're all based in London so it's easy to get together. We work with choreographers as well because we do dance in the shows too.
RC: You've performed with a lot of really big acts. What's been your most memorable experience?

CM: I've been very lucky to have gone on tour with Bryan Adams. He's actually one of my favourite singers to work with, because he was as good live as in the studio. It was just him on his guitar and a piano player. And he was just mind blowing. We opened for him and also got to play table football with him all night after.

We also sang for Gregory Porter last year, Kaiser Chiefs, Rick Astley as well as with Tom Jones, Blondie and others. Of course, my first gig with The Magnets back in 2011 was really special as well.

RC: You've performed all over the world, do you find that a capella translates well across cultures?

CM: One of my highlights was singing in Zimbabwe. It was just incredible, the atmosphere with everyone there was just phenomenal. And,

A capella translates really well in places like Africa because choir singing there is massive and a lot of it is a capella. We got to hear all these other groups sing, not professional groups mind you, but they sound amazing. We get ideas from these sorts of things.

It's just nice to see and hear different things from different parts of the world. It makes you stronger as a performer too, because you learn so much.

RC: What has the reception to your music been like in India?

CM: The reception in Mumbai was phenomenal. The audience was on its feet by the end, clapping and cheering. They really seemed to get into it, right from the start. We're also doing a couple of Bollywood numbers as well.

Our friend Natalie Di Luccio is touring with us and she's done a couple of Bollywood songs, so she's been taking the lead on the Hindi bit in the show. But when we come back next time to India, we're going to do a selection of Hindi songs on our own as well. That's the plan.