Kung Fu Yoga review: Two national traditions destroyed in one terrible movie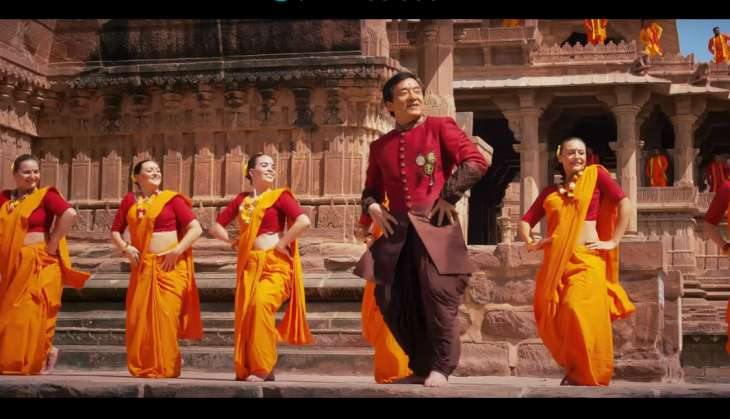 Jackie Chan. A lost treasure. Picturesque locations. And lots and lots of CGI wild animals. None of these can save the disaster that is Kung Fu Yoga.
Stanley Tong's India-meets-China adventure could easily be slept through, if it were not for the tacky bright colours that keep popping out of the screen. Martial artist and legendary actor Chan teams up with Bollywood's forgotten Sonu Sood, Disha Patani and Amyra Dastur for this yawnfest.
Films that patronisingly exoticise India are often super offensive. This isn't one of those films, for Kung Fu Yoga is so insipid it cannot even try to offend. Not even with snake charmers, rope tricks and levitating sadhus.
A little sense is all we ask for
Jack (Chan) is a professor of archeology - the "best in China" - who works at the Terracotta Warriors Museum in China's ancient city Xi'an. Dr Ashmita (Disha Patani) introduces him to a map that may prove to be the clue to the lost treasure of Magadha Kingdom. Ashmita is joined by her assistant Kyra (Amyra Dastur) to help find this treasure.
The expedition starts in Tibet (there's a lot of fake ice, fake skulls and even faker dialogues), then we're taken to some desert, presumably in north India, where Randall (Sonu Sood), a greedy Indian prince with a very English name, shows us how drones work. I think.
Speaking of the dialogues though, sample this:
Scene - Randall is sort of introducing himself to the good guys.
Randall: Some call it 'destiny'. Some call 'it's meant to be'. I call it 'I make it happen'.
Shh, listen carefully. That's the sound of a thousand scriptwriters falling to their deaths.
Anyway, back to the story. So Jack and Randall really like to fight. They fight on (fake) ice in Tibet, in this random temple that's obviously in Jaipur, in Dubai, etc. While the action scenes are understandable, given Chan's record, unlike his previous films, they're not punctuated by funny moments that suspend reality, they're just silly.
Meanwhile, we learn that Ashmita and Kyra are actually sisters and princesses. They're also rightful heirs to the Magadha treasure. I wouldn't feel the need to share this bit of information had they not looked like they stepped right out of a Meena Bazaar store during this big reveal. Never mind that the heavy garb would NOT help them run, considering there is a baddie trying to kill them for the treasure and all. NBD I guess.
Anything goes
So this film has a lion stuck in a car with Jackie Chan at one point. It also has a very ugly, and supremely fake looking temple made of gold. At best, it's paper mache. It has a scene where Ashmita and Jack swim underwater in sub-zero temperatures for ages without oxygen tanks. Because yoga, apparently.
There are yogis dancing to oriental tunes, the background score for most of the fighting scenes is some heavy duty sitar-strumming, and don't even get me started on the song at the end of this film.
What I found most amusing though, was the conflict resolution. As Randall's really beefy men are finally defeated by team Jack's kung fu yoga skills, Randall realises that the real treasure is knowledge and devotion. So he folds his hands and prays before the mighty lord Shiva and sanskar flows right back into his body as he dances along with Jack.
The film ends.
This little bit is indicative of what the film is trying to establish, outside the plot. Kung Fu Yoga (wait for it) is the first part of THREE FILMS (oh, god help us) to be made as a part of an Indo-China treaty. After this, we now expect the two countries to go to war.
Rating: 1/5