89th Academy Awards in pictures: #OscarsSoWhite to #OscarsSoRight
Sehar Qazi
| Updated on: 27 February 2017, 17:35 IST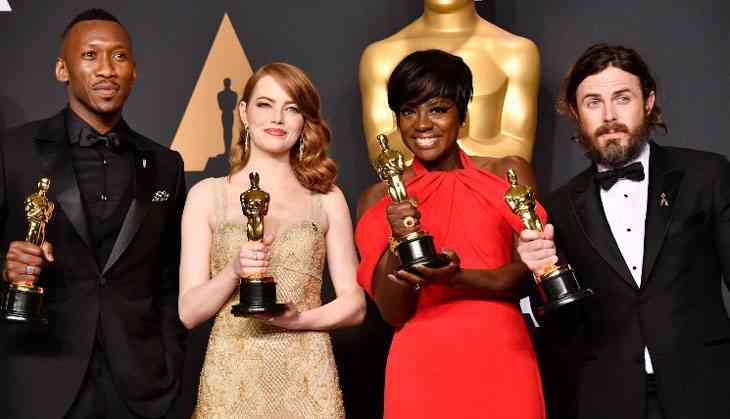 Actors Mahershala Ali, winner of Best Supporting Actor for 'Moonlight,' Emma Stone, winner of Best Actress for 'La La Land,' Viola Davis, winner of the Best Supporting Actress award for 'Fences,' and Casey Affleck, winner of Best Actor for 'Manchester by the Sea,' pose in the press room during the 89th Annual Academy Awards at Hollywood & Highland Center on 26 February, 2017 in Hollywood, California. (Frazer Harrison/Getty Images/AFP)
Moonlight star Mahershala Ali made history as the first Muslim actor to win an Oscar, Viola Davis became the first black woman to win a Tony, Emmy and an Oscar for Fences, Syria and Iran saw representation, and Best Picture went to a film that told the story of a gay black man.
Moonlight won the Best Picture Oscar in a chaotic awards ceremony climax which mistakenly awarded the top honour to La La Land, and quickly retracted after, stunning all who watched the big night.
Casey Affleck won Best Actor for his portrayal of a grieving handyman in Machester By The Seaand Emma Stone walked away with Best Actress for La La Land.
Iranian director Asghar Farhadi, who boycotted the event in protest at Trump's travel ban, won Best Foreign Language Film for The Salesman.
LIST OF WINNERS AT THE 89TH ACADEMY AWARDSActor in a Supporting Role: Mahershala Ali, Moonlight
Makeup and Hairstyling: Suicide Squad
Costume Design: Fantastic Beasts and Where to Find Them
Documentary Feature: O.J.: Made In America
Sound Editing: Arrival
Sound Mixing: Hacksaw Ridge
Actress in a Supporting Role: Viola Davis, Fences
Foreign Language Film: The Salesman, Iran
Short Film (Animated): Piper
Animated Feature Film: Zootopia
Production Design: La La Land
Visual Effects: The Jungle Book
Film Editing: Hacksaw Ridge
Documentary Short: The White Helmets
Live Action Short: Sing
Cinematography: La La Land
Music (Original Score): La La Land
Music (Original Song): "City of Stars" from La La Land
Writing (Original Screenplay): Manchester by the Sea
Writing (Adapted Screenplay): Moonlight
Best Director: Damien Chazelle, La La Land
Actor in a Leading Role: Casey Affleck, Manchester by the Sea
Actress in a Leading Role: Emma Stone, La La Land
Best Picture: Moonlight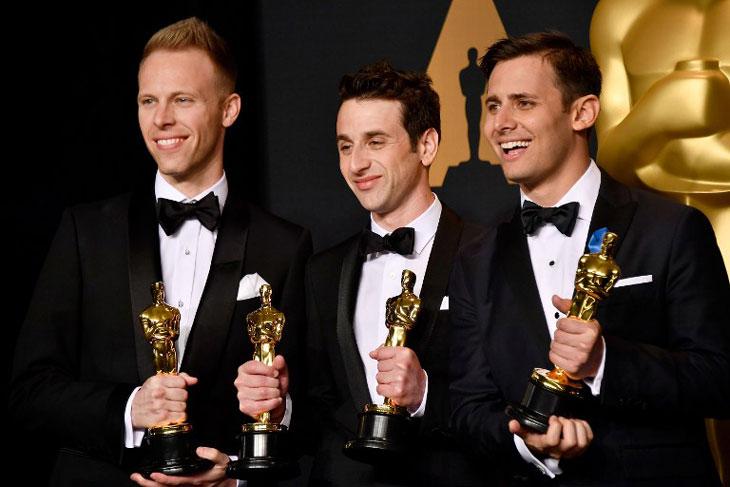 Songwriters Justin Paul, Justin Hurwitz and Benj Pasek, winners of the Best Original Song award for 'City of Stars' pose in the press room during the 89th Annual Academy Awards at Hollywood & Highland Center on 26 February, 2017 in Hollywood, California. (Frazer Harrison/Getty Images/AFP)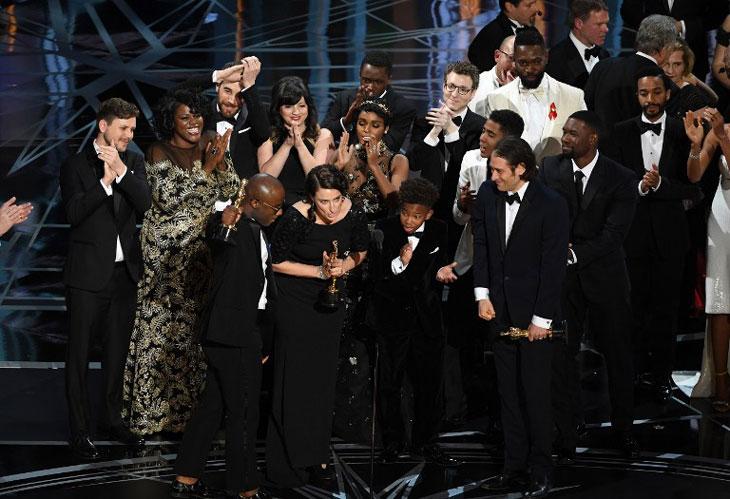 Cast and crew of 'Moonlight' accept the Best Picture award onstage during the 89th Annual Academy Awards at Hollywood & Highland Center on 26 February, 2017 in Hollywood, California. (Kevin Winter/Getty Images/AFP)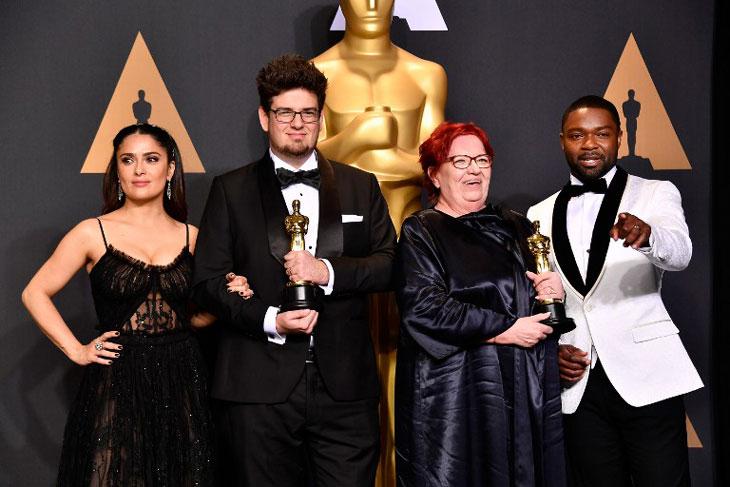 Actor Salma Hayek, director Kristof Deak and producer Anna Udvardy, winners of Best Live Action Short Film for 'Sing' and actor David Oyelowo pose in the press room during the 89th Annual Academy Awards at Hollywood & Highland Center on 26 February, 2017 in Hollywood, California (Frazer Harrison/Getty Images/AFP)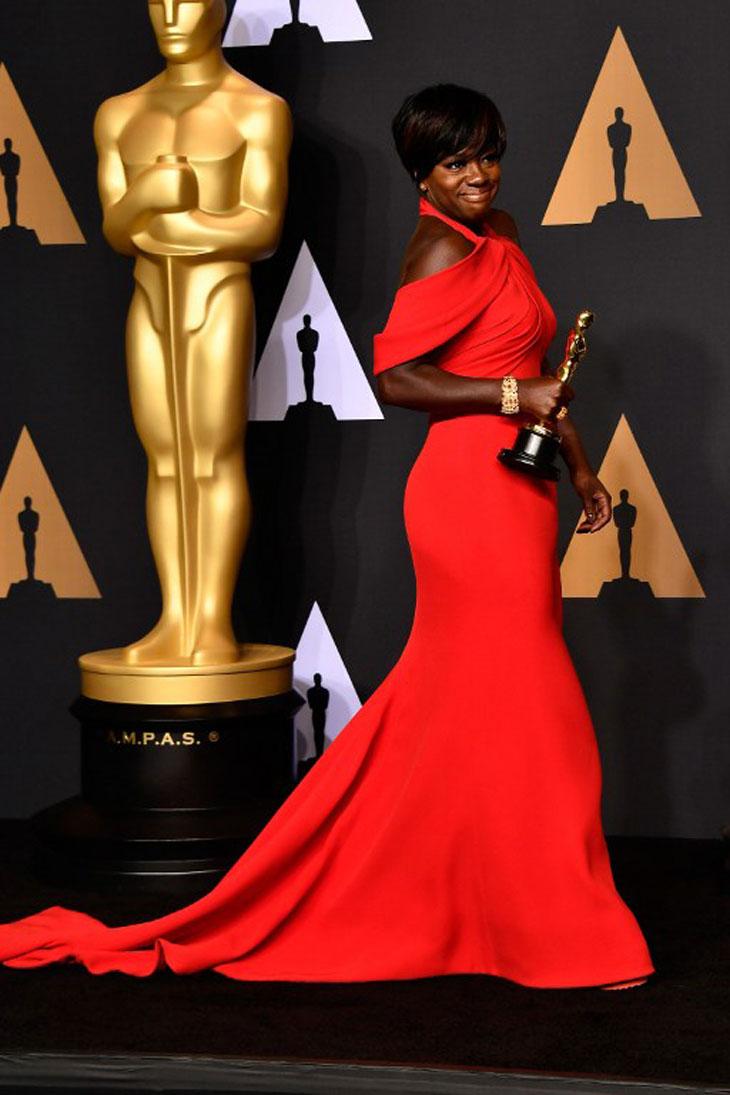 Actor Viola Davis, winner of the Best Supporting Actress award for 'Fences' poses in the press room during the 89th Annual Academy Awards at Hollywood & Highland Center on 26 February, 2017 in Hollywood, California. (Frazer Harrison/Getty Images/AFP)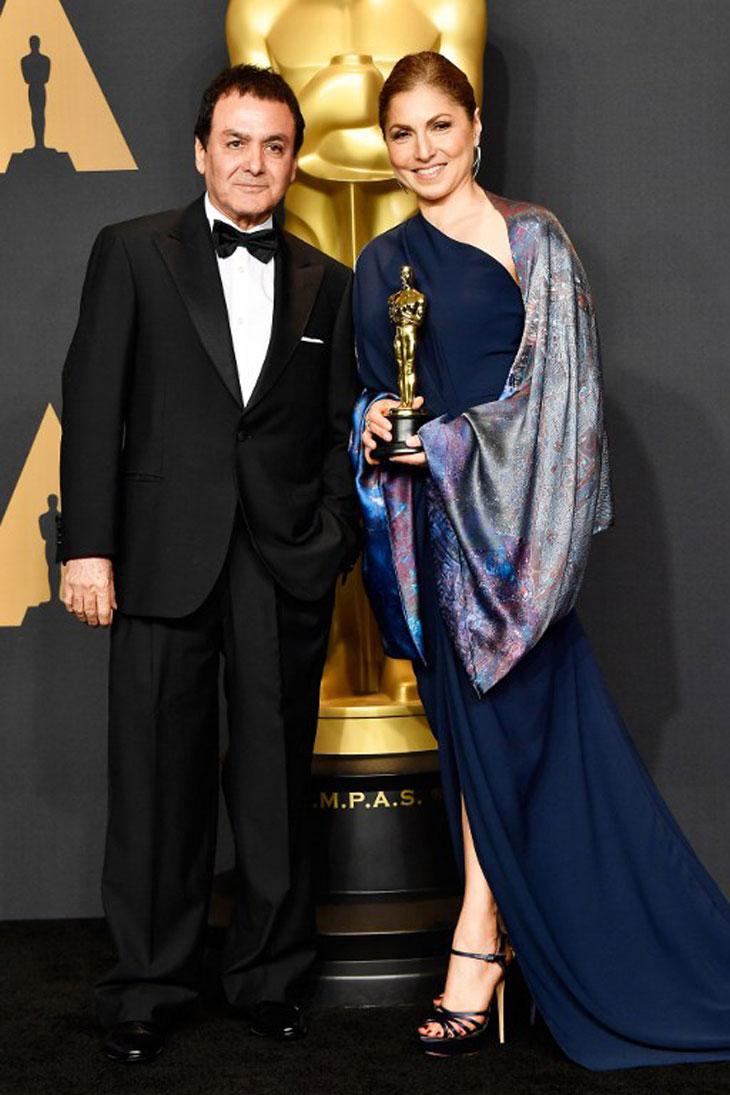 Former NASA scientist Firouz Naderi (L) and engineer/astronaut Anousheh Ansari pose with the Best Foreign Language Film award for 'The Salesman' on behalf of director Asghar Farhadi in the press room during the 89th Annual Academy Awards at Hollywood & Highland Center on 26 February, 2017 in Hollywood, California. (Frazer Harrison/Getty Images/AFP)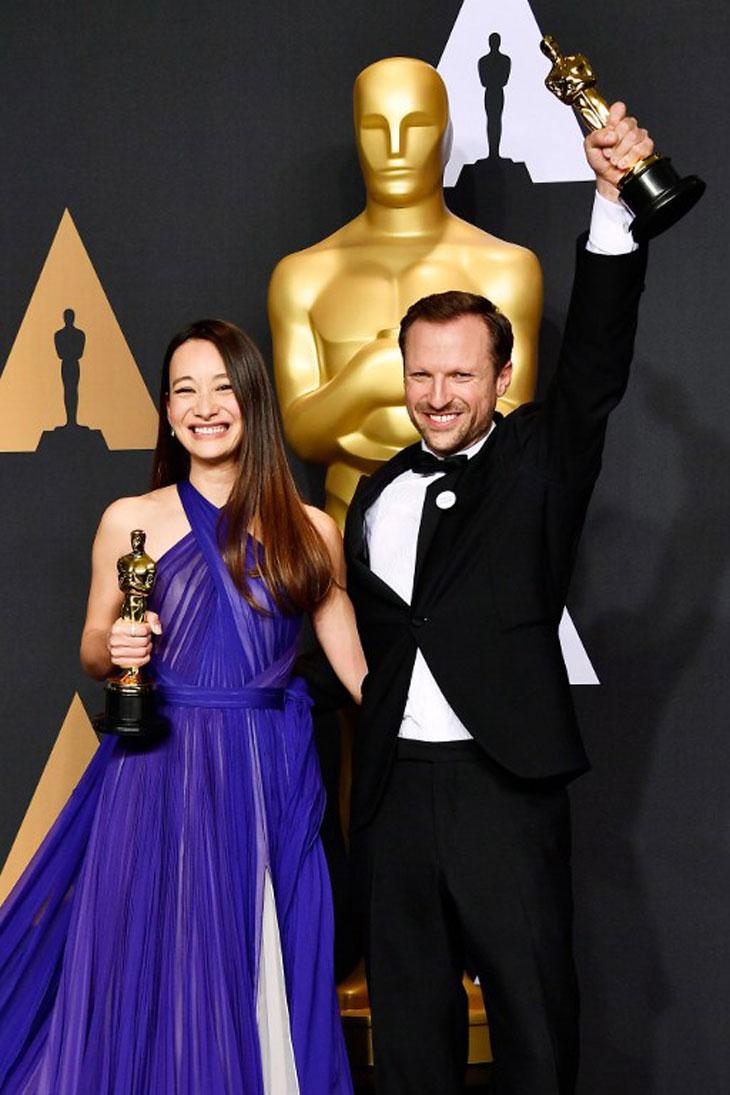 Producer Joanna Natasegara (L) and director Orlando von Einsiedel, winners of Best Documentary Short Subject for 'The White Helmets' pose in the press room during the 89th Annual Academy Awards at Hollywood & Highland Center on 26 February, 2017 in Hollywood, California. (Frazer Harrison/Getty Images/AFP)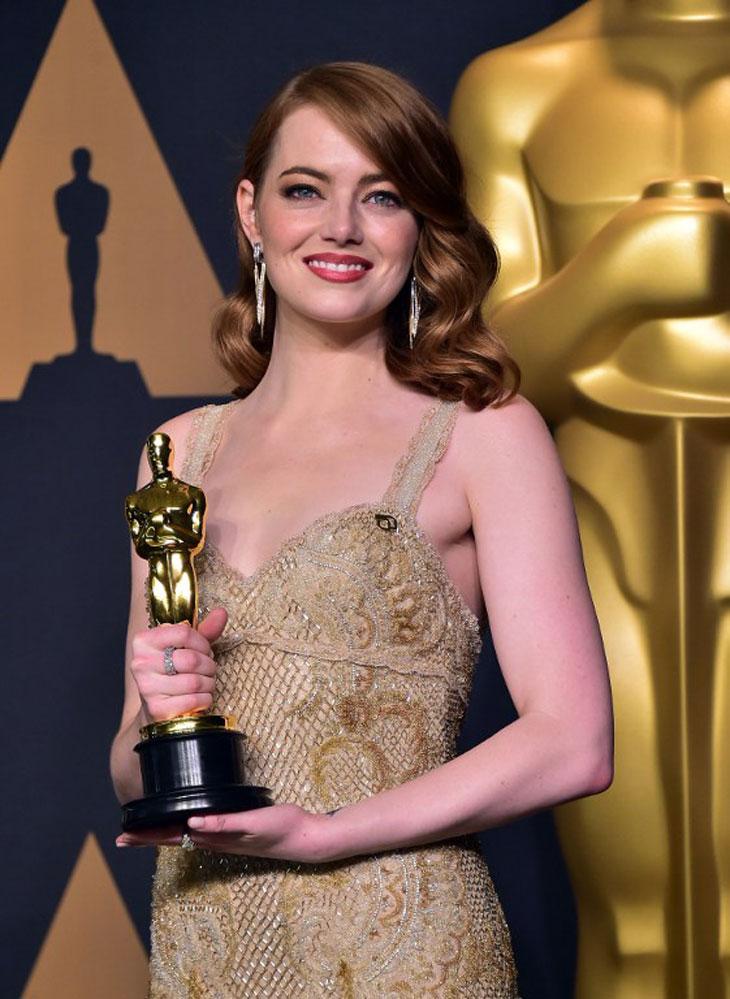 Emma Stone poses in the press room with the Oscar for Best Actress during the 89th Annual Academy Awards on 26 February, 2017, in Hollywood, California. (AFP PHOTO / FREDERIC J. BROWN)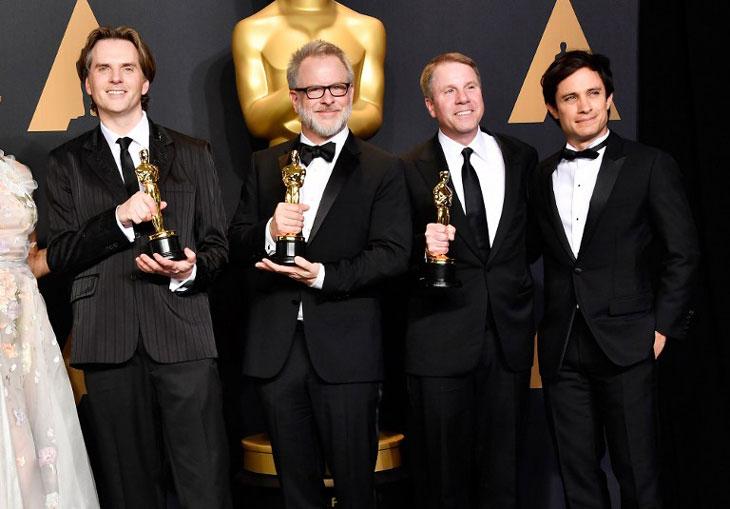 Co-directors Byron Howard and Rich Moore and producer Clark Spencer, winners of the Best Animated Feature Film award for 'Zootopia' and actor Gael Garcia Bernal pose in the press room during the 89th Annual Academy Awards at Hollywood & Highland Center on 26 February, 2017 in Hollywood, California. (Frazer Harrison/Getty Images/AFP)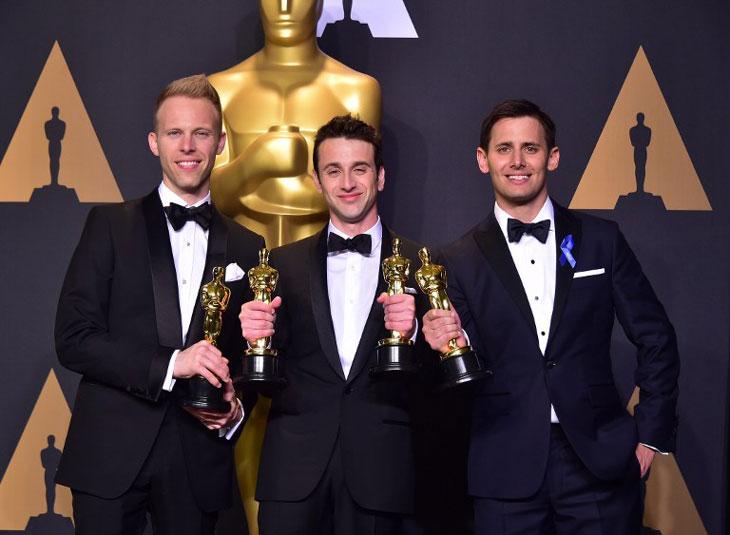 Composers Justin Paul, Justin Hurwitz, and Benj Pasek hold their awards for the Best Original Song and Best Original Score for (AFP PHOTO / FREDERIC J. BROWN)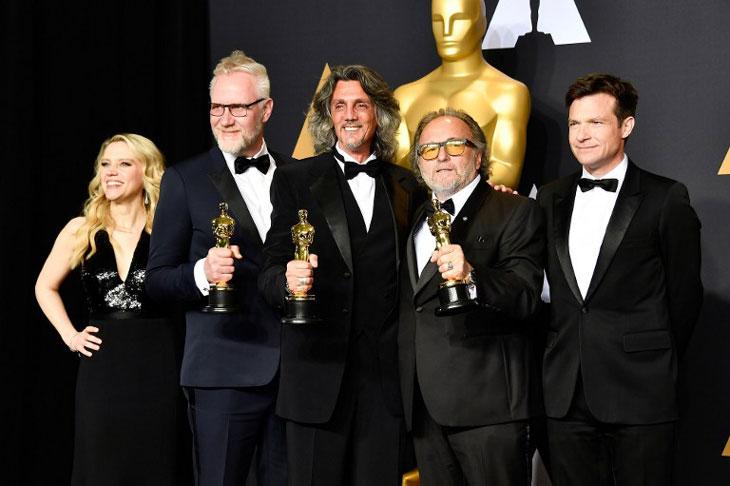 Actor Kate McKinnon, makeup artists Christopher Nelson, Giorgio Gregorini, Alessandro Bertolazzi, winners of the Best Makeup and Hairstyling award for 'Suicide Squad' and actor Jason Bateman pose in the press room during the 89th Annual Academy Awards at Hollywood & Highland Center on 26 February, 2017 in Hollywood, California (Frazer Harrison/Getty Images/AFP)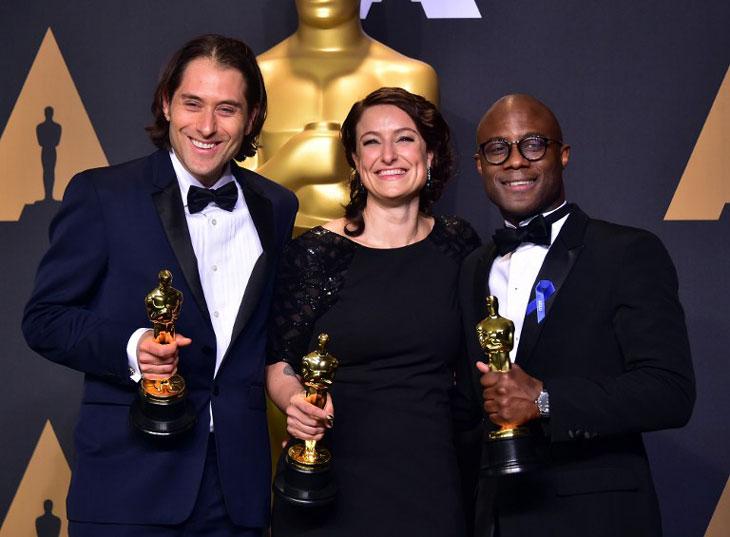 Jeremy Kleiner, Adele Romanski and Barry Jenkins pose in the press room with the Oscar for Best Picture during the 89th Annual Academy Awards on 26 February, 2017, in Hollywood, California. (AFP PHOTO / FREDERIC J. BROWN)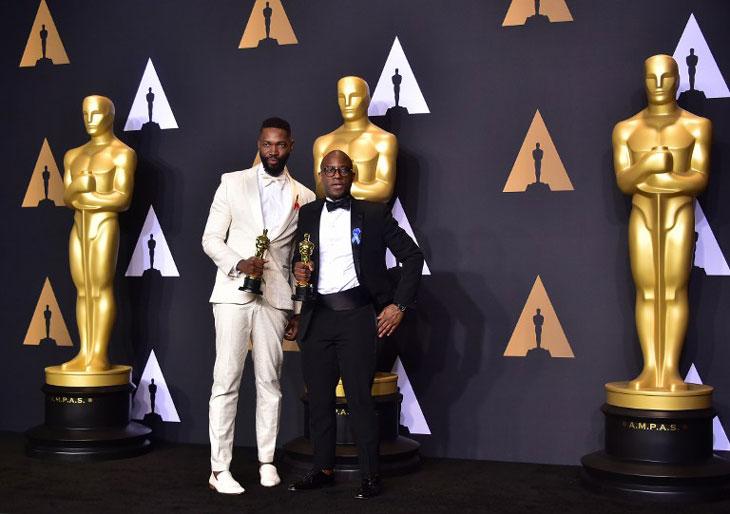 Writer/director Barry Jenkins (L) and writer Tarell Alvin McCraney pose in the press room with the Best Adapted Screenplay award for 'Moonlight' during the 89th Oscars on 26 February, 2017 in Hollywood, California. (AFP PHOTO / FREDERIC J. BROWN)