7 must see foreign movies at this year's Mumbai Film Festival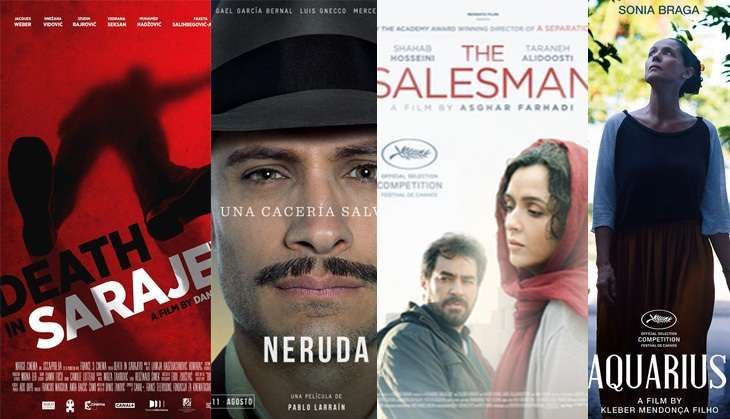 Fall has arrived and, with it, the film festival circuit in India is open for business. First up, the Mumbai Academy of Moving Image will be hosting the Jio MAMI 18th Mumbai Film Festival from 20-27 October.
For eight days, movie buffs, media personnel, and movie stars will be running from cinema to cinema to catch flicks both local and international.
The lineup this year contains over 175 titles. Since it\'s impossible to see them all, we\'re here to make it easier for you. We\'ve prepared two lists - of foreign movies and Indian ones you absolutely must see.
Here are 7 foreign flicks that will bowl you over, no matter what genre of films attract you:
01
Aquarius (Brazil, France)
Director: Kleber Mendonça Filho
Section: World Cinema
Language: Portuguese
Cast: Sonia Braga, Maeve Jinkings, Irandhir Santos
Filho's Aquarius is about a 65-year-old widow and retired music critic. She's born into a traditional but wealthy family and is the last resident of Aquarius - a two-story building - built in the 40s in an upper-class neighbourhood. The critic refuses to move out from her place, vowing to fight till the day she dies, whilst everyone around her leaves.
This movie was overlooked for Brazil's entry to the Best Foreign Language Film in a move that was seen as an act of retaliation by the new government in Brazil.
Director: Cristian Mungiu
Section: World Cinema
Language: Romanian
Cast: Adrian Titieni, Maria-Victoria Dragus, Rares Andrici
A physician living in a small town has a plan to raise his daughter and send her to study abroad when she turns 18. All is going well when his daughter gets a scholarship to study psychology in the UK and only the final exam is left. One day before her exam, she is assaulted.
Cristian Mungiu is the award winning director of 4 Months, 3 Weeks and 2 Days. Mungiu shared the Best Director Award at the Cannes Film Festival.
03
Salesman (Forushande) (Iran, France)
Director: Asghar Farhadi
Section: World Cinema
Language: Farsi
Cast: Shahab Hosseini, Taraneh Alidoosti, Babak Karimi
The movie centers around a young husband and wife, Emad and Rana. Forced to move to a new home, Rana falls victim to rape. The rape leaves Rana scarred and broken leading to tensions in their marriage.
As Rana withdraws into her shell, Emad transforms from quiet to vengeful - seeking to extract revenge on the man who ruined his marriage. In this quest, it becomes evident that Emad's rage is more to do with the insult to his pride than with the crime perpetrated on his wife.
Asghar Farhadi is the Oscar-winning director of A Separation. A movie in which he directed each and every aspect of the movie, down to the facial expressions.
04
Death in Sarajevo (France, Bosnia And Herzegovina)
Director: Danis Tanoviç
Section: World Cinema
Language: Bosnian
Cast: Snezana Vidovic, Izudin Bajrovic, Vedrana Seksan
Death in Sarajevo was the Winner of the Silver Bear Grand Jury Prize and the FIPRESCI Prize at the 2016 Berlin Film Festival. This movie is described on the Toronto Film Festival website as, "An aging hotel becomes an ideological powder keg during centennial commemorations for the outbreak of the First World War".
This is Danis Tanoviç's seventh feature film but his first shot entirely in his hometown of Sarajevo. His last feature, Tigers, was shot in India with superstar Bollywood actor Emraan Hashmi.
05
Neruda (Chile, Argentina, France, Spain, USA)
Director: Pablo Larrain
Section: World Cinema
Language: Spanish
Cast: Gael García Bernal, Alfredo Castro, Luis Gnecco
The movie centres around Pablo Neruda, the Nobel prize-winning Chilean poet. It details how Neruda became a fugitive who joined the Communist Party in his home town in the 40s and how he was hunted down.
Gael Garcia Bernal has been on a roll recently with Jon Stewart's Rosewater and Pablo Larraín's last No, which was a festival favourite back in 2012. Neruda has been selected as Chile's entry for Best Foreign Language Film.
Director: Paul Verhoeven
Section: Rendezvous
Language: French
Cast: Isabelle Huppert, Laurent Lafitte, Anne Consigny
Elle stars Isabelle Huppert and that in itself should be enough to get one to see the movie. The movie is about a successful businesswoman who finds herself locked in a deadly game after she tracks down the man who sexually assaulted her.
07
Personal Shopper (France)
Director: Olivier Assyas
Section: Rendezvous
Language: English
Cast: Kristen Stewart, Lars Eidinger, Sigrid Bouaziz
Directed by much acclaimed director and Frenchman Olivier Assyas, Personal Shopper revolves around a ghost story taking place in the underworld of the fashion industry in Paris.
At Cannes, Assays shared the Best Director Award. Assyas' previous film, Clouds of Sils Maria, was a sleeper hit and critically acclaimed.
Here are some special mentions that are equally deserving of your attention. First up is I, Daniel Blake, directed by Ken Loach and winner of the Palme d'Or at this years Cannes Film Festival. It's a story of a middle aged carpenter and a single mother, both requiring state welfare.
Kenneth Lonergan's Manchester by the Sea. It is considered by many to be a Best Picture contender at the Oscars. This is another family drama and focuses on an uncle, taking care of his teenage nephew.
Letters From War, the Portuguese drama film directed by Ivo M. Ferreira is based on the novel D'este viver aqui neste papel descripto by António Lobo Antunes. It's also selected by Portugal as their entry for the Best Foreign Language Film. This movie is in black and white and features a man who is drafted into the army to serve as a doctor in one of the worst zones of the Colonial war - the east of Angola.
Finally we have the South Korean movie, The Wailing, directed by Na Hong Jin. This one comes in the After Dark section. The horror-thriller film is about a strange and mysterious sickness that starts spreading in a little village. A policeman, wanting to save his daughter, is drawn into the incident.