22 of the best movies from the 2016 Mumbai and Goa film festivals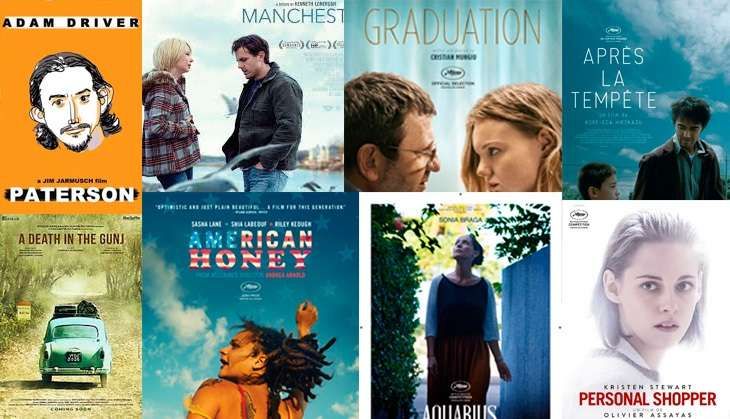 This year I had the good fortune of attending two very well curated and run film festivals. At the end of October, I went to Mumbai for the Mumbai Film Festival (MAMI) and at the end of November I was in sunny Panjim, Goa for the International Film Festival of India (IFFI).
In the two festivals, it seemed that the jury saw a different festival than the one I and my friends did. My festival viewing skewed towards international favourites. My logic was that those movies are the least likely to come out in theatres in India and a movie seen on a big screen - whether good or bad - is a far better experience (especially with a crowd) than at home on a much smaller screen.
In total, I saw 53 movies. Out of the 53, I didn\'t watch the whole of 4 movies. Two - Sieranevada When The Two Worlds Collide - because I was heavily bored. Evolution of a Filipino Family because it is a ten and a half hour movie and I didn\'t want to sacrifice other movies. The last, Donkey In A Brahmin Village, because the restored version had a loud sound and the subtitles were hard to read.
Reducing 53 movies down to a list of the top festival movies is quite hard and a lot of movies invariably get left out. It\'s the hardest part of making a year-ender.
The first list will be of just the movies released in 2016. In no particular order:
Director: Kleber Mendonça Filho
Cast: Sonia Braga, Maeve Jinkings, Irandhir Santos
Country: Brazil
Aquarius is about the struggles of being the last one standing. A 65-year-old widow and retired music critic, Clara is the last resident of Aquarius building and she's stubborn as anythng when it comes to selling. With a powerful performance from Sonia Braga (give her an Oscar please), the movie takes a deep plunge into the relationship between space and identity.
02
Graduation (Bacalaureat)
Director: Cristian Mungiu
Cast: Adrian Titieni, Maria-Victoria Dragus, Rares Andrici
Country: Romania
The story set in a small Romanian town focuses on a doctor and his family. The doctor has to go through the system, in ways he wouldn't like. The director takes a beautiful yet familiar look to a lot of us looking at a dysfunctional society. It takes a dig at the bureaucracy that is similar to the situation in places like India. Great acting from all three lead actors takes this beyond a run-of-the-mill story.
Director: Konkona Sen Sharma
Cast: Vikrant Massey, Ranvir Shorey, Kalki Koechlin, Gulshan Devaiah, Tillotama Shome
Country: India
It's the debut feature for director Konkona Sen Sharma. Sharma is usually seen in front of the camera but this movie is engrossing from the first scene onward. On the surface it may seem like a fun family holiday with an ensemble cast that is both famous and highly regarded as actors, but it goes much deeper than that. Indians and those expats in Indians that understand the nuances of class and family might appreciate the movie the most.
Director: Hirokazu Koreeda
Cast: Hiroshi Abe, Yôko Maki, Taiyô Yoshizawa
Country: South Korea
Award-winner author and private detective Ryota wastes his money on gambling instead of paying for child support. After the death of his father and divorce from wife, Ryota loses his clutches upon his family. It's a compelling family-drama where a storm brings them all together for a chance to once again bond. Fantastic performances infused with humour makes this sad and slow movie a riveting watch.
Director: Na Hong-jin
Cast: Kwak Do-Won, Hwang Jung-Min and Chun Woo-Hee
Country: South Korea
South Korean horror has never been better. The Wailing, follows a stranger arriving in a small village after a mysterious sickness starts spreading. A polieman is drawn into the incident. He must solve the mystery in order to save his daughter. Almost three hours in length, the movie doesn't seem slow at or taxing at any point. It's an epic and bold movie with dark lighting.
The only thing pulling it down might be the many twists and turns that are too insane for the movies own good.
Director: Olivier Assayas
Cast: Kristen Stewart, Lars Eidinger and Sigrid Bouaziz
Country: France
Basically a one-woman show (Kirsten Stewart) this movie is a ghost story that takes place in the fashion underworld of Paris. Stewart's performance, no matter whether the movie is good or not, is impossible to ignore. It's a movie that is terrifying every step of the way.
Director: Kenneth Lonergan
Cast: Casey Affleck, Michelle Williams, Kyle Chandler
Country: USA seems forced and th
After the death of his older brother, Casey Affleck is the sold guardian of his nephew and is forced to take of him. Affleck returns to Manchester to be with his 16-year-old nephew. He confronts the neighbourhood where he was born and raised, his ex-wife and the community in general. None of the acting and the sadness feels heavier by the day. It's a movie that is tragic, yet has laughter that comes just at the right moments.
08
The Salesman (Forushande)
Director: Asghar Farhadi
Cast: Shahab Hosseini, Taraneh Alidoosti, Babak Karimi
Country: Iran
It's the story of a couple whose relationship unravels in a downward spiral during and after a performance of Arthur Miller's Death of a Salesman. The skillful Iranian director makes another gem and allows for his cast to shine.
Director: Denis Villeneuve
Cast: Amy Adams, Jeremy Renner, Forest Whitaker
Country: USA
With a haunting background score and fantastic lead performance from Amy Adams, communicating with aliens hasn't been more engrossing than in Arrival. It ambitious but the almost perfect execution makes for a compelling watch.
Director: Andrea Arnold
Cast: Sasha Lane, Shia LaBeouf, Riley Keough
Country: USA
Sasha Lane is a fine find. Blending love and money, this movie, using the 4:3 format to its advantage, takes a powerful look at a cross country tour of America. It's got a great soundtrack to pair with it as well.
11
Mellow Mud (Es esmu seit)
Director: Renars Vimba
Cast: Elina Vaska, Andzejs Lilientals, Edgars Samitis
Country: Latvia
A Latvian teenage girl under harsh circumstances is forced to learn the ropes, take care of her younger brother and mature beyond her age in this compelling drama from Renars Vimba. Bolstered by a sharp sense of cinematography that befits the realist nature and a big-screen debut from Elina Vaska that is one for the ages, this movie soars above most despite its depressing storyline.
Director: Ken Loach
Cast: Dave Johns, Hayley Squires, Sharon Percy
Country: UK
Ken Loach is on a mission against injustice in the British system in this humourously yet sad tale of an elderly man and his journey to get his insurance to continue. He takes punches as a social critic and Dave Johns plays the brilliant lead of a man brought to his knees by society.
Director: Mani Haghighi
Cast: Amir Jadidi, Ehsan Goodarzi, Homayoun Ghanizadeh
Country: Iran
"It's a cool hipster film," said a friend of mine and after exiting the movie that engrossed me with its trippy soundtrack, I was in complete agreement. It's a blend of mockumentary and fantasy that as Guy Lodge of Variety says is a "sexy pretzel". It's a noir ghost story that questions Iranian history.
Director: Jim Jarmusch
Cast: Adam Driver, Golshifteh Farahani, Nellie
Country: USA
The movie is a poem itself. A standout performance by Golshifteh Farahani, Paterson blends poetry with melancholy to make this one of the year's best movie. It's a perfect mix of creation and observation. It's got its moments of witty inflections and nuanced dialogues about the world around Adam Driver as a bus driver.
Director: Mohamed Diab
Cast: Nelly Karim, Hani Adel, El Sebaii Mohamed
Country: Egypt
Set after the political events of June 2013 (ousting of former president Morsi) and set entirely from the point-of-view of a police van, this movie sees a number of detainees from different social and political backgrounds come together by their fate. It's claustrophobic at times and it makes your blood boil at others. The movie offers and engaging script to keep you on the edge of your seat throughout the movie.
Director: Mia Hansen-Løve
Cast: Isabelle Huppert, André Marcon, Roman Kolinka
Country: France
Worth a watch for Isabelle Huppert's performance alone, this movie about a philosophy teacher going through the tough times in life is one of the underrated films on the festival circuit.
The next list below of five movies, that for any number of reasons - not a feature film, not released in 2016, a restored classic, etc - doesn't fit into a 2016 year-ending list but are definitely festival watches.
Director: Shirley Abraham and Amit Madheshiya
Country: India
One of the best documentaries of the year is The Cinema Travellers because as a film buff, it hits hardest at the heart of cinema. It's a story of traveling Indian movie houses (now dying a slow and painful death) and those behind the scenes. It follows three Indian men involved in this industry and the changing times (a digital future). It's a sad and movie documentary
18
Man With A Movie Camera (with a live orchestra)
Director: Dziga Vertov
Country: Russia
IMDB's synopsis reads, "A man travels around a city with a camera slung over his shoulder, documenting urban life with dazzling invention". Couple that with a live jazz quartet (which is a rarity) and you get the perfect combination.
Director: Uday Shankar
Cast: Uday Shankar, Amala Shankar and Padmani
Country: India
A restored classic that contains footage than most people haven't seen, Uday Shankar's Kalpana dance drama is a cult classic. it's one of India's earliest indie films and the whole story is narrated through dance.
20
Evolution of a Filipino Family
Director: Lav Diaz
Country: Philippines
The film runs an intense 593 minutes and ranks amongst one of the longest films ever but the subject line - the collapse and hopeful revival of a poor farming clan - is compelling and even in th slowest of slow scenes doesn't let you down. This one is purely a film festival watch and will attract the fewest of viewers. Saying that, those who manage to get themselves to sit through ten hours will be thoroughly rewarded.
Director: Abbas Kiarostami
Cast: Behzad Dorani, Noghre Asadi, Roushan Karam Elmi
Country: Iran
The fact that Abbas Kiraostami passed away in 2016 makes all his films that much more relevant and worthy of a watch. This one follows a city engineer and his travels to a rural village to keep vigil for a dying relative and how he tries to fit in with the local community.
Here's a bonus. One more that was the most exciting, compelling, interesting and fun movie, not disregarding the crazy nature of what was taking place on screen.
22
We Are The Flesh (Tenemos la carne)
Director: Emiliano Rocha Minter
Cast: Noé Hernández, María Evoli, Diego Gamaliel
Country: Mexico
One doesn't even know how to being describing this movie. I'll let Peter Bradshaw of The Guardian do the honours. "It's all red filter, hardcore action and impending doom in Emiliano Rocha Minter's orgiastic dystopian nightmare set in Mexico".
During the screening there were multiple walkouts, people screaming "what the hell are you people watching" and "why was this movie ever made". It's an experience that one can only get by watching this movie with a number of diverse strangers.