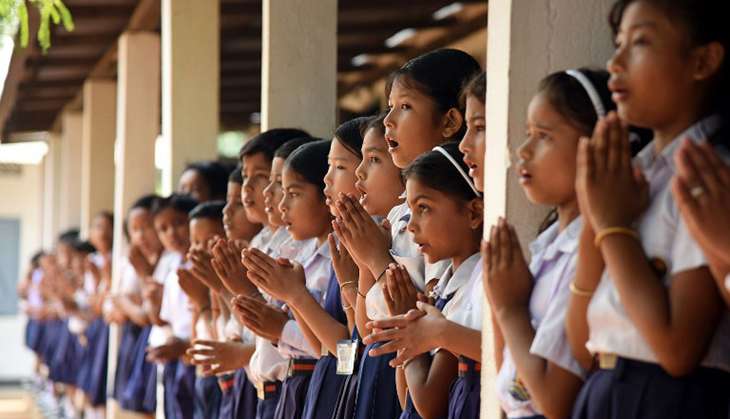 The education sector in the country is set to change dramatically. While the government is still to come out with its New Education Policy, the HRD ministry has been making announcements about school education as well as higher education that hint at the shape of things to come.
Catch looks at three important changes on the cards for school education, and why they matter -
1. Revision of No-Detention Policy (NDP)
The Right to Education (RTE) Act, 2010, mandates that no child should be failed and detained in school until the completion of elementary education, or till Class 8, in other words.
However, the HRD ministry has reportedly approved a proposal for the NDP to apply only till Class 5. The proposal has been sent to the law ministry for examination.
This move shall be decisive for the fate of kids studying in government schools, which are in bad shape, with the exception of a few elite government schools such as the Kendriya Vidyalayas (KV).
Most importantly, an overwhelming majority of kids enrolled in government schools across the country come from low-income families, from backgrounds that are disadvantaged economically and socially.
Often their parents themselves might be illiterate and unable to help the child with school work, and they cannot afford private tuitions, unlike parents who can afford to send their children to private schools in the first place.
No fear, no effort
Of course, many state governments and their school teachers have blamed the NDP for the fall in 'learning outcomes' among students.
They have raised a hue and cry about how a significant number of kids in government schools lack basic reading and writing skills and end up failing in huge numbers in Class 9. Some have even demanded that the NDP be scrapped altogether.
The popular anti-NDP narrative goes that kids do not take studies seriously because they are not "scared" of failing. And their parents don't care, because they know that the kid shall be "automatically" promoted to the next class, whether or not they have learned anything at all.
But the NDP is meant to be implemented in a framework of Continuous and Comprehensive Education (CCE), wherein there are several short-term assessments without fear of failure, according to the RTE.
If implemented properly, it helps the teacher to keep track of the learning level of each child, so that the teacher can provide supplementary instruction. Importantly, the CCE process takes into account both curricular and extra-curricular activities.
However, the draft education policy submitted to the government by the TSR Subramanian Committee also recommends that the policy applies only till Class 5, taking into account the mainstream opposition to the NDP.
But the NDP is simply a scapegoat.
There is no dearth of reports testifying to the negligence and funds crunch that government schools across the country face. There is rampant absenteeism and apathy among teachers, besides a scarcity of teachers, to name some of the major problems.
Even among the most privileged of kids, failure at a young age is never good motivation, as many studies worldwide have shown. A migrant labourer's kid who is detained will simply drop out.
2. Making vocational education, or 'skilling', mandatory
Soon, vocational courses - or 'skill training' - are likely to become a mandatory part of the school curriculum.
While the Ministry of Skill Development and Entrepreneurship (MSDE) is discussing this scheme with CBSE for Classes 9 to 12 in metro cities, the Central Advisory Board of Education (CABE) has recommended introducing vocational courses from Class 3 itself.
The response from the HRD ministry has reportedly been "positive".
The MSDE is already running skilling courses in various states for government school students in rural areas to check the dropout rate of students after Class 9 and 10.
Now with the NDP revised up to Class 5, the CABE proposal of starting skill training in Class 3 is likely to come in handy with the Centre's aim of turning India into the "skill capital" of the world.
The NDA government's Skill India campaign aims to train over 40 crore people in different employable skills by 2022.
The MSDE so far has been providing vocational training for sectors like manufacturing, retail, hospitality, healthcare, IT, etc.
The CABE, meanwhile, is the highest advisory body that is meant to advise the Central and State Governments in the field of education.
Wrong area of focus?
Again, skilling is the fate of low-income government school students, whose prospects may not be bright. The shoddy quality of education that is imparted to them in government schools may be one of the many reasons for that.
Instead of investing money in school education and focusing on improving the standards of government schools, so that students from disadvantaged backgrounds can access high-quality education and move up the social ladder, the government prefers to move these kids into "skilled" work - a euphemism for "blue-collar" jobs.
Among the questions worth asking is whether it is right to pre-determine the future paths of these kids, who are socially and economically marginalised, by depriving them of other options that open up with proper education.
But more ridiculously, is it acceptable to start 'skill training' for students even before they have completed primary education?
Surely, a solid base in primary education is the least that a government that cares about its children would ensure.
But the alibi seems to be that these kids are already underprivileged, they are likely to be unemployed or become daily wagers - at least we are preparing them to earn a livelihood, aren't we?
But where are the jobs that these huge numbers of 'skilled kids' would eventually take up?
For that, we have the Make in India campaign, or so the government would have us believe. Of course, the "success" or even any concrete "results" of Make in India are yet to be seen.
3. Compulsory Class 10 board exams for CBSE schools
On 14 November, Union HRD Minister Prakash Javadekar said compulsory Class 10 board examination would be reintroduced for CBSE schools from the 2017-18 academic year.
The government is also considering giving state governments the power to decide if they want to reintroduce board exams for Class 5 and 8.
In 2011, the Class 10 board exams were made optional by the government. It was up to the students and the schools to decide whether to go for school-based exams or the board exams. The decision was taken to reduce stress and dispel fear among students regarding the big bad 'board exams'.
Instead, the CCE that entailed a grading process and a more holistic evaluation - including curricular and extra-curricular - had taken its place.
This received mixed reactions from schoolteachers, parents and students. While some were happy, the others wanted them back.
But the Indian government is clearly convinced that the good old scary exams - where there is a clear-cut verdict of pass or fail - are the only way to go to maintain "quality" of education.