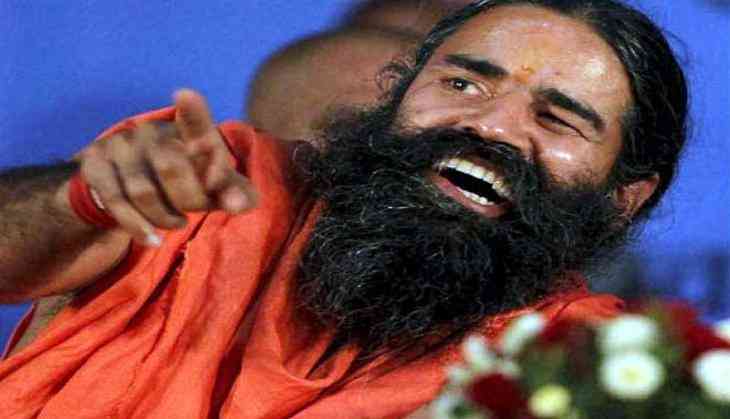 The Haridwar-based Patanjali is hiring thousands of people across the country and expanding its footprint in diverse sectors. Patanjali has emerged as one of major FMCG brands, the company is now all set to enter the garment business with 'Patanjali Paridhan.' Patanjali is soon to enter technology sector and launch its Kimbho app in a bid to counter WhatsApp. Baba Ramdev has said in past that Patanjali will become world's largest FMCG brand by 2020.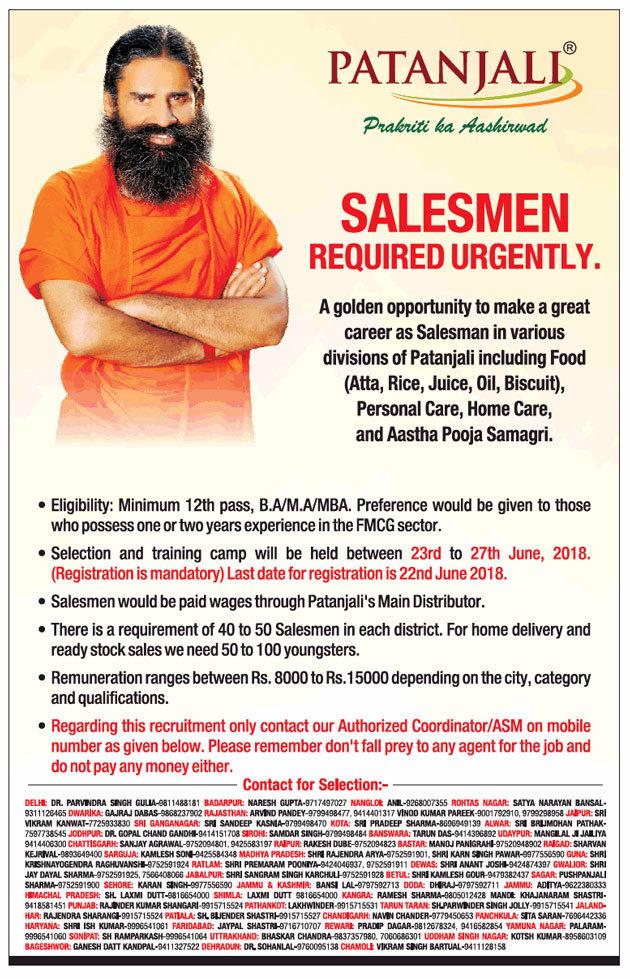 Here is all you need to know about the jobs offered by Patanjali:
A number of vacancies: Patanjali is looking to hire 40 to 50 salesman in each district of the country. The salesman will get the opportunity to work in various divisions of Patanjali including food (atta, rice, oil, biscuit), personal care, home care and Astha pooja items. As per knowindia.gov.in, there are 716 districts in India administered by their respective State/UT Government. This means, Patanjali has opportunities for over 35,000 salesman across India.
सेल्समैन के रुप में कैरियर बनाने का स्वर्णिम अवसर!#पतंजलि के फूड (आटा, राइस, जूस, ऑयल, बिस्किट), पर्सनल केयर, होम केयर एवं असरदार पूजा सामग्री डिवीजन में सेलेक्शन एवं ट्रेनिंग के लिए पूरे देश के जिला मुख्यालयों पर 23 से 27 जून तक शिविर के लिए आज ही रजिस्ट्रेशन करें #Patanjali pic.twitter.com/flZ4lBuZAi

— tijarawala sk (@tijarawala) June 20, 2018
Eligibility:
Minimum 12th pass, B.A/M.A/MBA. Patanjali will give preference to those who possess one or two years of experience in the FMCG sector.
Remuneration:
The remuneration for vacant posts range between Rs 8,000 and Rs 15,000. The package will depend on the city to which candidate belongs to and the applying individual's educational qualifications.
Selection and training camps:
Patanjali will organise selection and training camps between 23rd to 27th June 2018. Registration is mandatory.
How to apply:
Baba Ramdev's company has warned individuals to not fall prey to any fake agents for the job. For registration, the candidate can contact authorised Patanjali coordinator/ASM mobile numbers that have been published in major newspapers today.
Last date of registration: June 22 2018.
Note: In a bid to steer clear of fake job agents, interested and eligible candidates have been asked to contact authorised coordinators (ASMs) only.
Also read: Yoga Guru Ramdev Baba on rape accused Daati Maharaj, "Self-styled godmen or 'Babas' involved in illegal activities should be hanged"