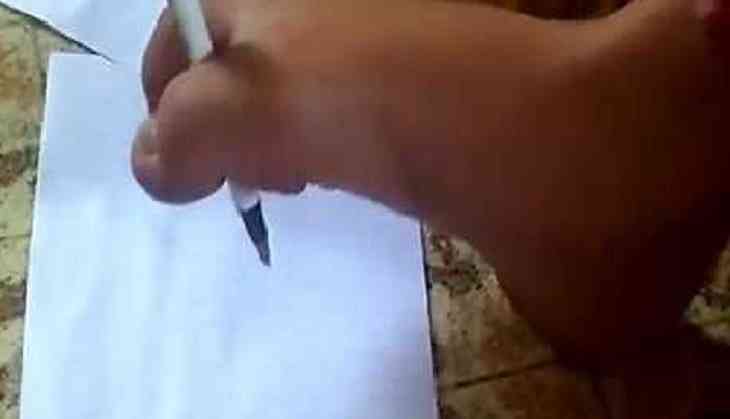 CBSE Class 10 board exam has been begun from 5 March 2018 throughout the country. During the examination there is a surprising incident has come in the notice from Telangana's district Mancherial.
Yes, a Class 10 Board exam student, named Elluri Shankar, didn't write his exam from his hands on 15 March in the examination hall. He hails from Nennel Mandal in Adilabad district. This student has made his weakness into strongness, as he sat on the bench and wrote the first language paper of his board exams with his feet.
According to the media reports, Elluri Shankar has lost his both hands due to electric shock while playing under construction site with his friends in class 6. After this major incident happened with him, he started learning to write from his leg and gave examination himself. He never opted any writer since then.
Also read: CBSE Class 12th Geography Paper: Avoid committing these silly mistakes in your exam to score good marks
Kudos! Eluri Shankar of Nennela high school in Manchiryal dist, #Telangana writes 10th exam with legs as both hands paralyzed @MumbaiMirror pic.twitter.com/Img9B18Hzh

— P Pavan (@pavanmirror) March 15, 2018
The above photograph has been taken from the social media Twitter and Facebook and he has been lauded by everyone for his efforts.
As per the reports, Shankar wants to become independent in life and after scoring good marks in SSC exams, he wants to do acquire some master in some special skills.