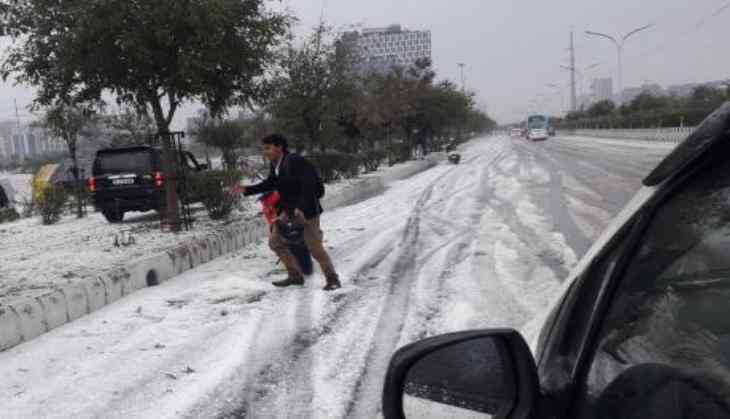 Noida, Delhi turned Shimla on 7th February after a heavy rains and hailstorm hit several parts of Delhi-NCR on Thursday evening at around 5 pm. The heavy rains and hailstorm once again decreased the temperature in the capital.
Also, the meteorological department had also predicted about the thundershowers along with hail in Delhi NCR.
However, the hailstorm has converted the Delhi into a hill station like Shimla. Delhiites were amused and enjoyed the amazing spine-chilling weather. Residents of Delhi-NCR took all these stunning visuals to social media.
In the pictures and videos shared on the social media, roads and fields have been covered with hail and the city was converted to hill stations.
Check out some amazing pictures of hailstorms:
Today #Hailstorm in #Faridabad
By @photoreelbyvanshika pic.twitter.com/qTcmSOD8HO

— Smart City Faridabad (@SmartCityFbad) February 7, 2019
Somewhere in Noida. #Hailstorm #Noida pic.twitter.com/HWpoJoqnCl

— Gabruu Singh (@GabruuSingh) February 7, 2019
#Hailstorm #noida pic.twitter.com/YDCqW78tom

— Neeraj Nehra (@neerajnehra) February 7, 2019
#Noida or a hill station?#hailstorm pic.twitter.com/ngA6AEvt42

— Sorabh Rastogi (@rastogi_sorabh) February 7, 2019
Crazy hailstorm #HailstorminDelhi #hailstorm #Delhi #DelhiRains #DelhiWeather pic.twitter.com/Xl2ThUFuJk

— Shivam Dabas (@Shivam_Dabas08) February 7, 2019
Yesterday night hailstorm in #Delhi pic.twitter.com/eunkRp6pYa

— Shishir Gamang (@shishirgamang) February 8, 2019
Due to bad weather, twenty-three domestic and nine international flights were diverted out of Delhi, news agency ANI reported.
Watch Video: