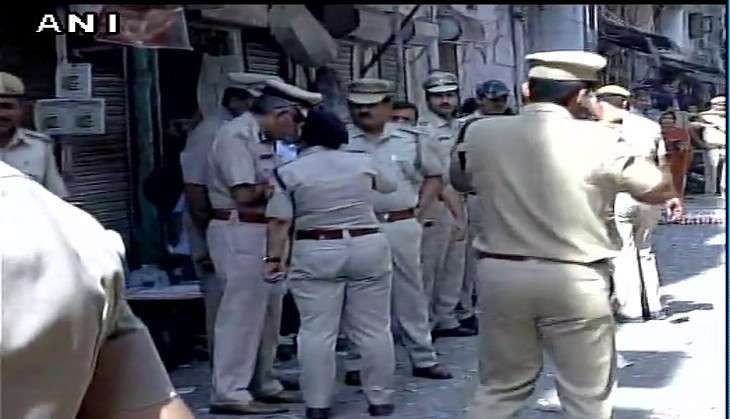 One person has been killed and two reportedly injured in an explosion in Delhi's Chandni Chowk area on 25 October. The incident has reportedly taken place in Chandni Chowk's Naya Bazar area.
The explosion took place around 10.40 AM when Motalip Mirza, a labourer, was carrying two large packets of crackers.
A CCTV footage of the incident shows that the blast occurred as Mirza put the bags in front of a shop, Saraswati Traders in the Pattewali Gali, police said.
"The cracker blast took place due to high pressure and the huge quantity of crackers. Mirza died in the explosion while four others were injured," said a senior police officer.
Police said 60-year-old Mirza's family lives in Murshidabad but nobody has come to claim the body till now. The owner of the shop where Mirza was employed is absconding, they said.
Injured Bhupendra Gupta, a rice trader, is undergoing treatment at Fortis Hospital. One of Gupta's employees said, "It is by God's grace that our lives are saved. Our owner was sitting downstairs and we were sitting on the terrace when we heard the noise. We immediately rushed downstairs since we felt that the building would collapse as it was shaking."
Also Read: Delhi: 1 dead, 2 injured in a blast in Chandni Chowk area
Shopkeepers also claimed the blast was caused due to explosives and was intended to create panic in the market. "As soon as the explosion happened, all the buildings were shaking as if an earthquake had struck. If it would have been just crackers, the impact wouldn't have been this bad.
"The window panes that are quite thick were broken and buildings have developed cracks. Had the bombs been more intensive, the buildings would have collapsed killing more people," said a rice trader RC Mishra.
Also Read: Rajnath Singh to Delhi Police Commissioner Alok Verma: Ensure peace in city post Chandni Chowk blast
Some of the traders claimed the number of injured people was more than the numbers given by the police. "Many of the helpers who were there in the shops sustained injuries due to the pieces of glass and stones that flew due to the impact of the blast," said a trader.
Traders felt there was not much loss of life in the blast since there were not many people in the market. "Had the explosion took place around 11-11.30 AM more people would have been killed. The lane is usually cramped with carts and trolleys carrying stuff and customers after 11am," said Ramesh, another trader.
--PTI