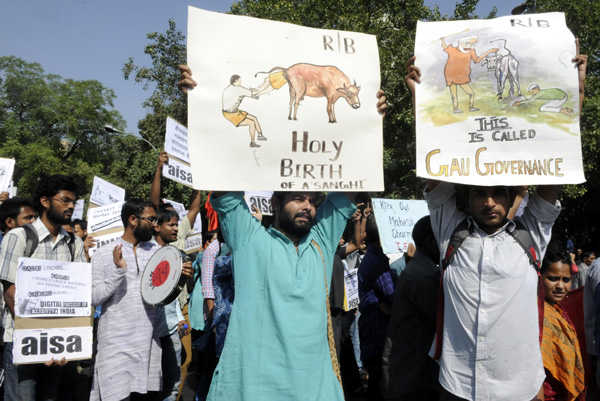 With a rising number of clashes over beef, it is no surprise then that the mere mention of the word sends police officials in a frantic overdrive.
A complaint about beef being served at the Kerala House in Delhi sent a large team of policemen rushing there on 26 October.
The police control room received a call about beef curry being served at the official state guest house of Kerala, a little after 4pm on Monday.
The police said they responded immediately to the complaint to prevent any "untoward incident". The complaint was reportedly made by an activist of the Hindu Sena, which was involved in an ink attack last week on Jammu and Kashmir lawmaker Engineer Rashid, over his beef party in Srinagar.
The police team remained at the Kerala House for several hours and spoke to the staff, who said that only buffalo meat was served as beef, which is not illegal.
"We dealt with the matter with necessary alertness and took our position. The objective was to ensure that law and order is not disrupted," Jatin Narwal, a senior police officer told agencies.
"It was a preventive measure. The police went to the canteen and informed the staff of the complaint, but did not collect any samples from the canteen," said another officer.
With agency inputs