The Oscars Best Foreign Films shortlist doesn't have Court - but it's still a winner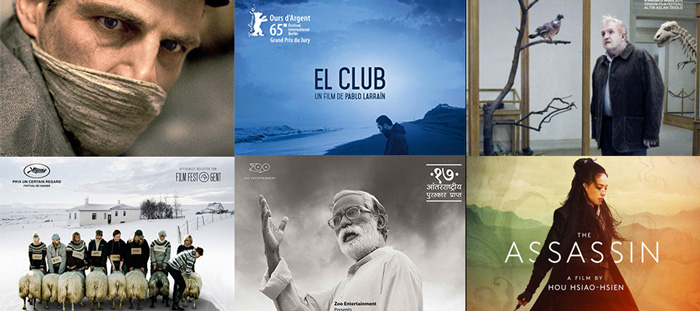 Update: In 81 countries around the world, Friday was a red-letter day for a single reason: each one of them had submitted a movie for the Oscars Best Foreign Film category and finally learnt their fate after weeks of waiting.
Nine films made the shortlist and unfortunately, that didn't include India's entry, Court.
As far as our predictions went, we got five out of nine correct. The ones that surprised us and came out of nowhere were A War, Embrace of the Serpent and Theeb.
The ones that made it to the shortlist: Belgium, The Brand New Testament, Jaco Van Dormael, director; Colombia, Embrace of the Serpent, Ciro Guerra, director; Denmark, A War, Tobias Lindholm, director; Finland, The Fencer, Klaus Haro, director; France, Mustang, Deniz Gamze Erguven, director; Germany, Labyrinth of Lies, Giulio Ricciarelli, director; Hungary, Son of Saul, Laszlo Nemes, director; Ireland, Viva, Paddy Breathnach, director; Jordan, Theeb, Naji Abu Nowar, director.
Every single one of the films on this list still bear watching, though: it's been a stunning year, with serious talent on the table. Here's our pick of 11 to watch.
The year may be winding down, but things are just hotting up on the film awards circuit.
The Golden Globe nominations just hit, while the foreign language Oscar shortlist of nine is just hours away.
While the Oscars may primarily be about Hollywood celebrating Hollywood, the foreign film nominations actually hold the key to what's going on in cinema worldwide - both conceptually and technically. In many ways, the foreign language Oscars reflect the world's preoccupations at any moment in time - the complex issues different cultures and countries are battling often make it to the world stage through this prestigious platform.
And there's a lot of them. This year, contenders from 81 different countries will compete for the Best Foreign Language Film Oscar. We're expecting the shortlist in the next 24 hours, while the 5 who make the final cut will be announced on Jan 14, along with the rest of the nominations for the Oscars slated to take place on February 28.
After a string of controversial decisions, India had a whole new committee led by veteran filmmaker Amol Palekar to select the official entry - which eventually picked the much-acclaimed Marathi film Court. Even with India's strongest entry in years, Court may not make it to the Oscar shortlist, let alone the final list of five.
That's because competition this year is especially fierce, with a strong and diverse list of films including a Romanian western; a Chilean film about Catholic priests; a Taiwanese film about a ferocious sword-wielding woman; a Hungarian Holocaust film; and a Franco-Turkish family drama, among others.
Read: All you need to know about film Court - India's official entry to Oscars
As far as the Golden Globes' foreign-language nominees go, Mustang (France), Son of Saul (Hungary), The Club (Chile), The Brand New Testament (Belgium) and The Fencer (Finland) made the cut.
We've been watching, reading and listening to all the buzz, only so we can give you a heads up on the films likely to make it to this year's honours list. Here, our predictions for the 10 most likely to make the cut - and a bonus one at the end.
And because the Oscars committee hasn't always made decisions we can understand - hello Oscar-less Di Caprio - these films should definitely be on your watch-list no matter what happens at the shortlist level.
Country: Chile
Director: Pablo Larrain
Cast: Roberto Farias and Antonia Zegers
Why it could make it: The Club is Pablo Larrain's film about a home for defrocked Roman Catholic priests on the Chilean coast. It won the Grand Jury Prize at the Berlin International Film Festival for its gripping portrayal of four former priests who live a secluded life in a cabin as a punishment for past sins.
Larrin's last film, No grabbed the Foreign Language nom in 2013. This may just be the rerun he wants.
Country: Hungary
Director: Laszlo Nemes
Cast: Geza Rohrig, Levente Molnar, Urs Rechn and Todd Charmont
Why it could make it: A distinct Oscar front-runner, and has been for many a month now.
This movie, a first-time feature by Hungary's Laszlo Nemes, wowed the Cannes crowd and ultimately got the jury to award it the Grand Prize, or second place. A Holocaust drama, it follows an Auschwitz prisoner and member of the Sonnerkommando who must burn the bodies of the dead, especially that of a boy he believes is his son. The Austin Fantastic Film Festival, with a youngish audience, begged the filmmakers for the movie - that's the influence it already wields.
03
A Pigeon Sat on a Branch Reflecting on Existence
Country: Sweden
Director: Roy Andersson
Cast: Holger Andersson, Nils Westblom and Viktor Gyllenberg
Why it could make it: The Guardian selected this as their 9th best movie of 2015, and it seems a fair possibility for the shortlist, although the shortlist might be near impossible looking at the competition.
This is Roy Andersson's first feature film in seven years and the final chapter in the trilogy about "the absurdity of what it means to be human". Indiewire called it "one of the most unconventional cinematic experiences in recent memory".
Country: Taiwan
Director: Hou Hsiao-hsien
Cast: Shu Qi, Chang Chen, Zhou Yun and Satoshi Tsumabuk
Why it could make it: Sight & Sound magazine voted this the best movie of 2015. Veteran director Hou Hsiao-hsien scored his first directing prize at this year's Cannes Film Festival. The story traces a young girl abducted from her village and trained as an expert martial artist who returns after 13 years of exile with orders to kill her former love. It has breathtaking cinematography and lavish, visually-appealing costumes. All reviews indicate it's a one-of-its-kind martial arts epic and we wouldn't be surprised to see it on the shortlist too.
Also read- The Peanuts Movie review: 3D meets Schulz's iconic strip
Country: France
Director: Deniz Gamze Erguven
Cast: Gunes Sensoy, Doga Zeynep Doguslu, Elit Iscan, Tugba Sunguroglu,
Why it could make it: A tale of blossoming womanhood with five teenage protagonists. The unusual theme and protagonists are giving this film serious buzz, and it doesn't hurt that France has been one of the most successful countries at the Oscars. In the past five years though, only one French movie - The Intouchables has made the shortlist. Mustang beat out strong competition like Jacques Audiard's Palme d'Or winner Dheepan, and has gotten a Golden Globe nomination.
Country: Belgium
Director: Jaco Van Dormael
Cast: Benoit Poelvoorde, Catherine Deneuve, Francois Damiens, Yolande Moreau and Pili Groyne
Why it could make it: This satirical comedy premiered at Cannes and as Deadline puts it, the movie focuses on a "grumpy old jerky guy God, who happens to live in Brussels, being outwitted by his daughter, who yearns to turn a new page for the entire world".
This one also just received a Golden Globe nomination and reactions to it have been almost universally gushing, especially in the US.
Country: Germany
Director: Giulio Ricciarelli
Cast: Andre Szymanski, Alexander Fehling and Friederike Becht
Why it could make it: Germany's entry to the Oscars is a film by first-time filmmaker Giulio Ricciarelli. It shares the subject of the Holocaust with Son of Saul and also, like that film tells a story that was previously little-known.
Labyrinth of Lies debuted all the way back at the Toronto Film Festival in 2014 and is based on the true story of a young prosecutor who embarked on a search for truth behind the events of Auschwitz. It's a compelling historical drama and has a fantastic lead performance.
Country: Iceland
Director: Grimur Hakonarson
Cast: Sigurour Sigurjonsson, Theodor Juliusson, Charlotte Boving
Why it could make it: It's a comedy about two estranged brothers who are sheep farmers, competitive and living side-by-side, and whose flock is threatened by a disease outbreak. The casting call for actors was spot on. "Mentally stable, beautiful and look pretty." No, this isn't a romance; director Grimur Hakonarson was looking for sheep for Rams. This movie won the top prize in the Un Certain Regard section at the Cannes Film Festival - the first time an Icelandic film has taken any prize at Cannes.
Country: Brazil
Director: Anna Muylaert
Cast: Regina Case, Helena Albergaria, Michel Joelsas
Why it could make it: This theatrically-complex film delves into the intricacies of class in Brazilian society through the eyes of an endearing live-in maid. It's a crowd-pleasing but complex film. The housekeeper, played by Regina Case puts in an Oscar-worthy performance that might single-handhedly push the movie into the shortlist. The movie won the Special Jury Prize in the World Cinema section at Sundance and a pair of awards at the Berlin Panorama. Brazil doesn't usually send female-helmed films to the Oscars, but this film, that depicts the life and role of women in contemporary Brazil, has kicked off much conversation in the country.
Country: Argentina
Director: Pablo Trapero
Cast: Antonia Bengoechea, Gaston Cocchiarale and Guillermo Francella
Why it could make it: Pablo Trapero is no stranger to the Oscars. This is his third film that has been chosen as Argentina's official entry. This film broke all records in his home country at the box office. It's a drama about the real-life story of the Puccio family, who authorities believe were behind a series of kidnapping and murders. It won Trapero the Silver Lion for Direction in Venice.