Gai pe charcha: when Rahul Gandhi decided to spend a night with a cow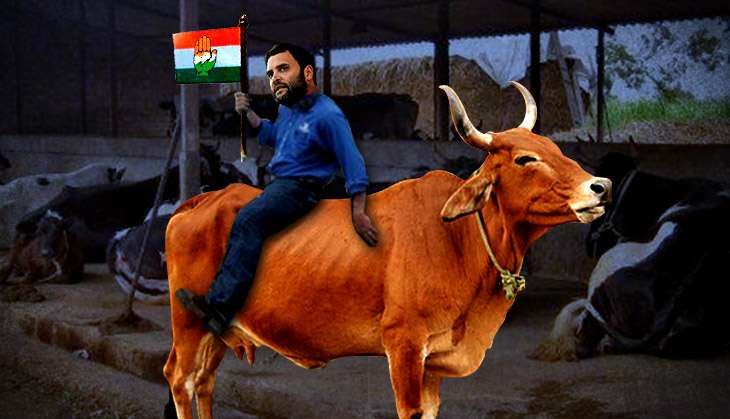 Lead actor: Rahul Gandhi. Supporting cast: mother Sonia Gandhi, sister Priyanka Gandhi and domestic help-cum-personal bodyguard-cum-valet-cum-confidant Sher Singh - okay, Share Singh, because this is, well, the Gandhi household.
If you're not already laughing, you will now. And the credit for this goes to Parvati Sharma, for her delightful piece of short fiction called "Brunch" being published on the Juggernaut app.
Rahul is on the treadmill discussing his political moves with Share Singh. Such as how he needed to spend a night with a cow to score over you-know-who. Sleepovers, he believes, are killer political moves (and there's Share Singh to save him from killer mosquitoes when he is making such moves).
Share Singh's head is spinning. But instead of sighing or aah-ing at the "subtle workings" of his charge's mind, he agrees with a polite "ji". 'Ji huzuri' works best in the Gandhi household.
To be fair, he does love Rahul Baba - who temperamentally "belonged to the order of genial labradors, happy if a day gave him but a muddy pool to splash in and a few hours of naptime".
Parvati Sharma
The Scion
Mother Sonia loves him a lot too. She is a typical Indian mother who is obsessive and over-protective about the male descendant, the real Gandhi scion. Indulging her overgrown boy, on the treadmill sipping cola, who loves external validation. Especially from mum and Share Singh. She endorses the "subtle workings" of his mind with "certainly,Darling".
Priyanka didi is not as kind. She is home for Sunday brunch."'Whaaa-t? Now a cow? What is this, gai se charcha".
The labrador in Rahul misses the sarcasm. He quite likes the punchline though.
I'll explain, listen: every other fellow is protecting the cow, now, am I right or what? Crazy shit, you could say, but the people are into it, right? And I'm the people's voice, right? But all these fellows protecting cows, do they know what they're doing? You think any of them asked the cow what it wants? I don't think so, dude. Do they know what life is like for a cow? No.
Sonia doesn't dismiss this as a "dumbass" idea like Priyanka. She thinks it is "little out-of-the-box".
Mum has spoken. The plan is sealed. The brunch is over. Priyanka didi can go back home now.
'Khoon ki dalali' to 'Insaaf ka tarazu': 5 highlights from Rahul Gandhi's rally