Be Holi Ready: How to prepare your skin for a splashing weekend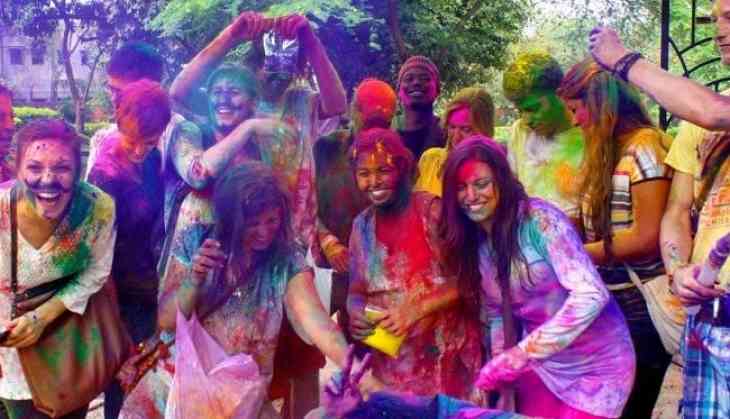 Gone are the days when Holi was the festival of colours, it has now become the festival of chemicals. For all those who have a very sensitive skin, but love this festival then follow this below mention tips to keep your skin festival ready.
A week before Holi
Apply this pack daily -Mix 1 tablespoon sandalwood powder, 1 tablespoon rice flour, some poppy seed, 2 drops of honey and mashed tomato.
Apply this pack-: Mix with curd, besan, orange-peel powder along with little turmeric, a few drops of lemon and one tablespoon of olive oil. This will help to clean your skin.
Holi Ready
Before going out to play, apply any of the waterproof and high SPF cream.
Buy natural colours, mostly flowers and homemade colours which are skin friendly.
Uniformly apply a thick coat of moisturisation or mustard oil all over the body. Making the body slippery would prevent colours from sticking and hence preventing the skin from damaging.
If you get exposed to the chemical colours then immediately wash it with cold water and apply a moisturisation cream. But, while doing so one should take care that they do not wash their face.
Post Holi Care
Hair
Firstly rinse hair properly so that the extra colour left in the hair washes off. Apply homemade pack which is prepared by mixing soaked fenugreek (methi) seeds in four tbsp of curd. Besides, apply an egg yolk then apply shampoo and then apply conditioner to prevent damage.
Giving a gap of 30 minutes, apply honey, olive oil for deep conditioning.
Body
While taking off the colour donot rub it harshly. If you feel irritation then apply a paste-: Mix 2 tbsp of calamine powder, a few drops of honey and rosewater.
When the above pack dries up, wash and apply the usually used moisturiser. Another way to remove the colours is applying a mixture of besan and milk.
If you have a very dry skin then mix soybean flour, milk, sea salt, glycerin and prepare a paste. Then apply this paste uniformly and wash off the face after 5 minutes.
No Parlor for a week
Keep applying Multani Mitti so that skin gets ample moisturisation. Atleast for a week do not go for waxing, threading, facials, or any other medication. Post Holi skin turns very sensitive and having any of the treatments done can have an adverse effect.