Amartya Sen slams 295 A. Says right to free speech greater than religious sentiments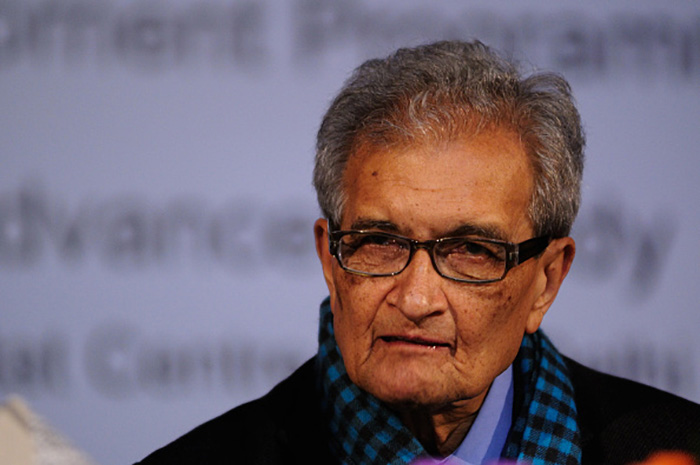 On 22nd August, 1934, Jyotirya Sengupta wrote to his cousin from a British prison. He had been shifted from one jail to another - from Dhaka to Alipore Central Jail to a prison in Midnapore. But he did not write with despair.
He wrote with optimism instead - hoping to soon resist "unfreedoms heaped on us by our rulers".
As he wrote, he also asked about his one-year-old nephew - who had just been named by Amartya by Rabindranath Tagore. Jyotirya, it turns out, didn't like the name.
The same Amartya Sen - who in the 82 years since, has won a Bharat Ratna and the Nobel Prize for Economic Sciences - delivered a lecture on February 12th at the annual Rajendra Mathur Memorial Lecture.
Also read: There is extreme political intervention into academics matters under the NDA rule: Amartya Sen
The subject - unfreedoms that continue to be heaped on us, by the toxic coupling of our former and current rulers.
Incomplete goodbye to colonial unfreedoms
Much has been talked about article 377, the law that criminalises "unnatural" sexual acts. The Raj that imposed it, got rid of it in their own country four decades ago. And it's now up for hearing by a five-judge-panel in the Supreme Court.
Little, on the other hand, has been said about article 295(a) of the Indian Penal Code, another colonial remnant that deserves little place in post-Independence India.
What the act deals with: "Deliberate and malicious acts, intended to outrage religious beliefs."
Kiku Sharda, a comedian, was booked under this act, for making fun of rockstar/movie star/fashion designer Gurmeet Ram Rahim Insaan. This is also the act that AIB was booked under, for making jokes about missionary sex.
In other words - it's a loosely defined, poor law. Any individual can claim to have his and her religious sentiments hurt and have someone thrown behind bars at the mildest pretext.
In the case of Kiku Sharda, for example, the sentiments being hurt were not even religious. Dera Sachha Sauda isn't even legally a religion. It is at best a sect (though more closely resembles a sturdy fan-base).
The British instituted the law because they didn't think the natives could handle religious affront. Natives, Lord Macaulay assumed, entirely lacked the ability to reason with one another. And because the Raj didn't want to deal with more communal strife of their own making, they enacted 295 (a).
The Constitution does not protect religious sentiments
"This putting on a pedestal of the religious sentiments," Sen explained, "is a colonial remnant. The Raj found it convenient. But what is the purpose of retaining it?"
Also read: The takeover: how the Modi govt has filled key positions in 14 institutions
"No country in the world," he added, "protects the right to not be offended. The Constitution does not protect your religious sentiments. The fundamental right to free speech must be greater than anybody's religious sentiments."
As a consequence, "what someone is eating in their home, offends you sitting in your own home. Books are pulped (because someone's offended). There's no egg served at mid-day meals in schools. Families now have to buy protein for their children with their own money."
And "a small but well-organised group armed with beliefs that need to be protected from sunlight" begin to dominate national dialogue. "Offense is now an industry".
He further qualifies, "This did not start with the present government. But this government has added to it substantially. MF. Husain didn't receive the thundering support from the government that he deserved. Yes, the government wasn't directly involved, but it didn't do enough."
"Where government complicity was much more apparent was when India was the first country in the world to ban Salman Rushdie's Satanic Verses."
He concludes, listing five ways we must begin our fight against intolerance:
We must move away from blaming the Constitution. The laws in question came from the British Indian Penal Code.
We must rid ourselves of all British unfreedoms.
We should not "tolerate intolerance. It only facilitates a culture for tormentors."
The Supreme Court must check if "India has been led seriously astray by the rules of the Raj". The very laws we fought so hard to resist.
Courts must always evaluate the compatibility of complaints versus fundamental rights.
"More is needed. Vigilance" he puts simply, "is the price of freedom."
Also read: A for Award Wapsi, B for beef... 2015 will go down as the Year of Intolerance