A California chef's secret to delicious food - pot
Catch Team
| Updated on: 11 February 2017, 7:53 IST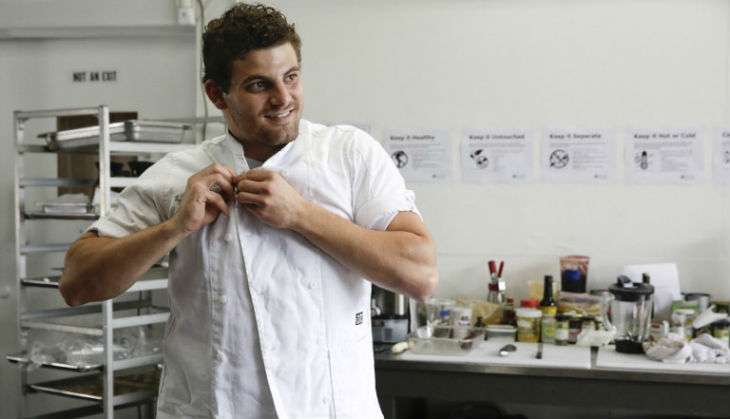 Because haute cuisine just doesn't seem cool enough anymore. An American chef has started rustling up delectable fare using an ingredient sure to be a hit with a lot of customers - marijuana.
Christopher Sayegh picked up his cooking skills while working at Michelin-star restaurants in New York and California. However, beyond a point all culinary experimentation ceased to excite him. That's when he turned to marijuana.
"What else are we gonna do with food? I'm a scientist at heart. I'm an experimenter. I want to learn. I want to grow, and this is how that's done. By pushing the envelope," Sayegh told Guardian.
The Herbal Chef CEO and Head Chef Chris Sayegh prepares dishes at an event, in Tacoma, Washington on July 19, 2016. As more US states move to legalize the use of recreational marijuana, the California chef is aiming to elevate haute cuisine to a new level. (Jason Redmond / AFP)
Herbal Chef CEO and Head Chef Chris Sayegh (L), assistant chef Michael Monteleone (C), and chef Dustin Selvaggio (R) prepare an oyster appetizer for an event in Tacoma, Washington on July 19, 2016. (Jason Redmond / AFP)
Sayegh's attempts at this high art isn't very surprising. California is set to vote in November on
legalizing recreational marijuana for those who are 21 and over. In fact, five more states including Alaska, Colorado and Washington have already adopted similar legislation.
"I am trying to give people a cerebral experience," Sayegh, told AFP during an interview at The Herbal Chef, his Los Angeles-based company. "But I'm also really careful in how I take them along on this journey."
Also Read - Can smoking marijuana make you infertile? The answer might surprise you
Food high
Sayegh's meals, priced at $300 to $500 per head will aim to take diners on an "immersive" journey that isn't just about getting stoned. "I am literally changing people's brain chemistry as the dishes go on," he told AFP. "By the third course you feel it a little, by the fourth a bit more and by the fifth course, you're starting to hit your groove. So it's like a symphony. I have to make sure that as the come-up is happening, the dishes correspond with that and as it's coming down, the same happens."

For the time being, Sayegh's culinary delights can only be sampled by private clients who have medical marijuana cards. However, he hopes that obstacle to go away after the November vote on recreational marijuana in his state. Sayegh studied molecular biology at university but dropped out to specially pursue his 'project.'

Of Jordanian descent, Sayegh has experimented with cannabis-laced stuffed grape leaves, falafel, chickpea beignets and other Middle Eastern dishes.

Some of these are lamb chop on a bed of lentils with leeks and garlic, fried brioche dough with dark chocolate, caramel spread, and popcorn ricotta, carrot confit gnocchi with cannabis-infused pea emulsion, New York strip steak with parsnip puree and a "medicated" red wine reduction, sticky toffee pudding with toasted coconut and pot-infused chocolate. Sayegh has a range that's as impressive as it sounds lip-smacking delicious.

But every great invention starts with something smaller in scale. It's hardly a surprise that Sayegh too started off with the humble pot-baked brownies.

"It really wasn't until I started to break it down into a science that I realized that cooking with cannabis ... was much, much different than baking with it," he told Reuters. He reveals that in the kitchen, Sayegh uses oil containing an extract of tetrahydrocannabinol (THC), the psychoactive component of cannabis, and a "vaporizer" to infuse ingredients with THC. That's at the core of most of his dishes.

Sayegh is quick to point out that it's not just a gimmick - this addition of THC. The Guardian reports that Sayegh doesn't smoke when he cooks and he "doesn't play up any party boy image with his diners." In face, rather expectedly, customers often ask the chef if he's high: "People ask me: 'Are you high all the time?' F*ck no!"
Also Read - Drones to deliver marijuana in US. Incidentally, both are illegal in India

Jason Redmond / AFP
Jason Redmond / AFP
The business in cannabis
However, even the chef warns that in the face of rising popularity of cannabis-laced food, consumers need to realise that getting high on such dishes isn't to be taken very lightly. The AFP quotes him saying that, "Cannabis is not like any other ingredient. You have to be extremely careful because not only does heat play a very important role when cooking with cannabis, but you're also taking people on a trip, literally, and you have a responsibility to make sure it's done right. This is not about throwing butter in a pan to get everyone super high."

It is about getting a major share of the marijuana pie. Not an actual pie of course. According to the Arcview Group, a California-based cannabis investment and research firm, legal sales of marijuana in the United States peaked at $1.2 billion in 2015, a staggering 232% increase over the previous year. And by 2020, sales figures are expected to cross $22 billion - California will comprise $6.4 billion of that market.

There's still a lot of hurdles and legalities to overcome before the cuisine becomes totally mainstream. The socio-cultural perception around cannabis can be a problem as well.

But Sayegh thinks the situation will improve soon as more and more states legalise - "The more information we have, the better off we'll be. It'll just take awhile."
Also Read - Legalise cannabis consumption or face rising alcoholism: BJD minister Satpathy