These 5 contemporary dancers demand you take a YouTube break
There are greater challenges in life and choreography than keeping one's foot pointed through the course of a dance. In South Asia, as elsewhere, there is a growing number of performers who recognise this. And they are bringing a freshness to contemporary dance.
Most people think of 'contemporary' as a genre of dance, with a heavy emphasis on physical virtuosity. On reality television, this genre is akin to Western modern dance in form and technique, marinated in Bollywood for local flavour.
But these interpretations narrow the possibilities of 'contemporary dance'. The five artists profiled below, on the other hand, show its breadth. They embody what 'contemporary dance' in the subcontinent is really about.
This generation of practitioners has moved past the angst over classical forms. Their work is not simply a response to classical or a rejection of it; it comes from new triggers that are conceptual or rooted in ideas.
They create dance that is provocative, political, playful. In other words: they demand that unscheduled, mid-morning YouTube recess.
01
Nimmy Raphel, who has the wonderful gift of knowing how to be slow and fast at the same time
Beginning her piece Nidrawatham, her hands a whirl of activity, she brushes her teeth, gargles and flosses with a sincerity that makes you squirm in memory of your far less detailed ministrations.
There's little to suggest that she's about to entangle with the complicated stories of Kumbhakarna and Lakshmana, two men at the extremes of the sleep spectrum - one finds his life interrupted by sleep, the other is weary of wakefulness.
Nimmy is a resident artist at Pondicherry's Adishakti, a theatre laboratory that creates its own performance language by studying and reinterpreting forms like Kutiyattam, Dhrupad singing and Kalarippayattu.
Her training is a subtle presence, but manifest in every moment. You can see it in the thigh-killing squat she maintains for long periods. You can hear it in her versatile voice as it brings to life the gruff-toned Kumbhakarna and his shrill secretary, the housefly Mrs Kutty.
The high point of her work lies in how she populates the interstices of Lakshmana and Kumbhakarna's story from the Ramayana, using it as scaffolding for a rousing tale in which Kumbhakarna is more than just a sleepy demon.
02
Surjit Nongmeikapam, whose work is often a raw, physical response to the politics of his home state, Manipur
Surjit has trained in Kathak, Kalarippayattu, Manipuri, Thang-Ta and contemporary dance. (He also tried Odissi while dating an Odissi dancer, but that was a short-lived affair.) He brings all of this breadth to his work, much of it a raw, physical response to the political situation in his home state of Manipur.
In his most recent piece, Nerves (2014), dancers are "fresh bodies" onto which he "inputs data files" that compress a litany of crimes inflicted on the people of Manipur by those who occupy positions of power.
Not the stuff of a pleasant evening on the town. But the eloquence of Nerves on fraught issues like violence, belonging and identity will bring you to the edge of your seat.
Surjit draws cleverly from the language of oppression and torture, creating taut sequences of movement. In one instance, a co-dancer roughly thrusts a wooden staff under Surjit's arm, manipulating it to hoist him up. He flails like a limp puppet, dribble and sweat forming a slick pool on the floor. Finally, he is forced down for a fleeting moment - and then the staff rends the air, finding his stomach with a sickeningly sharp crunch.
03
Venuri Perera, who explores betrayal, non-conformity and disobedience in her dance
What does it mean to be a traitor?
Across the ocean from Surjit, Colombo's Venuri Perera ponders this question. Betrayal, non-conformity and disobedience are at the heart of her piece Traitriot (2014), created at a dance residency in New Delhi.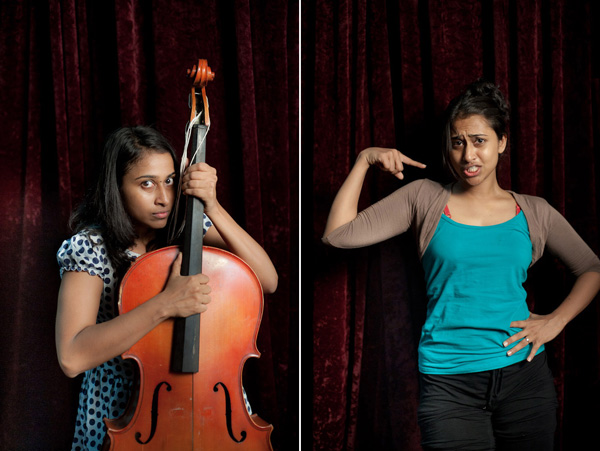 A fake smile plastered on her face, she requests the audience's cooperation. All they have to do is open and close their eyes on cue, blocking out her jagged transitions from one movement to another. These cues take on added meaning in a piece responding to a political climate where reality is edited. The initial thrill of defiance, when you open your eyes just a little to catch the forbidden action, gives way to the chilling recognition of your complicity in obscuring what is jagged and ugly - what the state doesn't want you to see.
Brutal things happen to the dancer's body in Traitriot - you shudder each time Venuri crashes her elbows to the floor in moments of defeat. The dancer is the embodiment of victimhood, but she is never completely crushed. There is a fiery dignity in the way she continues to resist.
04
Preethi Athreya, who is able to pry a gesture away from its established meaning
Preethi Athreya can take things apart with an intuitive precision - whether a dance form, an ideological stance or a piece of cake. In prying a gesture away from its established meaning, she is able to show that dance is not always the sum of its parts.
When she performs her own work, her years of training in Bharatanatyam provide an avenue for exploration. But in Across, Not Over (2014), she uses the same approach to deconstruct form in the body of Kathak dancer Vikram Iyengar.
Across, Not Over takes a knife to Kathak. Yet the Kathak aesthetic colours each movement, often in an absurd and unlikely way.
The dancer has his back to the audience for an eternity - a classical dance taboo. But his back becomes a canvas for the small, subtle movements of the torso that sometimes get lost in Kathak's performative flamboyance. He rolls around in the mud, but puts on sneakers with the ritualistic tenderness usually reserved for ghunghroos.
There is an undercurrent of tragicomic pathos running through Preethi's work. Watching it, you are left with the feeling of having arrived at an irrevocable, universal truth-even if you can't quite articulate it.
05
Mandeep Raikhy, who uses visual, aural and sensual markers to explore masculinity
The air in the theatre crackles with a frisson of anticipation as seven dancers direct an unblinking stare at you. Their eyes suggest calm, menace and the ability to read your mind. Oh, and they're all in various states of undress.
Dwarfed by an all-white set, without curtains or wings to seek refuge in, the dancers in Mandeep Raikhy's a male ant has straight antennae are protagonists, spectators and objects.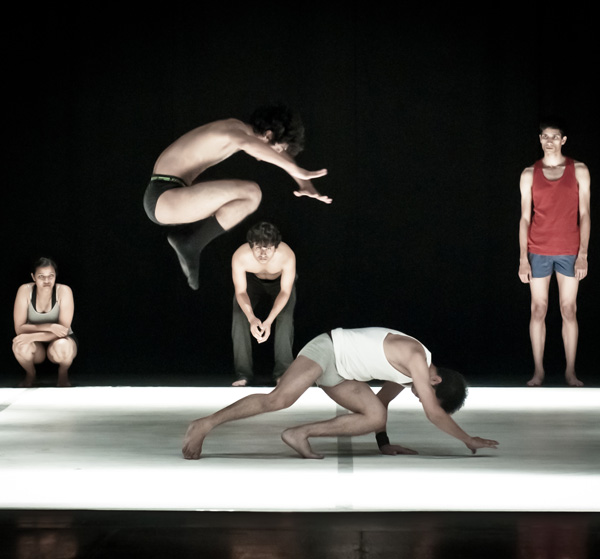 To take on the complex question of what masculinity is, Raikhy and his dancers prowled the streets of Delhi looking for inspiration. The trick was to find answers without reducing masculinity to a series of images.
Raikhy uses visual, aural and sensual markers as starting points for kaleidoscopic investigations into masculinity. In one sequence, quintessentially Indian sounds of reproach - tongue clicks and grunts - force the dancers to attention, refusing to let them succumb to the comfort of familiar positions.
The piece is a delicate balancing act, where explicit gestures - flexed arms, cupped breasts, cradled crotches- arrange themselves into subtle statements.
There is a cockfight-like intensity to the choreography. An uncertainty plays out on stage, its results keenly awaited by audience and dancers alike.