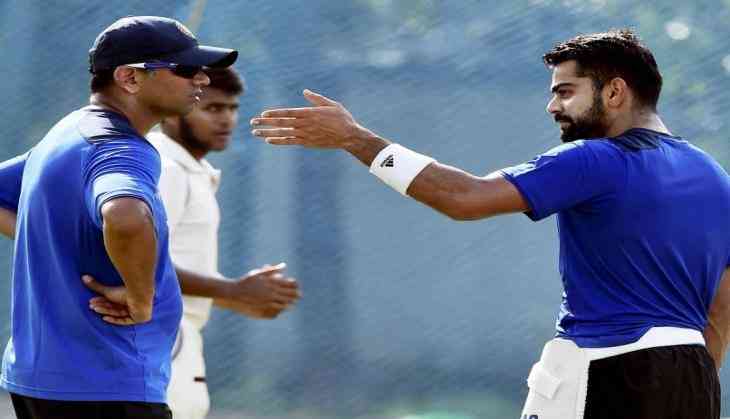 With the way Virat Kohli performs on the ground, that confidence, that aggression and that attitude, it seems every time Virat Kohli comes on the ground he writes history with his bat. The elite fan following of the Indian skipper includes many celebrities and cricket expert. And now one more name had been added to his elite fan club and it is none other than the 'Wall' of Indian cricket team Rahul Dravid.
The head coach of Indian U-19 had urged U-19 players to match Virat Kohli's consistency. The former Indian skipper also said that Virat Kohli's Test form is better than his memorable phase in 2003/04.
While talking to India Today, Dravid said, "I think Virat is going through a much better phase than what I was going through in 2003. He has already got six double hundreds so far. It's incredible and phenomenal the way he has been playing. It's the consistency of his performance that stands out for me."
"He (Kohli) is brilliant in all forms. It's not just Test cricket but ODIs and T20s as well. He is playing great cricket. I always tell the under-19 boys that I coach to see the standard that Virat has set and the young cricketers should actually aspire to match the level of his consistency," Rahul Dravid further added.
Also Read: Confirmed! Virat Kohli-Anushka Sharma getting married; details inside
After thrashing Sri Lanka in the three-match Test series, Virat Kohli's boys are all set for the upcoming three-match ODI and T20I. However, there is a bad news for the fans of Virat, as he will not be the part of ODI and T20I and in the absence of Virat Kohli, Rohit Sharma will lead Indian squad.