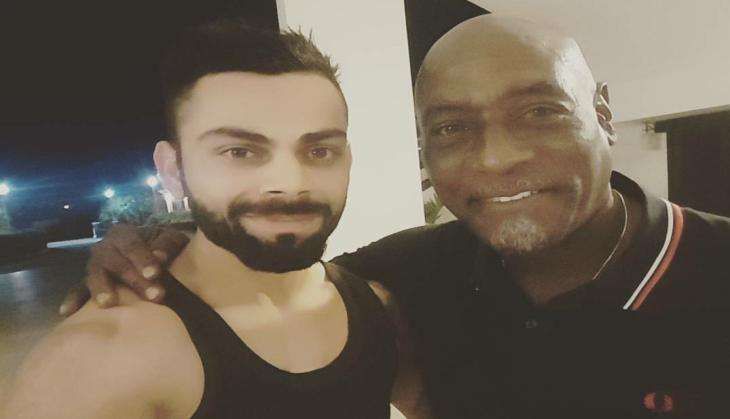 West Indies legend Vivian Richards has lavished praise on Virat Kohli, describing the Indian Test skipper's maiden double century as a 'classy knock'.
The 27-year-old prolific batsman continued his scintillating form from the first day, adding another 57 runs to reach exactly 200 just before the lunch interval. In the process, Kohli also became the first Indian captain to score a Test double-century away from home.
"It was a magnificent hundred. To score a double hundred at Sir Vivian Richards Cricket Ground is a formidable task in terms of what he has achieved," Richards was quoted as saying by bcci.tv.
"I remember when I met him at the hotel (before the Test series) I did say good luck, but I didn't believe he would take it this far in terms of achieving a double. As a batsman myself, it was very pleasing to see and even though it was against the West Indies, I do appreciate seeing class and his was a classy knock."
Kohli and Ravichandran Ashwin, who hammered his third Test century, set up India's declaration of 566 for eight on the second day of the opening match against the West Indies in Antigua on Friday.
Richards, who himself registered his first double hundred outside the Caribbean, said it was always a special achievement for a batsman to score and win matches in tough overseas conditions.
The Caribbean legend, who is widely acknowledged as the game's destructive batsman, observed that what sets Kohli apart from rest of the batsmen is his strong will and magnificent appetite to perform.
"He certainly has a magnificent appetite to perform. His talent is as good as any. Sometimes, we have seen talent fall by the wayside. Kohli has certainly maximized his talent in my opinion and taken it to the next level because of the fact of believing and the will he has and the desire to succeed," Richards said.