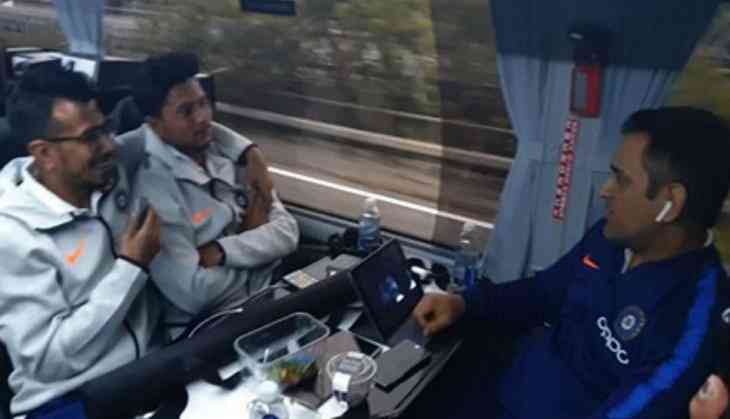 Not far form making MS Dhoni appear on Chahal TV, Yuzvendra Chahal had to be satisfied with just a guest appearance during the bus ride from London to Cardiff where India will face Bangladesh in their 2nd warm up game.
Yuzvendra Chahal is back with a bang with his popular piece, Chahal TV, on bcci.tv and it seems he will continue to entertain Indian cricket fans with regular protion and glimpses of team India's expedition in the World Cup 2019 in England and Wales.
In the first half of the video, Chahal talks to Rohit Sharma asking him about his experience in the bus journey and then goes on to introduce Ravindra Jadeja, who was making his debut on Chahal TV.
Going further down, Chahal has a quick chat with Bhuvneshwar Kumar and Shikhar Dhawan, before moving on to Dhoni, who just bobed his head when asked if he would speak on Chahal TV.
Does @msdhoni make his debut on Chahal TV? Part 2 of #TeamIndia's road trip to Cardiff has all the answers - by @RajalArora @yuzi_chahal 😎😎👌#CWC19

Full Video here 👉👉👉 https://t.co/DMgP6eghTP pic.twitter.com/q2wETvYeuk

— BCCI (@BCCI) May 28, 2019
As Chahal had no luck with Dhoni, he caught up with his spin partner Kuldeep Yadav, who was sitting just in front of MS Dhoni. Dhoni urged Chahal to ask question to Kuldeep who was ingrosed with his phone, the spinner later replied that he was actually listening to Kishore Kumar songs.
Chahal then moved further back where he spoke to KL Rahul, who said that he would not like to appear on Chahal TV but would definitly like to spend time with Yuzvendra Chahal if he ever got free from playing PUBG.
Chahal then concluded the streaming with a promise of coming back with more fun content and also urged the fans to keep supporting team India during the World Cup 2019.
Team India is playing against Bangladesh in Cardiff in their second warm up match at the Sophia Garden. India has already lost its first warm up match with the black cats after getting bowled out for just 179 at The Oval in London on May 25.
Two time Champs team India will face South Africa in their opening match in the World Cup at Southampton on 5th of June.
CHAHAL TV IS BACK: Chahal TV📺 📺 makes its World Cup debut as #TeamIndia hit the road to Cardiff from London 🚌

Some exciting Bus stories in Part 1 of the series - by @RajalArora @yuzi_chahal

Watch full video here - https://t.co/TUGf4koWb5 pic.twitter.com/Oe3L9v0yzo

— BCCI (@BCCI) May 27, 2019