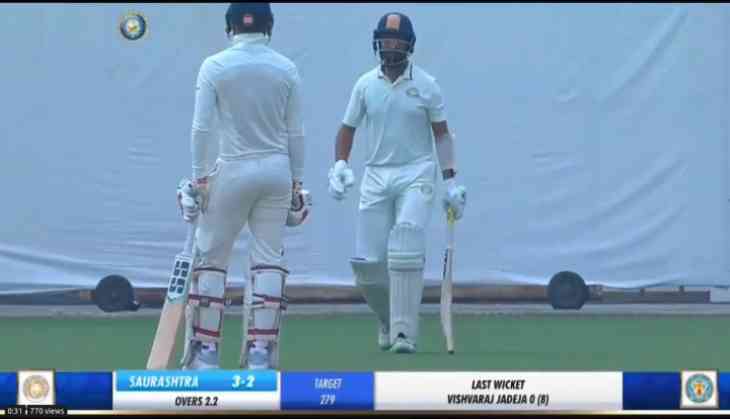 During a Ranji Trophy semi-final match between Saurashtra and Karnataka a incident took place that led the crowd in M Chinnaswamy Stadium to call the Indian batsman Cheteshwar Pujara a 'cheater'. The crowd didn't come in terms with the fact that Pujara didn't walk-off despite edging the ball in the first innings.
The incident took place in the second day of the match when a delivery from Abhimanyu Mithun went past Pujara while touching his gloves. The opponents started to celebrate but Pujara didn't leave his crease thanks to the umpire who did not give him out. Pujara was fine within his own rights as the on-field umpire gave him not-out and the Indian batsman went on to score 45 runs.
#CheaterPujara
Crowd booing Pujara as cheater.@cheteshwar1 knowing your value 😏😏 You will be never in our #Karnataka people heart. @cricbuzz @cricketcomau @Fantasy11App @RCBTweets @FoxCricket @MitchJohnson398@ProfDeano pic.twitter.com/wvb4P8OIEU

— Uday Kumar (@Uday__uppi) January 27, 2019
A similar incident happened again in the second innings when Pujara was on 29 and gloved a threatening delivery from Vinay Kumar, Pujara then went on to score an unbeaten century. Saurashtra won the match by 5 wickets and are now in the finals to play the current champion Vidarbha from February 3. The match will be played in Vidarbha Cricket Association Stadium, Nagpur.
Pujara was given the Player of the series award for his outstanding performance with the bat in Australia, as he scored three centuries in the four-match Test series. Pujara was also the highest run scorer of the series and helped India win their first ever Test series on Australian soil.