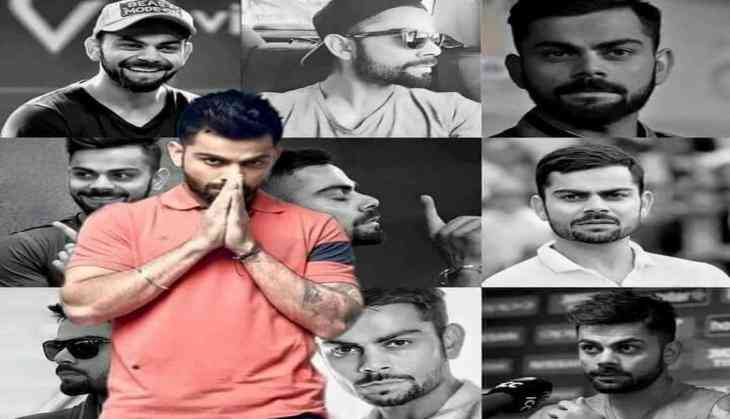 Delhi boy Virat Kohli, who is also popularly known as 'run machine' of India, has turned 29 on 5 November. The Indian cricket will always be in-debt to Indian skipper Virat Kohli for his match-winning and saving innings. Be it Australia or New Zealand his performance against world's best team is exceptionally good.
Although for Virat there still has a long way to go, yet the cricketer is often regarded as one of the best players in the history of cricket. Virat was also the only player from India to feature among the world's 100 highest paid sportsmen in the latest Forbes list. He was also listed at the eighth spot in world's most famous sportsman.
And the fans of Virat Kohli have flooded the micro-blogging site Twitter with their wishes and love for the player.
Here are some of the Tweets that depicts people's love for their Virat Kohli:
#HappybirthdayVirat pic.twitter.com/SeFCAxttIG

— BCCI (@BCCI) November 4, 2017
Happy bday #king_kohli#HappyBirthdayVirat pic.twitter.com/dsn0v2mbfF

— राष्ट्रवादी🇮🇳जाट (@Ajay_jat0) November 5, 2017
Happy Birthday, @imVkohli. Have yet another fabulous year. God bless #HappyBirthdayVirat pic.twitter.com/33fCZye5cE

— Ravi Shastri (@RaviShastriOfc) November 5, 2017
#HappyBirthdayVirat :
Very warm birthday greetings to you @imVkohli; God bless you. One of my SandArts. pic.twitter.com/vb6yN27alN

— Sudarsan Pattnaik (@sudarsansand) November 5, 2017
The man who is evolving both on and off the field, becoming an inspiration for others, leading from the front #HappyBirthdayVirat 🏏 🎂🍫🎊🎉 pic.twitter.com/gdfAxvl8S0

— Dr. Himani Agarwal (@DrHimaniAgarwal) November 5, 2017
#HappyBirthdayVirat Happy birthday chikoo, because of you many girls started watching cricket pic.twitter.com/fCBaqwfgPG

— Geeta (@littlebit_love) November 5, 2017
#HappyBirthdayVirat
Is it true that one's own religion, even if devoid of merits,is better than other's religion
वृंदा TV पर 09:30 PM से

— 🏃#sundar das# 🏃 (@8Sdjoshi) November 5, 2017
Dhoni ji #HappyBirthdayVirat kehne se kam nhi chalega. Why you are wasting your human life without worshipping Supreme God/Allah... pic.twitter.com/LJJ7a9Z9KX

— Sachin Kaushik (@bhagatsachindas) November 5, 2017
#HappyBirthdayVirat#FoodStreet
Must know about the supreme god, 👇👇 pic.twitter.com/5Dz3jn8pOZ

— Vinita dassii (@DasiVinita) November 5, 2017
And they continued their tradition!😂👌❤
Birthday Boy 😘#HappyBirthdayVirat pic.twitter.com/uPXwhEIQmT

— Sharmi 💫 (@Sharmilamadhav1) November 5, 2017
#HappyBirthdayVirat @imVkohli

Virat 'The Run machine, The Record-breaker' Kohli turns 29 pic.twitter.com/XorvHeoId8

— TOI Sports (@toisports) November 5, 2017
The man who's going to change a #Records in #Cricket history😎#HappyBirthdayVirat pic.twitter.com/nYbQWHmx5E

— Troll Infinity (@trollinfinity_) November 5, 2017