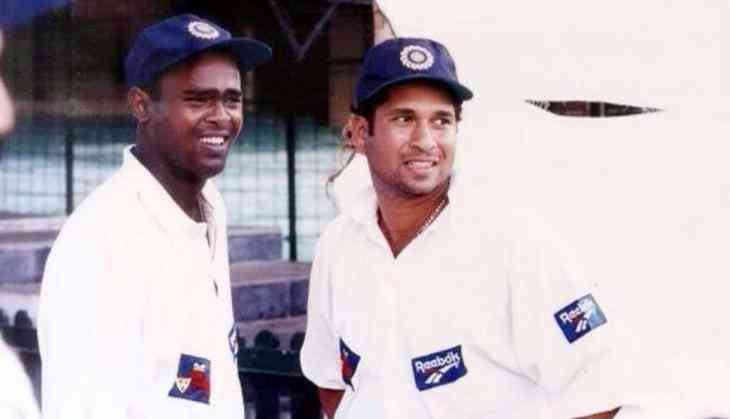 Sachin_Kambli (Sportswallah)
Sachin Tendulkar and Vinod Kambli started their cricketing journey almost together and they were friends since then. Times changed and Sachin playing his own way went past all the other batsman of his time and touched the heights of glory. If there is a man in the world, who can be said to have been at the epitome of popularity in the modern cricket then it has to be Sachin Tendulkar.
While Vinod Kambli was left far behind in the career, the friendship from the childhood days between the two players still continues to grow.
Sachin Tendulkar and Vinod Kambli's legendary 664-run partnership in 1988 was one of the testimonies of their friendship.
Only a few months back, the 'God of Cricket' posted a picture with his old friends on his official Instagram account and described it as- "One of the most amazing things cricket gave me is friends for life. In this company, there's never a dull moment both on and off the field,".
And later, to reciprocate his love to Sachin Tendulkar, Vinod Kambli posted a heart-melting video and surprised the social media users. Kambli shared a 3-second video clip, in which he can be seen bowing down to touch Sachin's feet.
When two legendary friends from Mumbai cricket meet, there is respect all around!@sachin_rt @vinodkambli349 #CricketChaRaja pic.twitter.com/r8p5nOLtXF

— T20 Mumbai (@T20Mumbai) March 22, 2018
Sachin Sir must have very much embarrassed by this & tightly hugged Vinod Sir in happiness.

— Sameer Mohite (@SameerM15948082) March 22, 2018
Yestersay night Old Friends came together for @T20Mumbai finals.@sachin_rt & @vinodkambli349 pic.twitter.com/PzupJX2mGG

— Sachin Tendulkar FC (@TendulkarGang) March 22, 2018
.@vinodkambli349 @sachin_rt

यार यही दोस्ती है
क़िस्मत से जो मिली है

Both of u r very lucky
😊😊#Respect 🙏😇 https://t.co/rdlKCgSTmw

— VIVEK SHARMA (@VIVEK01SHARMA) March 22, 2018