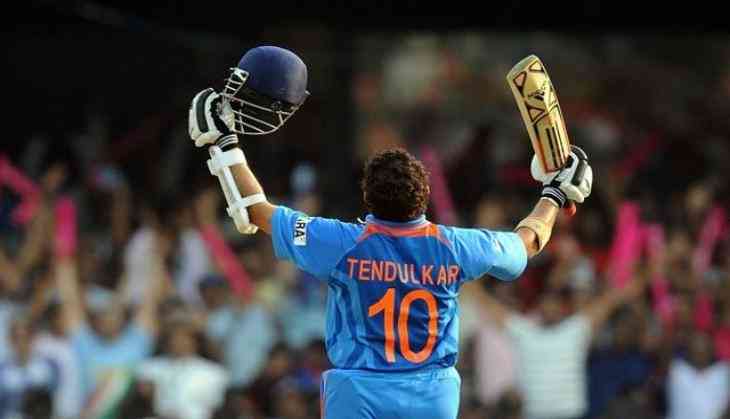 Master Blaster Sachin Tendulkar has recently shared a video on social media. Sachin believes that if a child is interested in sports, then he should be conscious of the game from his early age. Many times children do not take sports seriously, and they are far behind than the other children.
The young boy, who was spotted in Sachin's video on social media, is Kabir, son of Mohammed Kaif, the former player of the Indian cricket team. Sachin shared the video of Kaif's son on Twitter and wrote, "Junior Kaif smashing it beautifully through the covers. Well done. Keep playing always."
As soon as Sachin shared the video, it began going viral on Internet with in a short span of time. Indeed, the kind of shot that Kaif's son put on, Sachin was very happy to see him. The cricket fans on social media are admiring the video shared on Twitter.
So far this video has been seen more than 1.5 lakh times. At the same time 1800 times have been reteeweted. Though, junior Kaif was batting through the virtual machine but former batting maestro was so impressed with the shot played by Kabir that he shared his video on social media.
Junior Kaif smashing it beautifully through the covers. Well done. Keep playing always. @MohammadKaif pic.twitter.com/lsUd8s1LCD

— sachin tendulkar (@sachin_rt) December 29, 2017
After noticing that Sachin shared Kabir's video, Kaif also took on Twitter and wrote, "I always found it difficult to pick you in the nets @sachin_rt Paaji,whether it would be leg-spin,off-spin,cutter, wrong-un. My son Kabir seems to have handled your bowling much better And as you say ,India will transform when we keep playing a sport atleast.With you,always!"
I always found it difficult to pick you in the nets @sachin_rt Paaji,whether it would be leg-spin,off-spin,cutter, wrong-un. My son Kabir seems to have handled your bowling much better :) And as you say ,India will transform when we keep playing a sport atleast.With you,always! https://t.co/0LTN1Gupi6

— Mohammad Kaif (@MohammadKaif) December 29, 2017