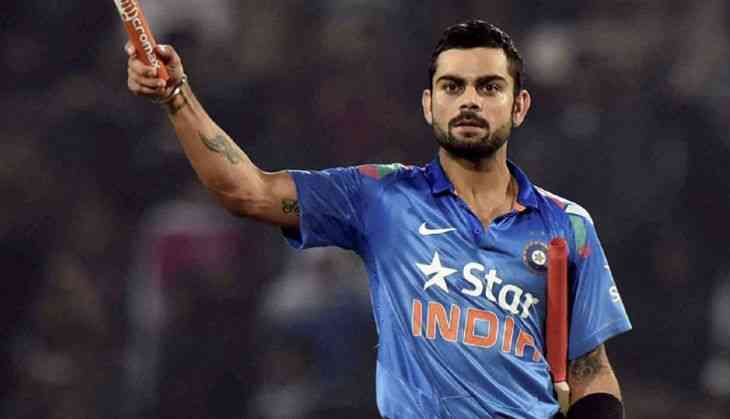 As cricket in India is considered to be a religion and cricketers as a god, the fans of Indian Skipper on 5th August slammed Bangladesh batsman Sabbir Rahman on micro blogging site Twitter.
It all started after Sabbir scored a wonderful half-century against Australia in Chittagong and was compared to Kohli by Australia spinner Nathan Lyon.
Lyon said, "He's a good player, (Sabbir) he reminds me of Virat Kohli."
"Kohli is probably a pretty good role model to have in the subcontinent. That's only on (Sabbir's) persona out there and the way he walks around the crease and the shots he's played here."
When Sabbir was asked about the praise that he got, he said, "I can become a batsman like Virat Kohli, everything is possible."
But the comparison of Sabbir with Kohli was not digestible for few fans and they took no time in reacting 'harshly' on Twitter.
Here are some of those reactions by Twitter users:
I can become batsman like virat kohli says sabbir rahman
Time to leave the earth#AUSvBAN

— MOHSIN RASHEED (@mohsin492) September 5, 2017
Is this what we call Brainfade???
:-D :-P seems2b learning from @stevesmith49 #BANvAUS https://t.co/S4k2dWPwP7 pic.twitter.com/8oIoeBC0AA

— DEBARGHYA SAMADDAR (@godlovemusic) September 4, 2017
Sabbir Rahman : I can bat like Kohli..
😂😂😂

No more joke for today..

— sanjeev kumar patel (@sanjeev161086) September 5, 2017
It's praiseworthy that u r dreaming big. But please don't declare it officially like this! Better don't try to b Kohli, try to b "Sabbir"

— tuba (@tasnim_nanjiba) September 4, 2017
bhai ne bhaut hi sasti daaru pili kya... Rofl...

— Niranjan M (@Niranjan334) September 5, 2017
Saste nashe karna band kar bhai... Mehenat se kam kar.. Kohli mat ban..

— ABHIJEET CHINDHE (@abhijeetchindhe) September 4, 2017
leave sabbir aside... entire bangladesh team all together wont get 30 hundreds in coming 10 years.. which kohli alredy has !!

— Rohit Pungalia (@RohitPungalia) September 4, 2017